Adoption, A Gift From God
---
A day to remember
Thursday, May 9th, 2013 started out as a fairly normal day. I work retail so my schedule is different every week. This particular week I just happened to have Thursday and Friday off. We home-school our son, so I was able to stay home with him and let my wife go out for coffee with a friend.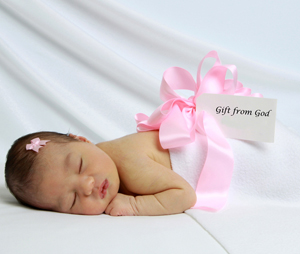 Babies are a gift from God.
DENVER, CO - While there, she received an email from our adoption agency that the birth mom was in labor and had decided on making an adoption plan and would we like our scrap book to be shown to the mom.
Before my wife could even call me, another email came in saying the baby had been born: a healthy baby girl. My wife immediately contacted the adoption agency giving permission for our family scrap book to be shown.
For those that don't know, all families in the adoption process make a scrap book that birth mom and dads will look through as they ride the emotional roller coaster that is adoption.
By lunch, my wife was back home. At 12:30, our caseworker called and said that she didn't know if this would help or hurt, but the birth mom was down to us and another family. Good luck she said.
We had been here before: the final four, the final three, the final two, but never picked. At 2:30, our caseworker called back and in her words said, "This is a good call." Shock. With one phone call our world changed. "How quickly can you get to Colorado Springs?" she asked. As it turns out, the Clark family that could normally do things at the drop of a hat, took a little bit longer than usual to get out of the house.
My wife, Teresa, is normally a cool head in an emotional or crisis situation, while I am the one who needs "some direction." Not today. Total role reversal in the Clark house. A plan was created, phone calls to relatives were made, and bags
were packed. As we pulled out of the driveway, it started to hail. Hard. Although we live on the south side of Denver, the weather almost doubled our drive time. As we arrived in Colorado Springs, more hail.
When we finally made it into the hospital, the normal procedure is to meet with the birth mom's caseworker and then meet the birth mom herself. At this point, either side can still back out. The baby is initially avoided for this reason. Was that the plan for us? Nope.
Birth mom was asleep, so the caseworker took us to see the baby. "Are you sure," my wife asked. We entered the maternity ward and saw her. For me, it was love at first site, a true gift from God. I remember looking at her lying in her hospital bed and thinking, "That's my daughter. I love her. Thank you Lord."
Daddy holding baby
We eventually did meet the birth mom and her family a short time later. It was a bit awkward at first, but everyone knew that the adoption would happen. Anna, the birth mom, had said Yes to Life and there would be no going back.
That month, the Power Ball jackpot had ballooned to over 500 million bucks. Somewhere, someone won a half of a billion dollars. We had done better. We had won a heavenly lottery: a precious baby girl named Lia. We won because in this crazy world of self-importance and me-me-me, Anna had said Yes.
Join me next time, as I write about our night in the hospital and the visit from Anna's friend.
Blessings,
Michael
Michael Clark lives in Colorado with his family. He holds a Masters' degree in Roman & Byzantine history and philosophy. His current area of research is the Great Schism. Join him on his blog at www.thethreeromes.com or email at michael@thethreeromes.com.
A birth foretold: click here to learn more!
---
Copyright 2019 - Distributed by THE CALIFORNIA NETWORK
Pope Francis Prayer Intentions for January 2019
Young People and the Example of Mary.
That young people, especially in Latin America, follow the example of Mary and respond to the call of the Lord to communicate the joy of the Gospel to the world.
---
---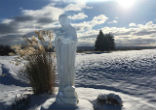 Those who visit my blog, know how blessed I have been over the years to spend time in retreat at the Abbey at the Genesee in Piffard, New ... continue reading
---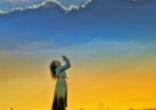 The gifts of the Magi - gold, frankincense, and myrrh - were expensive and very significant physical gifts. But they pale in comparison to ... continue reading
---
---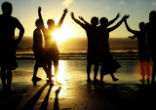 "Rejoice in the Lord always. I will say it again: Rejoice!" Philippians 4:4 Joy vs happiness. Happiness and joy appear to be similar, ... continue reading
---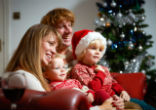 "For the sake of my family and friends...Peace be within you." Psalm 122:8 // NIV Whenever we get together with family over the holidays, ... continue reading
---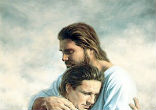 "And Mary said: 'My soul proclaims the greatness of the Lord my spirit rejoices in God my savior.'" Luke 1:46-47 Today is a very ... continue reading
---