Movie Review: Film 'Courageous' is a Must-Buy for Christian Families
---
The film becomes available on DVD/Blue Ray, January 17
Viewers will once again find themselves laughing, crying, and cheering as they are challenged and inspired by everyday heroes who long to be the kinds of dads that make a lifelong impact on their children. Protecting the streets is second nature to these men. Raising their children in a God-honoring way? That's courageous.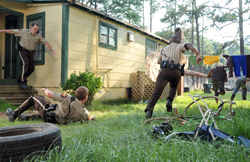 WASHINGTON, DC (Catholic Online) - On Tuesday, January 17 you can bring home the film "Courageous" on DVD or Blue-ray. This film should be in the video library of every Christian family as great entertainment and a reminder of the importance of parenthood - especially for fathers.
"Courageous" is an exciting and emotion-filled police drama and the fourth film from Sherwood Pictures, the movie-making ministry of Sherwood Baptist Church in Albany, Georgia. Shot in their community, the story includes some incredible action sequences.
Here's the story - "Four men, one calling: To serve and protect. As law enforcement officers, Adam Mitchell, Nathan Hayes, David Thomson, and Shane Fuller are confident and focused. Yet at the end of the day, they face a challenge that none of them are truly prepared to tackle: fatherhood.
"While they consistently give their best on the job, good enough seems to be all they can muster as dads. But they're quickly discovering that their standard is missing the mark.
"When tragedy hits home, these men are left wrestling with their hopes, their fears, their faith, and their fathering. Can a newfound urgency help these dads draw closer to God ... and to their children?"
As with their other films, such as "Fireproof," viewers will experience a variety of emotions as they are challenged and inspired by everyday heroes who long to be the kinds of dads that make a lifelong impact on their children.
It takes courage to be a law enforcement officer; it takes just as much or more courage to be a committed dad. This film shows them both.
Some critics have said that the film is a bit "preachy;" to which I say, "let them bring it on! Their message on the importance of fatherhood needs to be shouted from the housetops. This message is too critical to water down or lighten up."
Others have also said, "Well, it doesn't have the polish of a first-rate 'Hollywood film.'" My response is that this is a great film with a first-rate message and is very well done without having the millions of dollars Hollywood can afford.  I'd much rather watch this story than many of those from the West Coast with a second or third-rate message. I applaud the Kendrick brothers and Sherwood Church for what they have done.
The Most Reverend Michael Sheridan, Bishop of Colorado Springs offered this evaluation of Courageous. "This film is a powerful catalyst for the strengthening of family life, especially as it calls Christian men to be husbands and fathers after the example of Christ."
For many years ago I served as a speaker and church-relations consultant for the National Center for Fathering. We hosted numerous seminars and special events for fathers across the country.
During that time, I became aware of the significant problem we face in America with fathers who are absent. Their absence was not usually physical but relational, emotional and spiritual. They were in the home but not participating and the results of this type of non-engagement were catastrophic on the children.
At the same time, I saw what could happen when fathers took their roles seriously. Out of our seminars and other resources, when men took their place as fathers in the family, great things could happen, especially when the children witnessed their dad's faith in Christ and commitment to His Church.
My prayer is that this film will stir families and, especially, men into action; providing the impact only a father can bring to a family. Books, study materials and other resources are available to be used with the video and can be found at www.courageousthemovie.com.
-----
 
Randy Sly is the Associate Editor of Catholic Online and the CEO/Associate Publisher for the Northern Virginia Local Edition of Catholic Online (http://virginia.catholic.org). He is a former Archbishop of the Charismatic Episcopal Church who laid aside that ministry to enter into the full communion of the Catholic Church.
---
Copyright 2018 - Distributed by THE CALIFORNIA NETWORK
Pope Francis Prayer Intentions for FEBRUARY 2018
Say 'No' to Corruption.
That those who have material, political or spiritual power may resist any lure of corruption.
---
---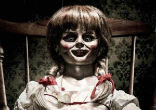 What children read, what they see on the screen, can inspire them toward greater faithfulness. Conversely, Father Robert warns, it can lead ... continue reading
---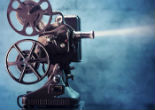 Ever felt like there is nothing worthwhile to watch? You might want to check out the Vatican's list of 'Some Important Films'.In 1995, Pope ... continue reading
---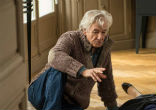 Desperate to remain relevant and make money, the movie industry is preparing to release a smutty film about lesbian nuns with mystical ... continue reading
---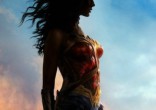 This summer some pretty amazing movies are going to hit theaters, so which ones are YOU excited about? LOS ANGELES, CA (Catholic Online) - ... continue reading
---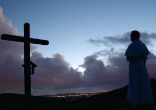 From the Norbertines of St. Michael's Abbey and Chuck Kinnane, director of The Human Experience, Child 31, and Generation Hope, comes a new ... continue reading
---