We should live our lives faithfully while all of these things occur. We should neither be surprised or troubled. These readings today are not meant to instill fear. Rather, they should be a source of hope, if we are men and women of living faith
No matter how difficult it may become, we need not be afraid. We were born into these times and we are born again for these times. In fact, the Lord is giving us all we need to be his witnesses during these times. We should not be surprised that they are treating us the way they treated him. It is one of the promises of the Bible! In a contemporary Christian culture infected by a mistaken notion that following the Lord Jesus means we will no longer have to suffer or face need, the witness of the Apostle Paul, the writer of our epistle today, stands in stark contrast. The Gospel without the cross is not only poor theology, it has caused too many Christians to miss the mark, which is the definition of the Greek word translated sin in the New Testament.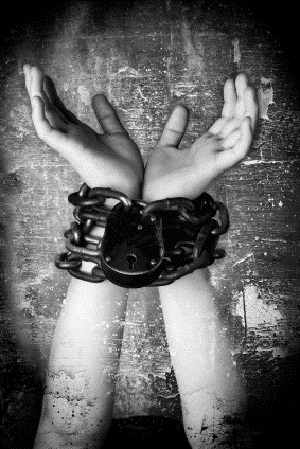 CHESAPEAKE,VA (Catholic Online) -  Our readings focus on the final judgment and second coming. Once again, time is offered as a measuring stick, a barometer, with which we can measure how we are living our lives and make the choice to live more faithfully, actually hastening his return.
In the midst of a fierce persecution, the Apostle Peter wrote two letters to the early Christians. They had already been scattered. In the second letter (2 Peter 3), after recounting  the signs which we hear of in the first reading from the Old Testament Prophet Malachi (Mal. 3) and to which Jesus points in his instruction to the Apostles in today's Gospel (Luke 21:5-19), Peter proposes how we should live in response:
What sort of persons ought you to be in lives of holiness and godliness, waiting for and hastening the coming of the day of God, because of which the heavens will be kindled and dissolved, and the elements will melt with fire! But according to his promise we wait for new heavens and a new earth in which righteousness dwells. (2 Peter 3:12,13)
This is similar to the very practical instruction which the Apostle Paul gave to the Thessalonians in our epistle reading today. (2 Thes.3:7-12) We should live our lives faithfully while all of these things occur. We should neither be surprised or troubled. These readings today are not meant to instill fear. Rather, they should be a source of hope, if we are men and women of living faith.  
Yet, a fascination with the second coming, the end of all things, and the beginning of the kingdom to come, asserts an extraordinary influence over so many people. One only has to walk in a Christian bookstore or the Christian section of a secular bookstore to find shelves filled with books concerning the final or last days. Most are filled witha kind of exposition which the early Christians would have rejected.
There is no doubt; we are living in an age of growing persecution against Christians. Cardinal Dolan recently addressed the Conference of US Bishops gathered in assembly. Cardinal Dolan told his brother bishops: We are living in what must be recognized as, in the words of Blessed John Paul II, "a new age of martyrs." One expert calculates that half of all Christian martyrs were killed in the twentieth century alone. The twenty-first century has already seen one million people killed around the world because of their belief in Jesus Christ - - one million already in this young century.
And the threat to religious believers is growing. The Pew Research Center reports that 75 percent of the world's population "lives in countries where governments, social groups, or individuals restrict people's ability to freely practice their faith." Pew lays out the details of this "rising tide of restrictions on religion," but we don't need a report to tell us something we sadly see on the news every day.

This is an age of martyrdom. In some places, our brothers and sisters are literally shedding their blood for the faith. In others, there is a growing white martyrdom, where those who bear the name Christian are suffering under a soft persecution, a growing discrimination which seeks to squeeze them out of the public square and compel them to bend the knee to the a new Caesar.
At the end of the discourse from Jesus we heard in today's Gospel are these words:  Before all this happens, however, they will seize and persecute you, they will hand you over to the synagogues and to prisons, and they will have you led before kings and governors because of my name. It will lead to your giving testimony.
Remember, you are not to prepare your defense beforehand, for I myself shall give you a wisdom in speaking that all your adversaries will be powerless to resist or refute. You will even be handed over by parents, brothers, relatives, and friends, and they will put some of you to death. You will be hated by all because of my name, but not a hair on your head will be destroyed. By your perseverance you will secure your lives. (Luke 21)
No matter how difficult it may become, we need not be afraid. We were born into these times and we are born again for these times. In fact, the Lord is giving us all we need to be his witnesses during these times. We should not be surprised that they are treating us the way they treated him. It is one of the promises of the Bible!
The fourth Gospel contains a stirring promise of the Bible. It is rarely recounted by some contemporary preachers who often refer to the "promises" of the Bible in a manner that seems to imply we can all be "healthy, wealthy and wise" if we simply "claim" them. However, this promise is found in all of the Gospel accounts and comes right from the mouth of the Lord Himself:
If the world hates you, realize that it hated me first. If you belonged to the world, the world would love its own; but because you do not belong to the world, and I have chosen you out of the world, the world hates you. Remember the word I spoke to you, 'No servant is greater than his master.' If they persecuted me, they will also persecute you. (John 15:18-20)
In a contemporary Christian culture infected by a mistaken notion that following the Lord Jesus means we will no longer have to suffer or face need, the witness of the Apostle Paul, the writer of our epistle today, stands in stark contrast. The Gospel without the cross is not only poor theology, it has caused too many Christians to miss the mark, which is the definition of the Greek word translated sin in the New Testament.  Paul's letters to the Philippians and the Corinthians are only a few of the many examples:
I know indeed how to live in humble circumstances; I know also how to live with abundance. In every circumstance and in all things I have learned the secret of being well fed and of going hungry, of living in abundance and of being in need (Philippians 4:12).
Are they ministers of Christ? .I am still more, with far greater labors, far more imprisonments, far worse beatings, and numerous brushes with death. Five times. I received forty lashes minus one. Three times I was beaten with rods, once I was stoned, three times I was shipwrecked, .on frequent journeys, in dangers from rivers, dangers from robbers, dangers from my own race, dangers from Gentiles, dangers in the city, dangers in the wilderness, dangers at sea, dangers among false brothers; in toil and hardship, through many sleepless nights, through hunger and thirst, through frequent fastings, through cold and exposure. And apart from these things, there is the daily pressure upon me of my anxiety for all the churches. Who is weak, and I am not weak? Who is led to sin, and I am not indignant?  If I must boast, I will boast of the things that show my weakness. (2 Corinthians 11:22-29)
St. Paul was a Christian who always lived in the presence of God. An Apostle who was raised up out of the ordinary course, he accomplished great things for the Lord as he responded daily to his calling to build the Church and, through her, to change the world. He was a man so profoundly close to the Lord whom he followed that he had mystical experiences wherein he was caught up in heaven. (2 Cor. 12) These flowed out of a genuine interior life and an ongoing intimate communion with the living God.
Yet, this Apostle also suffered greatly. He was misunderstood, betrayed by brethren, and he experienced intense emotional, economic and physical hardships. He had many reasons to become bitter. He did not. He became better. That is our challenge as we embark, every day, on this journey of faith called the Christian life. Like the Apostle, we are called to make the right choices.
Because of his close, ongoing communion with this Jesus who had called him in the desert, Paul cultivated the interior strength that only comes from living a fully surrendered life. The Lord who called him had also changed him in that encounter. This is reflected, as is often the case in the biblical accounts of vocational callings, with the change of his name from Saul to Paul.
But this change began an ongoing conversion. His transformation in Christ continued as Paul learned to empty himself - of himself - so that he could be filled with the very life of God. He offered his suffering, struggle and setbacks to the Lord, joining them to the Cross of Jesus Christ.
St Paul entered into what one of my favorite spiritual writers and saints of our age, St. Jose Maria Escriva called 'the Christian Revolution: The great Christian revolution has been to convert pain into fruitful suffering and to turn a bad thing into something good. We have deprived the devil of this weapon; and with it we conquer eternity. (St. Jose Maria Escriva, The Furrow #887)
In our own lives, we will suffer, we will be misunderstood, betrayed by friends, shipwrecked (at least figuratively), and we will experience the instability that often accompanies the struggles of daily life. Paul shows us how to choose the better way, the way of discipleship. When we learn to make that choice we will find the path to contentment and the way of true freedom.  We join this revolution.
In these times, the Lord is searching for men and women who believe in his promises - all of them - and are willing to be used by Him to reveal His plan. Let us become those men and women.Let us live ready.
---
Copyright 2017 - Distributed by THE CALIFORNIA NETWORK
Pope Francis Prayer Intentions for DECEMBER 2016
Universal:
End to Child-Soldiers: That the scandal of child-soldiers may be eliminated the world over.
Evangelization:
Europe: That the peoples of Europe may rediscover the beauty, goodness, and truth of the Gospel which gives joy and hope to life.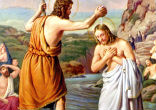 By Fr. James Farfaglia
The consideration of Jesus' baptism, gives us an opportunity to remember our own baptism. If you do not know the date of your own baptism, it is a good idea to go through your personal files and find out when it occurred. CORPUS CHRISTI, TX (Catholic ... continue reading
---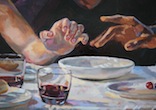 By Fr Samuel Medley, SOLT
I gave my back to those who beat me, my cheeks to those who plucked my beard; My face I did not shield from buffets and spitting. HYTHE, KENT, UK (Catholic Online) - I didn't steal any cookies mommy! says a little boy whose mother asked him if he was hungry, wiping the ... continue reading
---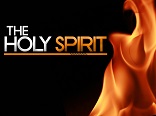 By Catholic Online
The Spirit makes one man a teacher of divine truth, inspires another to prophesy, gives another the power of casting out devils, enables another to interpret holy Scripture. The Spirit strengthens one man's self-control, shows another how to help the poor, teaches ... continue reading
---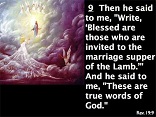 By Deacon Keith Fournier
It is not accidental that the Bible, from beginning to the end, uses marriage as a metaphor and a symbol to reveal the plan of God for the whole human race. Marriage was God's plan from the beginning as we see in the first book of Genesis. Throughout the Old ... continue reading
---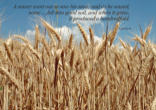 By Deacon Keith Fournier
"A sower went out to sow. And, as he sowed, some seed fell on the path, and birds came and ate it up. Some fell on rocky ground, where it had little soil. It sprang up at once because the soil was not deep, and when the sun rose it was scorched, and it withered for ... continue reading
---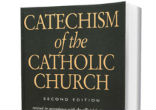 By Michael Terheyden
How we interpret the Bible is of immense importance! It directly affects what we believe about Christ, the Church, and our faith, but it is also related to many of the grave problems in our society and the world. Yet, despite the gravity of this situation, we have good ... continue reading
---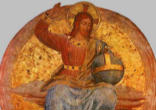 By Deacon Keith Fournier
We celebrate the Feast of Christ the King. It is one of many opportunities the Catholic Church year offers to each one of us to consider the creature called time, receive it as a gift, and begin to really live our lives differently. This is one of ... continue reading
---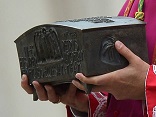 By Deacon Keith Fournier
On the Solemnity of the Feast of Christ the King, the Sunday which marks both the end of the Church Year and the end of the Year of Faith, inaugurated by Pope Emeritus Benedict XVI, Pope Francis greeted thousands of the faithful and presided over Holy Mass and the ... continue reading
---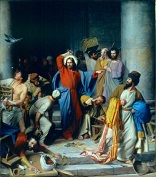 By Father Randy Sly
Becoming a House of Prayer is the best discipline we can take on. St. Ephraem of Syria states that Virtues are formed by prayer. Prayer preserves temperance. Prayer suppresses anger. Prayer prevents emotions of pride and envy. Prayer draws into the soul the Holy ... continue reading
---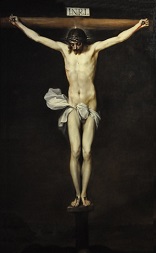 By Deacon Keith Fournier
If this day you only knew what makes for peace- but now it is hidden from your eyes. For the days are coming upon you when your enemies will raise a palisade against you; they will encircle you and hem you in on all sides. They will smash you to the ground and your ... continue reading
---
All Year of Faith News