The Feast of All Saints: A Day for Rejoicing, Decision and Anticipation
---
Let us all rejoice in the Lord, as we celebrate the feast day in honor of all the Saints, at whose festival the Angels rejoice and praise the Son of God
Our readings call us to holiness. As we reflect on the great heroes of the faith, we are meant to walk along the same Way they did. We can progress along that path by embracing the stuff of our everyday life, just as they did, joined to the Lord. We are all called to be saints. We should long to be Saints. Sanctity is not reserved for a few; it is the vocation of all who bear the name Christian. We are all called to be saints. Grace makes it possible. Not easy, but possible.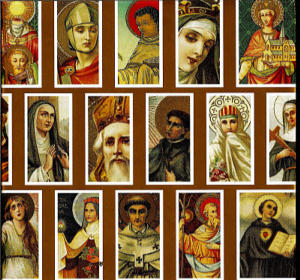 Highlights
By Deacon Keith Fournier
Catholic Online (https://www.catholic.org)
11/1/2013 (4 years ago)

Published in Year of Faith
Keywords: All Saints, year of Faith, Holiness, spirituality, canonization, Feast, Holiness, prayer, communion, sacraments, Deacon Keith Fournier
---
P>CHESAPEAKE, VA (Catholic Online) - The older I get the more I love the Feast of All Saints. It is our family Feast Day. Those who have gone on before us cheer us on. They are our models, our allies, and our intercessors.
They are also a great source of hope.
They lived very human lives, just like we do. However, they learned to live them faithfully in the Lord. How did they do this? By yielding to His grace every day. By learning to give their yes to Him. By growing in their relationship with Him. That engaged their capacity to make choices, their human freedom. Now, they are in the fullness of joy, in the communion of the Trinity, experiencing the fulfillment of all for which they longed. Now they are truly free. That is where we are headed - and our experience of that joy can begin now.
This is a day for rejoicing, decision and anticipation.This is our Feast.
The words pronounced by priests throughout the world on this Feast should become our song today. Let us all rejoice in the Lord, as we celebrate the feast day in honor of all the Saints, at whose festival the Angels rejoice and praise the Son of God. Our readings call us to holiness of life, to sanctity. As we reflect on the great heroes of the faith, we are meant to walk along the same Way they did and allow the same Lord to re-create us anew. We can make progress along that path by embracing the stuff of our everyday life, just as they did, and joining it to the Lord. Our joys, our sorrows, our sturggles and, yes, even our failures, joined to His Cross, become the stuff out of which sanctity os forged.
We are all called to be saints. We should all long to be Saints. Sanctity is not reserved for a few; it is the vocation of all who bear the name Christian. We are all called to be saints.
Grace makes it possible.
Not easy, but possible.
Our first reading at Mass is from the Book of Revelation. It opens our eyes to see the true reality which anchors our lives, the eternal Heavenly Liturgy. We participate in this Liturgy at every Holy Mass. Heaven comes to earth and earth is brought to heaven. As I have aged, the mystery has become more and more real to me. I find myself longing for the heavenly liturgy at more and more of the Holy Masses in which I participate. Often, I lose track of time. That is because the portal of eternity opens at every Mass as the Lamb of God offers Himself in that eternal oblation of love. I wish I could simply stay, bowing in the presence of the Lamb, joining those who are gathered.  
In his later  years, the beloved disciple John was imprisoned on the Island of Patmos. He had a
vision of a great multitude, which no one could count, from every nation, race, people, and tongue. They stood before the throne and before the Lamb, wearing white robes and holding palm branches in their hands. They cried out in a loud voice: Salvation comes from our God, who is seated on the throne, and from the Lamb.
All the angels stood around the throne and around the elders and the four living creatures. They prostrated themselves before the throne, worshiped God, and exclaimed: Amen. Blessing and glory, wisdom and thanksgiving, honor, power, and might be to our God forever and ever. Amen.
Then one of the elders spoke up and said to me, Who are these wearing white robes, and where did they come from?" I said to him, My lord, you are the one who knows. He said to me, These are the ones who have survived the time of great distress; they have washed their robes and made them white in the Blood of the Lamb. (Rev. 7)
The same beloved disciple wrote such heartfelt and beautiful letters to the early Church. He instructed them to pursue lives of holiness by learningto live now the way of love. Our second reading is an excerpt from his first letter: Beloved: See what love the Father has bestowed on us that we may be called the children of God. Yet so we are. The reason the world does not know us is that it did not know him. Beloved, we are God's children now; what we shall be has not yet been revealed. We do know that when it is revealed we shall be like him, for we shall see him as he is. Everyone who has this hope based on him makes himself pure, as he is pure. (1 John 3: 1-13)
This is holiness. We become like Jesus Christ by being emptied of ourselves in order to be filled with His very life. As we live our lives in Him, and allow Him to live His life through us, the Holy Spirit refashions us into His Image. We learn to love as He loves.  because He loves through us. We learn to live as he lives - because he lives in us. As we cooperate with grace, His Likeness begins to emerge in our own lives. We decrease and He increases. We begin to understand - and make our own - the words of the Apostle Paul - No longer do I live but Christ lives in me!  (Gal. 2:20)
This process of transformation progresses in the intimacy of prayerful communion. It is shaped by His Word, as we immerse ourselves in its heavenly wisdom. It deepens within us as we participate in the Sacraments and find Christ in what the great Archbishop John Chrysostom called the sacrament of our brother. Holiness happens in the stuff of our everyday life, no matter what our state in life or vocation. We are all invited to give our Fiat, in imitation of Mary. We are all called to choose the Way of sanctity.
On that road, through our cooperation with grace, Jesus Christ is formed in us and we then bear Him for the world.
We can learn to live our daily lives immersed in God, through the working of the Holy Spirit, beginning today. In the midst of a world corrupted by the effects of sin and filled with all of its imperfection, we can progress in virtue, the character of Christ being formed within us, and become sources of hope for all those around us.  Through grace, our very nature is being perfected, completed in Him.
As we resist the allure of sin and learn how to contend with the reality of evil, the Lord gives us what need to engage the struggle and we are strengthned for the battle which accompanies our sojourn in this world. Slowly, we begin to see Him as He is and we become like Him. By grace, progress in holiness can be made and we become partakers of the Divine Nature. (2 Peter 1:4) 
On this Feast, let us invite the Holy Spirit to shine His light into every crevice of our lives and dispel any darkness. Let us live our lives before the Lord in transparency. Let us ask to be filled with the very life of God and expect an answer to that prayer from a loving Father. Let us ask the Lord Jesus to open our eyes like He did for the disciples on the Road to Emmaus, so that  we can recognize Him in the breaking of the bread, and be fed.  
Our Gospel (Mt. 5: 1-12) reminds us that this path to holiness is also the path to happiness. The word beatitude can be translated happiness. Do we believe that God wants us to be happy? St Josemaria Escriva once wrote, I am every day more convinced that happiness in Heaven is for those who know how to be happy on earth.
Let us ask the Lord to make us saints. Then, let us do the work entailed in being His disciples in this present age. 
The saints we celebrate today are the great cloud of witnesses referred to by the author of the Letter to the Hebrews, Therefore, since we are surrounded by so great a cloud of witnesses, let us rid ourselves of every burden and sin that clings to us and persevere in running the race that lies before us.  (Hebrews 12:1)
They inspire us by their heroic lives and deaths. They assist us by their prayers. They call us toward and forward the eternal home for which we long. Our communion with them is not ended by death, because they are alive in Christ, and we are joined to them in an eternal communion of love.
As the Apostle Paul wrote neither death, nor life, nor angels, nor principalities, nor present things, nor future things, nor powers, nor height, nor depth, nor any other creature will be able to separate us from the love of God in Christ Jesus our Lord. (Rom. 8:38, 39)
The early Christians honored the dead. They  had a special devotion to and affection for the martyrs. We have accounts like the Martyrdom of Polycarp from the middle of the second century which set forth the practice:
Accordingly, we afterwards took up his bones, more precious than the most exquisite jewels, and more pure than gold, and deposited them in a fitting place, so that when being gathered together, as opportunity is allowed us, with joy and rejoicing, the Lord shall grant us to celebrate the anniversary of his martyrdom, both in memory of those who have already finished their course, and for the exercising and preparation of those yet to walk in their steps .
The Liturgy was celebrated over the bones of the holy ones, the saints, who gave their lives for Love Himself; Jesus Christ the Savior. This is the origin of our practice of embedding relics in the altar. Christians do not fear death. Christians view death with the eyes of faith as a change of habitation and not a source of fear.
The dates of commemorating those who witnessed to the faith by their heroic lives and deaths varied as local communities honored local saints and martyrs. Over time, those Feast days became more universally accepted as the rhythm of the Church Year became more uniform.
The first account we have of honoring all the saints is in the homilies of St Ephrem the Syrian (d. AD 373). The Bishop of Constantinople, St. John Chrysostom (d. AD 407), set aside the first Sunday after Pentecost for this commemoration. The Church of the East still celebrates the Feast on that day.
In the Western Church the date may have been on that date but was moved to May 13th. There is some evidence that the move to November 1 came with Pope Gregory III (d. AD 741), and was likely first observed on November 1st in Germany.
The Feast of All Saints is our Feast Day. In a special way we commemorate those honored by canonization, the process wherein the Church has acknowledged their sacrificial lives of holiness and holds them up as models and effective intercessors. However, this celebration is grounded in the ancient Church teaching concerning the Communion of all the Saints.
Just as we pray for one another, those who have gone on before us pray for us. They are joined to us forever in the communion of love and their prayer is powerful. This ancient and firm belief is attested to in the earliest writings of the Christian tradition.
For example, St. Cyril of Jerusalem (AD 350) wrote: We mention those who have fallen asleep: first the patriarchs, prophets, apostles, and martyrs, that through their prayers and supplications God would receive our petition... (Catechetical Lecture 23:9).
The Catechism of the Catholic Church explains this communion: Being more closely united to Christ, those who dwell in heaven fix the whole Church more firmly in holiness...They do not cease to intercede with the Father for us...So by their fraternal concern is our weakness greatly helped....as Christian communion among our fellow pilgrims brings us closer to Christ, so our communion with the saints joins us to Christ, from whom as from its fountain and head issues all grace, and the life of the People of God itself: We worship Christ as God's Son; we love the martyrs as the Lord's disciples and imitators, and rightly so because of their matchless devotion towards their king and master. May we also be their companions and fellow disciples (CCC # 956, 957)
One of my favorite readings in the Liturgy of the Hours is from a homily given by an Abbott and Doctor of the Church named Bernard of Clairvaux on this Feast entitled Let us make haste to our brethren who are awaiting us. I share it below.
*****
Why should our praise and glorification, or even the celebration of this feast day mean anything to the saints? What do they care about earthly honors when their heavenly Father honors them by fulfilling the faithful promise of the Son?
What does our commendation mean to them? The saints have no need of honor from us; neither does our devotion add the slightest thing to what is theirs. Clearly, if we venerate their memory, it serves us, not them. But I tell you, when I think of them, I feel myself inflamed by a tremendous yearning.
Calling the saints to mind inspires, or rather arouses in us, above all else, a longing to enjoy their company, so desirable in itself. We long to share in the citizenship of heaven, to dwell with the spirits of the blessed, to join the assembly of patriarchs, the ranks of the prophets, the council of apostles, the great host of martyrs, the noble company of confessors and the choir of virgins. In short, we long to be united in happiness with all the saints.
But our dispositions change. The Church of all the first followers of Christ awaits us, but we do nothing about it. The saints want us to be with them, and we are indifferent. The souls of the just await us, and we ignore them.
Come, brothers, let us at length spur ourselves on. We must rise again with Christ, we must seek the world which is above and set our mind on the things of heaven. Let us long for those who are longing for us, hasten to those who are waiting for us, and ask those who look for our coming to intercede for us.
We should not only want to be with the saints, we should also hope to possess their happiness. While we desire to be in their company, we must also earnestly seek to share in their glory. Do not imagine that there is anything harmful in such an ambition as this; there is no danger in setting our hearts on such glory.
When we commemorate the saints we are inflamed with another yearning: that Christ our life may also appear to us as he appeared to them and that we may one day share in his glory. Until then we see him, not as he is, but as he became for our sake. He is our head, crowned, not with glory, but with the thorns of our sins.
As members of that head, crowned with thorns, we should be ashamed to live in luxury; his purple robes are a mockery rather than an honor. When Christ comes again, his death shall no longer be proclaimed, and we shall know that we also have died, and that our life is hidden with him.
The glorious head of the Church will appear and his glorified members will shine in splendor with him, when he forms this lowly body anew into such glory as belongs to himself, its head.
Therefore, we should aim at attaining this glory with a wholehearted and prudent desire. That we may rightly hope and strive for such blessedness, we must above all seek the prayers of the saints. Thus, what is beyond our own powers to obtain will be granted through their intercession.

---
Copyright 2018 - Distributed by THE CALIFORNIA NETWORK
Pope Francis Prayer Intentions for APRIL 2018
For those who have Responsibility in Economic Matters.
That economists may have the courage to reject any economy of exclusion and know how to open new paths.
---
---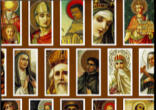 Calling the saints to mind inspires, or rather arouses in us, above all else, a longing to enjoy their company, so desirable in itself. We ... continue reading
---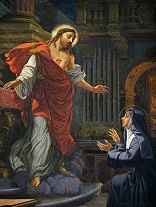 The heart is the center of a person, the place from which he/she makes the choices which will affect the world within them and around them. ... continue reading
---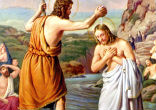 The consideration of Jesus' baptism, gives us an opportunity to remember our own baptism. If you do not know the date of your own ... continue reading
---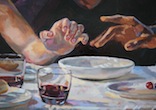 I gave my back to those who beat me, my cheeks to those who plucked my beard; My face I did not shield from buffets and spitting. HYTHE, ... continue reading
---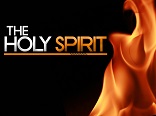 The Spirit makes one man a teacher of divine truth, inspires another to prophesy, gives another the power of casting out devils, enables ... continue reading
---