FRIDAY HOMILY: Fr. Randy Sly on Love and the Greatest Law
---
Loving God and Our Neighbor
The rendering of God's law issues from a heart of love. The purpose of the Ten Commandments was to help build up our love for the Father, not to simply spoil our fun here on earth. For some reason, human beings seem to gravitate to legalism, when we establish many forms of relationship. It keeps things from being messy, being sloppy.However, it also takes the love right out of it.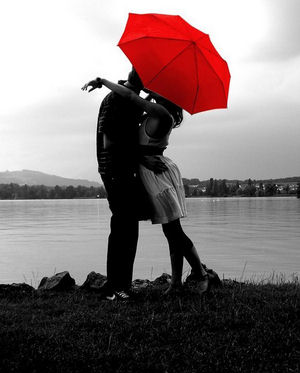 Love God and our Neighbor.
WASHINGTON, DC (Catholic Online) - When I was a teenager, growing up in Marshall, Michigan, one of my favorite places to go was Louie's Bakery. This was a good old-fashioned bakery and when you opened the door to enter, you were met with the most incredible aroma made up of all their baked goods. It's too bad there wasn't a product that tasted like all of those wonderful smells put together!
In today's gospel reading, the Pharisees were trying to test Jesus by challenging him to pick the greatest law in the Jewish faith. This would be tough as there were not just 10 to choose from, but 613 that they had assembled. Determining the greatest one was a debate that had gone on for centuries with no resolution. Like the aroma in the bakery, they wanted to discover the one great law.
Thinking this would be a good way to discredit Jesus and build their own credibility, since he had just silenced their rivals - the Sadducees - they wanted him to resolve this age-old question. And he did.
When the Pharisees heard that Jesus had silenced the Sadducees, they gathered together, and one of them, a scholar of the law, tested him by asking, "Teacher, which commandment in the law is the greatest?"
He said to him, "You shall love the Lord, your God, with all your heart, with all your soul, and with all your mind. This is the greatest and the first commandment. The second is like it: You shall love your neighbor as yourself. The whole law and the prophets depend on these two commandments."
Jesus didn't begin with the issue of law but the issue of love. Obviously, his challengers had spent their time immersed in their scrolls, studying the written laws and trying to determine which they found to be the most universal.
Our Lord started with His Father and chose to emphasize what was in the heart of the one who gave the Law. There he found love. All of the commandments could be boiled down to one love message that had two parts, as we love God and our neighbor.
He didn't even have to give the Pharisees something new. The first part of his response comes from Deuteronomy 6:5, which is a part of the Hebrew "Shema," which the Jews recited daily and literally wore in small leather pouches called phylacteries. They knew this verse by heart!
The second part came right out of Leviticus 19:18. This is the section of this book of the law that deals with how we conduct ourselves with those around us.
What a surprise it must have been to hear those familiar words coming from Jesus. At the same time, we might wonder whether they really caught what he was trying to say.
The rendering of God's law issues from a heart of love. The purpose of the Ten Commandments was to help build up our love for the Father, not to simply spoil our fun here on earth.
For some reason, human beings seem to gravitate to legalism, when we establish forms of relationship. It keeps things from being messy. being sloppy. It also takes the love right out of it.
Recently, another priest and I were discussing Holy Days of Obligation. We were both bemoaning the fact that so many people complain that they "have to go to Mass" because the Church requires it. How sad, we both shared, that they don't see that days of obligation are for our good, not to hassle us. In the course of our conversation, he put forward another way of posturing this, "Why don't we talk about Holy Days of Opportunity. These days are wonderful opportunities to gather in Mass, receive grace from our Lord and grow in holiness."
It is so much easier to establish a law than to live in love because love can get messy. We can simply measure love or set measurable criteria. The love that our Lord is talking about here is a self-giving act of devotion. This is why he underscores the fact that whatever laws are written by God, they are written in the ink of love and the Bible uses a special word for this love - agape.
This is love in action
Often in the Church we use the word "charity" to differentiate agape, but unfortunately that word has been co-opted to describe non-profit organizations and sometimes brings forth images of simply giving money.
Agape is a selfless, sacrificial and unconditional love offered to others regardless of the response. This was the quality of love that Jesus possessed as he willingly endured scourging and the cross. This is the quality of love offered by his apostles in His service to others.
In his first encyclical, "Deus Caritas Est" (God is Love), Pope Emeritus Benedict talked about "agape" love as descending love, a love that finds its source in God and comes to us as persons and that it might be offered to others.
The Holy Father went on to show that the Eucharist is a time when this love is truly experienced. Communion draws me out of myself towards him, and thus also towards unity with all Christians. We become "one body", completely joined in a single existence. Love of God and love of neighbour are now truly united: God incarnate draws us all to himself. We can thus understand how agape also became a term for the Eucharist: there God's own agape comes to us bodily, in order to continue his work in us and through us.
This is the quality of love we find at work not only in our worship of Almighty God, but in His service to the least of those among us. Agape looks beyond conditions and circumstances to see clearly the person himself or herself. This is why St. Paul describes "agape" by saying, "Love bears all things, believes all things, hopes all things, endures all things. Love never fails." (I Cor. 13:7,8)
This is also love that comes from an undivided heart
In declaring that the greatest law is the law of love (agape), our Lord also makes it clear that this is a love that must come forth from an undivided heart. We are to love God with our heart, soul and mind. In St. Mark's version of this encounter, Jesus adds, "strength."
The whole of our being must be involved with our love act. It must be authentic, issuing directly from the interior of our being, not simply a superficial act. It must also be active, coming forth in word and deed, not does intent.
If pressed to determine whether we love our neighbors as ourselves, we might say, "yes," while keeping it a secret from the many persons we encounter. Do we get annoyed at the clerk waiting on us in a retail store, or treat a waiter or waitress with contempt? How is our behavior behind the wheel during rush hour? There are many opportunities for agape.
Pope Emeritus Benedict wrote, "If you see charity, you see the Trinity", wrote Saint Augustine. The Spirit is also the energy which transforms the heart of the ecclesial community, so that it becomes a witness before the world to the love of the Father, who wishes to make humanity a single family in his Son.
As Jesus said to his followers, "By this will all men know that you are my disciples, that you have love for one another."
At the beginning of this message, we talked about aroma. Agape is an aroma, a fragrance we are able to bring to the world. St. Paul reminds us it is also a taste, a fruit. In Galatians, he lists it as one of the fruits of the Spirit. Thus agape is something that can be sampled by others.
Pope Benedict concludes his great encyclical by highlighting the saints, both during their earthly lives and after, as great examples of those who have been captivated by agape love. .the devotion of the faithful shows an infallible intuition of how such love is possible: it becomes so as a result of the most intimate union with God, through which the soul is totally pervaded by him-a condition which enables those who have drunk from the fountain of God's love to become in their turn a fountain from which "flow rivers of living water" (Jn 7:38). Mary, Virgin and Mother, shows us what love is and whence it draws its origin and its constantly renewed power. To her we entrust the Church and her mission in the service of love:
Holy Mary, Mother of God,
you have given the world its true light,
Jesus, your Son - the Son of God.
You abandoned yourself completely
to God's call
and thus became a wellspring
of the goodness which flows forth from him.
Show us Jesus. Lead us to him.
Teach us to know and love him,
so that we too can become
capable of true love
and be fountains of living water
in the midst of a thirsting world.
May we be followers of the greatest commandment, as revealed by our Lord, strengthened in our pursuit by the example and prayers of His (and our) Mother.
-----
 
Father Randy Sly is the Associate Editor of Catholic Online and a priest with the Personal Ordinariate of the Chair of St. Peter (http://usordinariate.org) established by the Holy Father, Pope Benedict XVI, through the Apostolic Constitution Anglicanorum Coetibus. He is currently the chaplain of the St. John Fisher Ordinariate Community, a priest in residence at Our Lady of Hope Catholic Church and Director of Pro-Life Activities for the Ordinariate. He is a popular speaker for parishes, apostolates and organizations.
---
Copyright 2018 - Distributed by THE CALIFORNIA NETWORK
Pope Francis Prayer Intentions for APRIL 2018
For those who have Responsibility in Economic Matters.
That economists may have the courage to reject any economy of exclusion and know how to open new paths.
---
---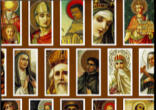 Calling the saints to mind inspires, or rather arouses in us, above all else, a longing to enjoy their company, so desirable in itself. We ... continue reading
---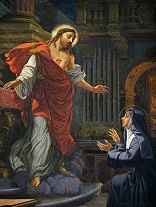 The heart is the center of a person, the place from which he/she makes the choices which will affect the world within them and around them. ... continue reading
---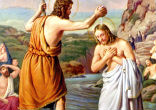 The consideration of Jesus' baptism, gives us an opportunity to remember our own baptism. If you do not know the date of your own ... continue reading
---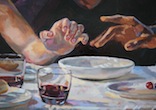 I gave my back to those who beat me, my cheeks to those who plucked my beard; My face I did not shield from buffets and spitting. HYTHE, ... continue reading
---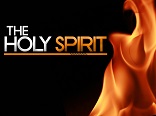 The Spirit makes one man a teacher of divine truth, inspires another to prophesy, gives another the power of casting out devils, enables ... continue reading
---