FRIDAY HOMILY: Only What's Done for Christ
---
Focusing on the Eternal
In his teaching during the Sermon on the Mount, Jesus is helping us to see that our treasure - that which we value most - should be of heavenly proportion. We must see our greatest wealth in our relationship with God and the gospel of Jesus Christ.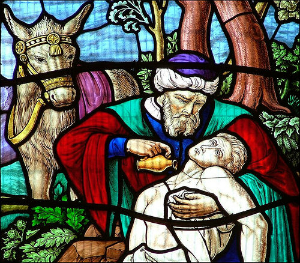 WASHINGTON, DC (Catholic Online) - During my early days of ministry, we lived in Grand Rapids, Michigan. At that time a new group of restaurants began to spring up around the state. "Chicken Coop" restaurants began gaining popularity as a competitor to Kentucky Fried Chicken.
The Chicken Coop chain was owned by a very committed Christian business leader who was not afraid to let people know about his faith in Christ. There was a phrase printed on every bag of chicken that went out the door. It read, "Only one life twill soon be past, only what's done for Christ will last."
In today's gospel, Jesus lays the groundwork for this catchy saying that had been penned by C.T. Studd.
Jesus said to his disciples:
Do not store up for yourselves treasures on earth,
where moth and decay destroy, and thieves break in and steal.
But store up treasures in heaven,
where neither moth nor decay destroys, nor thieves break in and steal.
For where your treasure is, there also will your heart be.
There is one big question that must be asked when confronted with our Lord's teaching. What is our treasure?
The answer is found by looking at the compass of our heart. In what direction is our heart pointing? Where is our heart fixed?
Perhaps it's your career, your house, your car, your possessions, your family or your reputation. What is that we love the most?
In his teaching during the Sermon on the Mount, Jesus is helping us to see that our treasure - that which we value most - should be of heavenly proportion. We must see our greatest wealth in our relationship with God and the gospel of Jesus Christ.
Moth, Decay and Thieves
"Only what's done for Christ will last." "Lastability" is an interesting concept. Often when we put our trust in the things on this earth, we forget has temporary materials possessions and even human relationships really are. Moth, decay and theft represent those influences that can take them away.
It is so easy to get caught up in materialism, careerism and other ism's that plague our modern culture. When we measure success on the basis of accumulated value, prominence, fame and other transitory values we can cup up short.
I can't remember the first time I heard a homily at a funeral that made the following point. In fact, I have also said, "I don't know of anyone who, laying on their death bed, says, 'I wish I had made more money,' 'I wish I had spent more time on the job,' or I wish I been able to have a nicer house.'"
It is normally at that time when the eternal is honestly seen in its true light. How sad we have to wait until then.
One common theme that I have found among the saints is a preoccupation with our future in heaven. Martyrs looked forward to it, the infirm offered their pain and suffering for it and the heroes of the faith gave everything up to obtain it.
Just the other day we celebrated the memorial of St. Romuald, a great saint from Italy who had established a large number of monasteries and hermitages. As a young man, he enjoyed his family's wealth and prestige. He lived what we would call today "the high life."
Later, after watching his father kill another man in a duel, he entered monastic life and made a difference in the lives of countless others. In the stark reality of seeing someone's life taken before his eyes, all of the things that he valued meant nothing.
Treasures in Heaven
Our Lord, instead, calls us to put our focus on those things which cannot be destroyed by things of the world, in particular the gospel of Jesus Christ, whose message can bring us to the hope of eternal life.
I remember as a young man how much I enjoyed being a disk jockey. I was popular with the teens, since my show was on during the early evening. I did record hops (OK, that dates me, I know) and other public events where it was fun to get so much attention. In my early 20's I was living "the good life," until the military draft (my career moth, as it were) ended the dream.
Classified IA and available to be called, I joined the Navy and was assigned to a destroyer off the coast of Vietnam. When I landed in Da Nang to catch a ride to my ship, I remember seeing wounded soldiers, most of whom were my age, and the airport terminal. The dream at that point was not just ended; it had turned into a nightmare.
At that moment I recognized that I was mortal and could die over there. My values shifted as the "moth" had devoured my career, my dreams of a big time radio career began to decay and my "good life" had been stolen.
It was at this time in my life, however, that, through an encounter with others, my faith in Christ was re-ignited and my life changed forever.
In his devotional series, In Conversation with God, Fr. Francis Fernandez writes, "However much we manage to accumulate in life, there is little point to it. Nothing on earth is worth putting our heart into in an absolute way. Our heart is made for God, and for the noble things of this earth in him."
When we talk about treasures in heaven, it is more than just our personal relationship. It also involves inserting our heavenly values into relationships and treasures here on earth.
Hernandez goes on, "...we need to keep our heart fixed on God, on the mission we have received from him, and on other persons and things for God's sake."
As Fr. Fernandez points out, "it is not wrong to value the things of this world, but we must do so with respect to heavenly value. Our relationships with friends and family must be centered on the eternal, where, fixed on Christ and his saving work, our lives will be united in heaven as on earth."
As our Lord has called us to a more heavenly view, the choice is really up to us. We can continue to build monuments to ourselves here on earth and focus on things that will not last. Or we can choose to make Christ and His Church the center of our lives.
As Dr. Suess wrote in his little book, "Oh, The Places You'll Go!"
You have brains in your head. You have feet in your shoes
You can steer yourself any direction you choose.
You're on your own.  And you know what you know.
And YOU are the guy who'll decide where to go.
-----
 
Father Randy Sly is the Associate Editor of Catholic Online and a priest with the Personal Ordinariate of the Chair of St. Peter (http://usordinariate.org) established by the Holy Father, Pope Benedict XVI, through the Apostolic Constitution Anglicanorum Coetibus. He is currently the chaplain of the St. John Fisher Ordinariate Community, a priest in residence at Our Lady of Hope Catholic Church and Director of Pro-Life Activities for the Ordinariate. He is a popular speaker for parishes, apostolates and organizations.
---
Copyright 2018 - Distributed by THE CALIFORNIA NETWORK
Pope Francis Prayer Intentions for July 2018
Priests and their Pastoral Ministry.
That priests, who experience fatigue and loneliness in their pastoral work, may find help and comfort in their intimacy with the Lord and in their friendship with their brother priests.
---
---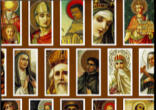 Calling the saints to mind inspires, or rather arouses in us, above all else, a longing to enjoy their company, so desirable in itself. We ... continue reading
---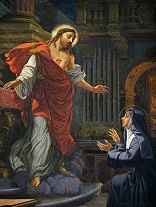 The heart is the center of a person, the place from which he/she makes the choices which will affect the world within them and around them. ... continue reading
---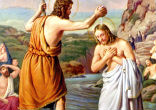 The consideration of Jesus' baptism, gives us an opportunity to remember our own baptism. If you do not know the date of your own ... continue reading
---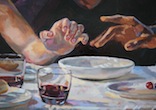 I gave my back to those who beat me, my cheeks to those who plucked my beard; My face I did not shield from buffets and spitting. HYTHE, ... continue reading
---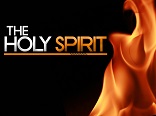 The Spirit makes one man a teacher of divine truth, inspires another to prophesy, gives another the power of casting out devils, enables ... continue reading
---