MONDAY HOMILY: When it Comes to Love, Super-size It
---
Jesus invites us to "super-size" our love. He does not want us to be satisfied with the minimum, but to seek the maximum, both in our capacity to give and our ability to receive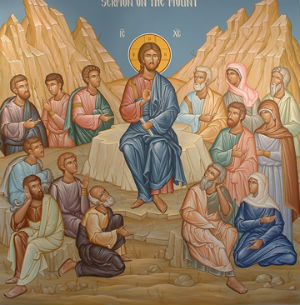 Highlights
By Fr. Stephen B. Reynolds
Catholic Online (https://www.catholic.org)
6/17/2013 (5 years ago)

Published in Year of Faith
Keywords: Year of Faith, daily homily, Gospel of St. Matthew, Sermon on the Mount, Rich Young Man, love, super-size, Catholic homily, whole heart, Fr. Stephen B. Reynolds, St. Theresa Sugar Land, Tx.
---
P>SUGAR LAND, TX (Catholic online) - As a parish priest, I am asked a lot of unusual questions.  Among them is one that I haven't heard in some time, but which priests occasionally encounter.  "How late can I be to Mass and still have it count?"
Whenever I have been asked that question, I try to give the person the benefit of the doubt. Perhaps they are caring for a sick relative, and they have a limited window of availability for assisting at Mass. Perhaps they are worried, because despite their best efforts, they were late for Mass or had to leave early for a serious reason.  They may have some other good reason as well.
Sometimes, however, I wonder if that question is not indicative of a perennial human tendency - the attempt to "manage" responsibility, so that it is reduced to the smallest possible level of obligation.
Jesus is well aware of our proclivities in this area, and so he challenges us to expand our horizons.  "Should anyone press you into service for one mile, go with him for two miles. Give to the one who asks of you, and do not turn your back on one who wants to borrow" (Matthew 5:41-42).  
The Gospel of today's Mass is a continuation of the Sermon on the Mount, which began with the preaching of the Beatitudes.  There is a common thread that runs throughout this long discourse:  be more; do more.  It is not enough to fulfill the minimum requirements of The Law.  Aim for the maximum. 
Jesus invites us to an expansiveness of spirit, so that we transcend a nominal vision of Christian discipleship, and opt for an all-encompassing commitment to following Christ.  You shall love the Lord your God with all your heart, and with all your soul, and with all your strength, and with all your mind; and your neighbor as yourself" (Luke 10:27; emphasis added).  The operative word here is "all."
To give Jesus less than everything, is to risk living an incomplete, superficial Christianity that looks healthy on the outside, but which is not fully integrated into one's life.  "God has no use for divided hearts.  I give mine whole and not in parts" (St. Josemaría Escrivá, The Way, no. 145). 
In short, Jesus invites us to "super-size" our love. He does not want us to be satisfied with the minimum, but to seek the maximum, both in our capacity to give and our ability to receive.  Remember Jesus' encounter with the rich young man (Matthew 19:16-30).  He is seeking eternal life, and comes to Jesus for help.
The Lord instructs him to obey the commandments, which this young man claims he has done.  Yet, he is still restless.  He knows that there is more to the life of faith than just the minimal fulfillment of The Law, as important a first step as that is.  "What do I still lack?" he asks (Matthew 19:20). 
"Jesus said to him, 'If you would be perfect, go, sell what you possess and give to the poor, and you will have treasure in heaven; and come, follow me'" (Matthew 19:21).
Jesus invites this young man to "super-size" his faith.  The Gospel tells us that he chooses not to, and so becomes sad.  We're not surprised.  Whenever we turn away for God, whenever we fail to give ourselves completely to him, we travel down the path of sadness and despondency.
The recipe for true happiness always begins with a willingness to give ourselves more and more completely to the will of God.  What holds us back? Perhaps too much comfort with the current shape of our lives.  Perhaps fear of the unknown and anxiety over the future.  Perhaps even a lack of generosity and a deeply ingrained selfishness.
Let's ask the Lord for his help in overcoming all of these obstacles, so that we can love him with generous and undivided hearts.
*****
Fr. Stephen B. Reynolds is the Pastor of St. Theresa Catholic Church in Sugar Land, Texas. You are invited to visit them on the Web at: www.SugarLandCatholic.com.

---
Copyright 2019 - Distributed by THE CALIFORNIA NETWORK
Pope Francis Prayer Intentions for January 2019
Young People and the Example of Mary.
That young people, especially in Latin America, follow the example of Mary and respond to the call of the Lord to communicate the joy of the Gospel to the world.
---
---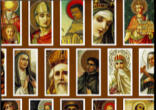 Calling the saints to mind inspires, or rather arouses in us, above all else, a longing to enjoy their company, so desirable in itself. We ... continue reading
---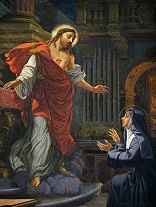 The heart is the center of a person, the place from which he/she makes the choices which will affect the world within them and around them. ... continue reading
---
---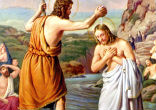 The consideration of Jesus' baptism, gives us an opportunity to remember our own baptism. If you do not know the date of your own ... continue reading
---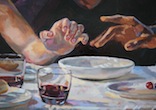 I gave my back to those who beat me, my cheeks to those who plucked my beard; My face I did not shield from buffets and spitting. HYTHE, ... continue reading
---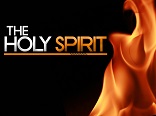 The Spirit makes one man a teacher of divine truth, inspires another to prophesy, gives another the power of casting out devils, enables ... continue reading
---