FRIDAY HOMILY: Is It Lawful or Just a Lower Standard?
---
Don't Let Ordinary Time Become Merely Ordinary
It seems that in society there has always been this predisposition to dumbing things down to accommodate lowered performance. We lessen our expectations rather than ramp up our determination. This seems to be a strong tendency in the culture of today. When things get tough we want to lower the bar. We even see this in the Church.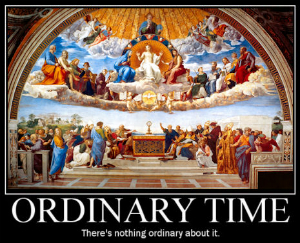 WASHINGTON, DC (Catholic Online) - Many years ago I was approached by a young man who was a part of our parish's youth group. He wanted to meet with me as he had some questions about his faith.
When we got together, the discussion covered a list of actions that he wanted to cover, asking if each of these were sins and whether he could keep doing them and still be in a state of grace. It didn't take long before I realized he wasn't looking at developing a deeper life of holiness. He was searching to find away from the Lord he could live and still not be in jeopardy.
In today's gospel we have a similar mindset in the Pharisee who approached Jesus with a question. While trying to catch our Lord in a technicality regarding the Law of Moses, his mindset indicated that any relationship with God is a matter of legal conformity not heart conversion.
The issue he was putting forth had to do with divorce, "Is it lawful for a man to divorce his wife?" Can a husband legally issue a certificate of divorce for his wife?
Jesus' answer got to the heart of the problem - the difference between something being lawful and being a lower standard. He reminds the Pharisees that Moses issued this because of the hardness of heart in Israel. It was not a part of the early Mosaic Law but included in the subsequent laws outlined in Deuteronomy.
There were other areas where the same principle held true for Israel, involving war, interest on loans, sacrificed animals and the like. What a difference 40 years had made. In order to keep Israel moving forward, modifications were made.
In his response, Jesus called the Pharisee back to the original design, in this case, for marriage.
From the beginning of creation, God made them male and female.
For this reason a man shall leave his father and mother
and be joined to his wife,
and the two shall become one flesh.
So they are no longer two but one flesh.
Therefore what God has joined together,
no human being must separate.
It seems that in society there has always been this predisposition to dumbing things down to accommodate lowered performance. We lessen our expectations rather than ramp up our determination.
This seems to be a strong tendency in the culture of today. When things get tough we want to lower the bar. We even see this in the Church. Whether we're talking about life, contraception, theology or ecclesiology, people are banding together in ad hoc groups to call for inferior performance in faith and practice as the new norm.
This is a pattern we have to watch carefully. A friend of mine would put it, "while some people wanted to put everything on sale, I want to mark up the merchandise."
We have just re-entered Ordinary Time (or "Tempus Annum") on the liturgical calendar. Some might even interpret this as the season of lowered expectations, where we can let off on our disciplines of abstinence, fasting and devotional disciplines since we have no major observances for which we are preparing.
Thus, Ordinary Time, many believe, is when we can slip into neutral and take a rest from religion. Nothing can be farther from the truth! In fact, according to the General Norms for the Liturgical Year and the Calendar, this season is "devoted to the mystery of Christ in all its aspects."
To be honest, this is why I love Ordinary Time! This is an all-inclusive time, embracing every facet of the faith together. I love what it really can signify, that an omnipotent and omnipresent God can be - and is - involved in the ordinariness of life. The ordinary becomes extraordinary. Even the liturgical color, green, reminds us that this is our season of growth in faith and holiness.
Ordinary time is a great opportunity to fasten down those disciplines and devotions that we initiated during Lent and hopefully perpetuated in Easter. Now we can set them in place as a permanent part of our spirituality.
On Trinity Sunday in 2010, our Pope Emeritus, Benedict XVI, made the following observation in his Angelus address. He state that Ordinary Time "does not mean that the commitment of Christians must diminish; quite the contrary, having entered divine life through the Sacraments, we are now called to remain open to the action of Grace in order to grow in love towards God and neighbour."
In these intervening months between now and Advent, here are seven ways you can cooperate with the Lord's grace at work in you.
1.    Build daily resolve in your prayer life. Vacations, kids' sports, summer activities can all distract us from our regular disciplines of prayer. Don't allow your focus to be shifted. As Fr. Larry Richards likes to tell those who attend his missions regarding his daily prayer and Scripture study, "No Bible no breakfast, no Bible no Bed." Those two times are set in stone amidst a very busy schedule.
2.    Take time for the Word of God. Don't let a day go without reading your Bible. There are many daily reading plans you can find. You can also find the readings through such resources as Christian Prayer, Liturgy of the Hours, Magnificat and many others.
3.    Read something good for your soul. Whether it's a book about a saint, one of the great classics of Catholic literature or a more recent publication, you can never run out of great books the will fill your mind with truth while touching your heart.

4.    Make this a Season of Good Deeds. As an individual, with friends or with family, Ordinary Time is a wonderful opportunity for doing something for someone else. When I was a teenager, the parents of one of my friends ran a nursing home. One day his mom said to me, "It is so sad. Around Christmas so many people want to come and cheer up the residents. Then no one comes back the other eleven months of the year."
5.    Don't miss Mass! As a priest, I hear so many people talk about the fact that they missed Mass while on vacation, because of sports or just because the weekend gets busy. Sunday is not a Holy Day of Obligation because the Church wants to mess with you. Holy Mother Church wants us to remember that the worship of Almighty God is the highest and best use of our time. Mass is also where we receive his grace - our bread for the journey. Through Masstimes.org and other sites you can't miss finding a Mass!
6.    Pray the Rosary, going beyond the beads. We all know the "Hail Mary" and most of us can recite the mysteries, but we can often fail to focus while we pray. The Rosary involves meditating on the mysteries after each is announced, not merely praying through the beads. Saint Louis de Montfort said, "Recite your Rosary with faith, with humility, with confidence, and with perseverance."
7.    Make a good confession. Advent and Lent are two seasons where confession is emphasized. As we all know, monthly confession is a good thing to practice and Ordinary Time should not be a time to let down on your schedule. If you can't make it to one of the published times, call your priest and set up a time to meet.
Is it lawful or just a lower standard? During Ordinary Time your are basically on your own. The major celebrations are over until Advent. The Church is not adding more Masses, confession times or other events. It's up to you.
Now is not the time to lower your standards of spiritual performance and this is not a vacation from holiness. This is a great time for grace to work and our hearts, again, to be filled with his love.
-----
 
Father Randy Sly is the Associate Editor of Catholic Online and a priest with the Personal Ordinariate of the Chair of St. Peter (http://usordinariate.org) established by the Holy Father, Pope Benedict XVI, through the Apostolic Constitution Anglicanorum Coetibus. He is currently the chaplain of the St. John Fisher Ordinariate Community, a priest in residence at Our Lady of Hope Catholic Church and Director of Pro-Life Activities for the Ordinariate. He is a popular speaker for parishes, apostolates and organizations.
---
Copyright 2018 - Distributed by THE CALIFORNIA NETWORK
Pope Francis Prayer Intentions for APRIL 2018
For those who have Responsibility in Economic Matters.
That economists may have the courage to reject any economy of exclusion and know how to open new paths.
---
---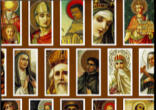 Calling the saints to mind inspires, or rather arouses in us, above all else, a longing to enjoy their company, so desirable in itself. We ... continue reading
---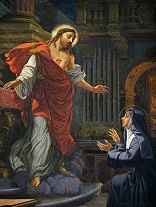 The heart is the center of a person, the place from which he/she makes the choices which will affect the world within them and around them. ... continue reading
---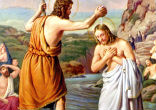 The consideration of Jesus' baptism, gives us an opportunity to remember our own baptism. If you do not know the date of your own ... continue reading
---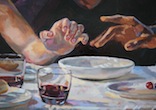 I gave my back to those who beat me, my cheeks to those who plucked my beard; My face I did not shield from buffets and spitting. HYTHE, ... continue reading
---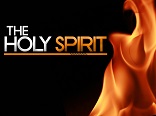 The Spirit makes one man a teacher of divine truth, inspires another to prophesy, gives another the power of casting out devils, enables ... continue reading
---