SATURDAY HOMILY: In Prayer, Don't be afraid to ask!
---
We do not subscribe to a "Burger King" mentality when it comes to prayer: "Have it Your Way!" The goal of our prayer should not be to have it our way but rather to have it God's way!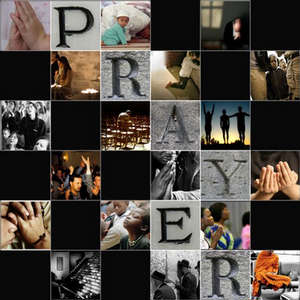 LONG BEACH, CA (Catholic Online) At the end of today's Gospel, Jesus tells us: "Whatever you ask in my name, I will do, so that the Father may be glorified in the Son. If you ask anything of me in my name, I will do it."  
In another very well-known Gospel passage about prayer, Jesus is even more emphatic. In Matthew 7:7 he employs the imperative mood and commands us: "Ask and it will be given to you; seek and you will find; knock and the door will be opened to you." There are many other places in sacred scripture where Jesus similarly obliges us to pray in this way.
Clearly, Jesus wants us to ask Him for our needs. And while asking is not the sum and summit of prayer it is indeed an indispensable aspect of prayer and one which is spiritually beneficial to the Christian.
This asking dimension of prayer can be summed up in the word supplication. The Catechism of the Catholic Church states: "The vocabulary of supplication in the New Testament is rich in shades of meaning: ask, beseech, plead, invoke, entreat, cry out, even "struggle in prayer." (2629)
I once knew a very pious woman who told me: "Father, I pray for everyone else, but I never pray for myself." I told her, "That's wonderful that you pray for others (intercession) but don't be so high-minded that you fail to pray for yourself and your own needs as well."
Jesus commands it! So don't be afraid to ask!
I suspect that the woman mentioned above felt that there was something inherently selfish about asking the Lord for herself. But nothing could be further from the truth. This almost natural desire to plead on one's behalf before the Divine Majesty is born of two realities: (1) our absolute neediness as creatures and fallen creatures at that and (2) our filial trust in God the Father Almighty.
The Catechism tells us: "By prayer of petition we express awareness of our relationship with God. We are creatures who are not our own beginning, not the masters of adversity, not our own last end. We are sinners who as Christians know that we have turned away from our Father. Our petition is already a turning back to him." (2629)
Inevitably, someone will raise the objection: "If God knows everything, why do we need to ask Him for anything?" The simple answer to this question is that when we make prayers of petition we are not informing God of something He does not already know. The Lord Himself has told us: "Your Father knows what you need before you ask Him" (Matthew 6:8). Rather, as St. Thomas explains, we pray so that we "may be reminded of the necessity of having recourse to God's help in these matters" (Summa Theologica, II-II, q. 83, a. 2).
What is more, our motive in making prayers of supplication is not to alter God's will (as if that were possible) but rather to dispose ourselves to receive that which God wishes to give us. We do not subscribe to a "Burger King" mentality when it comes to prayer: "Have it Your Way!" The goal of our prayer should not be to have it our way but to rather to have it God's way! This is what Jesus means when He tells us: "Whatever you ask in my name, I will do, so that the Father may be glorified in the Son."
In saying this, therefore, Jesus is not giving us carte blanche to ask whimsically for whatever we desire at any given moment: a giant screen TV, an expensive new car, or the winning ticket in a multi-million dollar lottery. Unfortunately, there is an element of Protestant evangelicalism which preaches this very thing. They are sometimes labeled the Name it and Claim it crowd. Some of these people take this distorted approach to such an extreme that they will even say: if you didn't get what you were asking for it's because you don't have enough faith. These phony Christians cause much more harm than good by enticing people to ask capriciously for things and when they don't get what they asked for they become angry at God.
God is not a giant candy machine dispensing goodies to His children. God is our all-powerful and all-loving Father who already knows our needs and will grant us those goods (not goodies) which are conducive to our salvation.
Dominican Fathers Antonio Royo and Jordan Aumann break it down this way:
"It is an error to believe that if we persevere in prayer, come what may, we shall always obtain that which we seek. Some things will be granted to us absolutely; some things will never be granted to us no matter how earnestly and how long we pray for them; still others will be granted to us only [my emphasis] if we pray, because God has decreed that they will be given only on the condition that we ask for them [my emphasis]" (The Theology of Christian Perfection, p. 501).
How much more earnestly, then, should we beg our Lord for all our needs, having always in the first place that which will redound to our eternal salvation. This, in fact, is what we ask for through the mediation of the priest in the Collect of today's Eucharistic Sacrifice:
"O God, who in the celebration of Easter graciously give to the world the healing of heavenly remedies, show benevolence to your Church, that our present observance may benefit us for eternal life."
There is so much to pray for. And not only each one's personal needs, but for our relatives and friends, for the Church and our nation. We are living in times of great uncertainty. The fabric of a society woven together with the golden thread of Christian culture is being ripped asunder. The dignity of the human person is trampled upon. The sanctity of marriage is being desecrated. Religious freedom is being eroded away.
In such times the temptation to throw up our arms in despair and to simply brace ourselves for the worst grows stronger every day. But this is a temptation which we must forcefully resist with the powerful weapon of prayer.
"So strengthen your drooping hands and your weak knees" (Hebrews 12:12)
The Month of Our Lady is about to begin. Let us call upon Holy Mary, Virgin Most Powerful, and ask her to intercede for us before the Throne of her Divine Son as we pray:
REMEMBER, O most gracious Virgin Mary, that never was it known that anyone who fled to thy protection, implored thy help, or sought thy intercession was left unaided. Inspired with this confidence, I fly to thee, O Virgin of virgins, my Mother; to thee do I come; before thee I stand, sinful and sorrowful. O Mother of the Word Incarnate, despise not my petitions, but in thy mercy hear and answer me. Amen.
-----
Fr. G. Peter Irving III is a priest of the Archdiocese of Los Angeles and Pastor of Holy Innocents Church, Long Beach, California. Visit our Holy Innocents facebook page.
---
Copyright 2018 - Distributed by THE CALIFORNIA NETWORK
Pope Francis Prayer Intentions for APRIL 2018
For those who have Responsibility in Economic Matters.
That economists may have the courage to reject any economy of exclusion and know how to open new paths.
---
---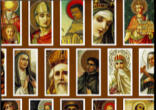 Calling the saints to mind inspires, or rather arouses in us, above all else, a longing to enjoy their company, so desirable in itself. We ... continue reading
---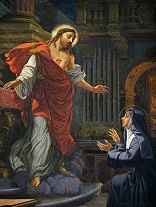 The heart is the center of a person, the place from which he/she makes the choices which will affect the world within them and around them. ... continue reading
---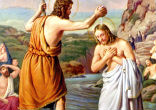 The consideration of Jesus' baptism, gives us an opportunity to remember our own baptism. If you do not know the date of your own ... continue reading
---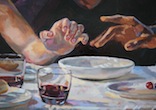 I gave my back to those who beat me, my cheeks to those who plucked my beard; My face I did not shield from buffets and spitting. HYTHE, ... continue reading
---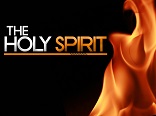 The Spirit makes one man a teacher of divine truth, inspires another to prophesy, gives another the power of casting out devils, enables ... continue reading
---