SATURDAY HOMILY: The Unsinkable Barque of Peter
---
However battered and beaten down she may be, the Church will stand. However fierce the storms of history may become, the Church will not be swallowed up by her enemies.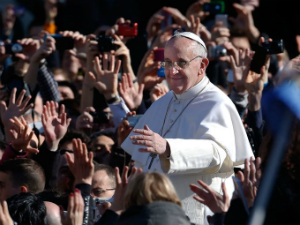 LONG BEACH, CA (Catholic Online) A certain prelate was once proudly extolling the sturdiness of the new cathedral he had erected for his flock. The structure was situated in a region known for its frequent earthquakes. In fact, a newly discovered and potentially deadly fault line runs through the area. His Grace seemed unperturbed by the seismic threats and placing his full trust in the assurances of his engineers, he rather glibly declared that his behemothic building was built to last 5 centuries.
That may be so, but quite honestly, when the "big one" comes I pray that I will find myself fervently praying just about anywhere but there. I don't think it's a good idea to tempt God.
Remember what was said about the Titanic: "Not even God can sink this ship!" I knew a man whose then young unmarried Irish mother had a ticket for the Titanic's maiden voyage. She was delayed on her way to the Queenstown dock in Ireland and literally missed the boat on that fateful day in 1912. She and her son and his descendants were grateful she did.
Nothing in this world lasts forever. Buildings will fall. Ships will sink. But Christ's Church, which in Holy Writ is described as both a temple (built of living stones) and a boat (the Barque of Peter), will never be destroyed. This much her Lord has guaranteed. "The gates of hell shall not prevail against it." (Matt. 16:18) "The God of Heaven will set up a kingdom that shall never be destroyed." (Daniel 2:44)
However battered and beaten down she may be, the Church will stand. However fierce the storms of history may become, the Church will not be swallowed up by her enemies.
The Lord did not promise us a luxury cruise or an easy ride. He did not ever say that it would be smooth sailing. Rather, he told his disciples on that solemn night before he died: "In the world you will have trouble, but take courage, I have conquered the world." (John 16:33)
Today's Gospel finds the apostles in trouble in their little boat in the midst of a storm. It is dark. The waves are slapping against their tiny vessel. The wind is blowing and these experienced fishermen are very much afraid.
"Lord, your Church often seems like a boat about to sink, a boat taking in water on every side," said Cardinal Joseph Ratzinger as he led the Stations of the Cross on Good Friday, 2005. Is this not how we feel at times, we who are sailing in this Barque of Peter, the Church? The Gospel tells us that Jesus came to Peter and the others in their distress, walking on the water, and he comes to us as well, saying: "It is I. Do not be afraid."
"They [the disciples] wanted to take him into the boat, but the boat immediately [my emphasis] arrived at the shore to which they were heading." (John 6:20-21) Father Cornelius a Lapide (1567-1637) commented on this fascinating detail. Jesus, he said, "caused this ship to fly in a moment to the harbor of the city of Caperneum. Thus it sped eight or nine miles in one moment." (Cornelius a Lapide, Commentary on St. John's Gospel).
The Lord is with his Church. He will not allow the Barque of Peter to sink. He swiftly comes to her aid as she passes through the storms of every age and will bring her to a safe harbor. What he asks of us, however, is that we trust in him and be faithful.
Commenting on this passage, St. Thomas Aquinas wrote:
"The wind symbolizes the temptations and persecution the Church will suffer due to lack of love. For, as St. Augustine says, when love grows cold, the sea becomes rougher and the boat begins to founder. Yet the wind, the storm, the waves and the darkness will fail to put it off course and wreck it" (St. Thomas Aquinas, Commentary on St. John).
In this Year of Faith, let us be determined to do our part. Let us show our love for Christ and His Church by being faithful to her teachings and by frequently availing ourselves of the Sacraments of Penance and the Holy Eucharist. May we hasten to ask Our Lady, Mother of the Church, to keep us always in the unsinkable Barque of Peter.
Fr. G. Peter Irving III is a priest of the Archdiocese of Los Angeles and is Pastor of Holy Innocents Church, Long Beach, California.
---
Copyright 2018 - Distributed by THE CALIFORNIA NETWORK
Pope Francis Prayer Intentions for APRIL 2018
For those who have Responsibility in Economic Matters.
That economists may have the courage to reject any economy of exclusion and know how to open new paths.
---
---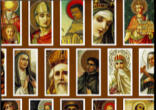 Calling the saints to mind inspires, or rather arouses in us, above all else, a longing to enjoy their company, so desirable in itself. We ... continue reading
---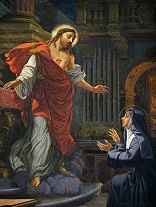 The heart is the center of a person, the place from which he/she makes the choices which will affect the world within them and around them. ... continue reading
---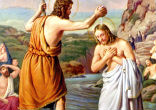 The consideration of Jesus' baptism, gives us an opportunity to remember our own baptism. If you do not know the date of your own ... continue reading
---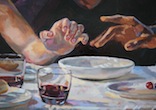 I gave my back to those who beat me, my cheeks to those who plucked my beard; My face I did not shield from buffets and spitting. HYTHE, ... continue reading
---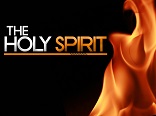 The Spirit makes one man a teacher of divine truth, inspires another to prophesy, gives another the power of casting out devils, enables ... continue reading
---