THURSDAY HOMILY: Look at My Hands and My Feet
---
Look at my hands and my feet
"Then he said to them, "Why are you troubled? And why do questions arise in your hearts? Look at my hands and my feet, that it is I myself. Touch me and see, because a ghost does not have flesh and bones as you can see I have." And as he said this, he showed them his hands and his feet."  (Luke 24)  Because we are joined to the Risen Jesus, even our own wounds can now become the vehicle for our own conversion when they are joined to Jesus Christ, crucified, raised and glorified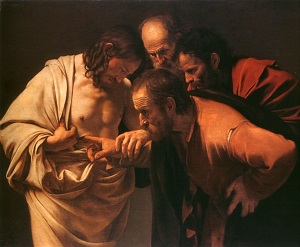 The wounds of Jesus in His Risen Body
Highlights
By Deacon Keith Fournier
Catholic Online (https://www.catholic.org)
4/4/2013 (5 years ago)

Published in Year of Faith
Keywords: wounds, Thomas, St Thomas, wounds that heal, doubting thomas, mercy, forgiveness, Easter, Resurrection, suffering, Deacon Keith Fournier
---
SAVANNAH, GA (Catholic Online) - "The disciples of Jesus recounted what had taken place along the way, and how they had come to recognize him in the breaking of bread. While they were still speaking about this, he stood in their midst and said to them, "Peace be with you." But they were startled and terrified and thought that they were seeing a ghost." "Then he said to them, "Why are you troubled? And why do questions arise in your hearts? Look at my hands and my feet, that it is I myself. Touch me and see, because a ghost does not have flesh and bones as you can see I have." And as he said this, he showed them his hands and his feet."  (Luke 24) As we continue the eight day celebration of Easter we explore the deeper meaning of the Resurrection. Today, the physician apostle Luke explains that in his glorified body Jesus still bore the wounds of love. This Sunday we will celebrate the Sunday of Divine Mercy. The beloved disciple John's account of this post resurrection appearance includes Thomas. (John 20:19-31) The glorified Jesus comes through locked doors. He says "Peace be with you." He breathes upon them the Holy Spirit and communicates His authority to forgive sins to the Apostles who will continue His redemptive mission. However, Thomas was not present with the others. John records: "Thomas, called Didymus, one of the Twelve, was not with them when Jesus came. So the other disciples said to him, "We have seen the Lord." But he said to them, "Unless I see the mark of the nails in his hands and put my finger into the nailmarks and put my hand into his side, I will not believe." "Now a week later his disciples were again inside and Thomas was with them. Jesus came, although the doors were locked, and stood in their midst and said, "Peace be with you." Then he said to Thomas, "Put your finger here and see my hands, and bring your hand and put it into my side, and do not be unbelieving, but believe." Thomas answered and said to him, "My Lord and my God!" Jesus still bore His Wounds in His Risen Body. Thomas touched those wounds - and so can we, by faith.  Because we are joined to the Risen Jesus, even our own wounds can now become the vehicle for our own conversion when they are joined to Jesus Christ, crucified, raised and glorified. Each of us is called into a life of holiness wherein we are configured to Jesus Christ as we cooperate with grace in the real stuff of daily life. We are invited to enter into His pattern of surrendered love. To walk the way with Jesus, who, in His Sacred humanity, teaches us the path to our own transformation. This is what the Christian vocation to holiness is all about. Saint Jose Maria Escriva once wrote "The great Christian revolution has been to convert pain into fruitful suffering and to turn a bad thing into something good. We have deprived the devil of this weapon; and with it we can conquer eternity." Thomas is called doubting Thomas. Yet Christian tradition tells us that he died a martyr for his faith. He became a messenger of Mercy to India and shed his own blood for the Master whom he encountered on that day. His insistence on touching the Holy Wounds revealed a deeper implication of the Resurrection of Jesus Christ. His response "My Lord and My God" is a call into a daily, living communion with the Risen Jesus. It has become the exclamation for millions at the elevation of the Holy Sacrament during every Mass. Thomas was a believer who witnessed the Mercy of God Incarnate in the wounds of Jesus. And he is a model for all of us. Pope St Gregory the Great who occupied the Chair of Peter between 590 and 604 preached a marvelous homily on this encounter between Thomas and the Risen Lord. In it he asked: "What conclusion, dear brethren, do you come to? Surely it was not by chance that this chosen disciple was missing in the first place? Or that on his return he heard, that hearing he doubted, that doubting he touched, and that touching he believed? It was by divine dispensation and not by chance that things so fell out. God´s Mercy worked wonderfully, for when that doubting disciple touched his Master´s wounded flesh he cured the wound of our disbelief. So this doubting disciple, who actually touched, became a witness to the reality of the resurrection" We are to become living witnesses to the reality of the Resurrection of Jesus Christ in our day. Thomas touched the wounded side of beloved Savior to heal the wounds of our disbelief.  We participate in that same mystery by grace and can cry out with Thomas: "My Lord and My God" (Jn 20:28). At the Liturgy of Canonization for Sister Mary Faustina Kowalski  on Sunday, April 30, 2000, Blessed  John Paul II proclaimed: "Before speaking these words, Jesus shows his hands and his side. He points, that is, to the wounds of the Passion, especially the wound in his heart, the source from which flows the great wave of mercy poured out on humanity." St. Faustina Kowalska wrote in her Diary, "I feel tremendous pain when I see the sufferings of my neighbors. All my neighbors' sufferings reverberate in my own heart; I carry their anguish in my heart in such a way that it even physically destroys me. I would like all their sorrows to fall upon me, in order to relieve my neighbor." At every Mass we can ask the Lord to help us become messengers of Mercy to an age so desperately in need of it. Thank God for 'Doubting Thomas'. His doubts heal the wounds of our own disbelief. They reveal a deeper understanding of the redemptive effect of the wounds of Jesus - and the role that our own wounds have in our lives as we join them to the wounds of the Risen Jesus.
---
Copyright 2018 - Distributed by THE CALIFORNIA NETWORK
Pope Francis Prayer Intentions for APRIL 2018
For those who have Responsibility in Economic Matters.
That economists may have the courage to reject any economy of exclusion and know how to open new paths.
---
---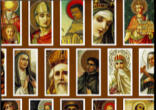 Calling the saints to mind inspires, or rather arouses in us, above all else, a longing to enjoy their company, so desirable in itself. We ... continue reading
---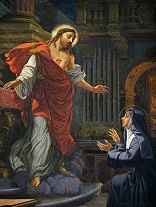 The heart is the center of a person, the place from which he/she makes the choices which will affect the world within them and around them. ... continue reading
---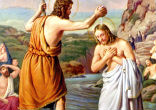 The consideration of Jesus' baptism, gives us an opportunity to remember our own baptism. If you do not know the date of your own ... continue reading
---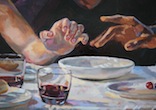 I gave my back to those who beat me, my cheeks to those who plucked my beard; My face I did not shield from buffets and spitting. HYTHE, ... continue reading
---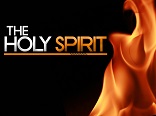 The Spirit makes one man a teacher of divine truth, inspires another to prophesy, gives another the power of casting out devils, enables ... continue reading
---