WEDNESDAY HOMILY: Freedom
---
Freedom is so misunderstood today.  Freedom is not the same as autonomous.  Freedom is a gift from God and freedom must be rooted in God.  When we live our lives outside of God, we are slaves; we are slaves to sin, to our ego, to every opinion and whim.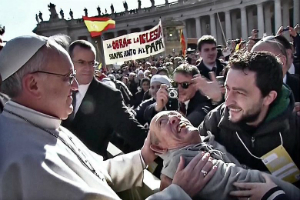 style="text-align: justify;">CORPUS CHRISTI, TX (Catholic Online) - Many people today see no meaning in their lives.
Comedian Billy Crystal typified this mindset in a  film in which he plays the part of a bored baby boomer who makes his living selling radio advertising time. On the day when he visits his son's school to talk about his work along with other fathers, he suddenly lets loose a rather cynical monologue to the kids in the class:
"Value this time in your life, kids, because this is the time in your life when you still have your choices. It goes by fast.
When you're a teenager, you think you can do anything and you do. Your twenties are a blur.
Thirties you raise your family, you make a little money, and you think to yourself, "What happened to my twenties?"
Forties, you grow a little pot belly, you grow another chin. The music starts to get too loud; one of your old girlfriends from high school becomes a grandmother.
Fifties, you have a minor surgery -- you'll call it a procedure, but it's a surgery.
Sixties, you'll have a major surgery, the music is still loud, but it doesn't matter because you can't hear it anyway.
Seventies, you and the wife retire to Fort Lauderdale. You start eating dinner at 2:00 in the afternoon, you have lunch around 10:00, breakfast the night before, spend most of your time wandering around malls looking for the ultimate soft yogurt and muttering, "How come the kids don't call? How come the kids don't call?"
The eighties, you'll have a major stroke, and you end up babbling with some Jamaican nurse who your wife can't stand, but who you call mama.
Any questions?"
We need to reflect upon the fundamental questions of human existence.  Who am I?  What is the purpose of life?  What happens when this life comes to an end?
Wisdom allows us to seek answers to the fundamental questions of our existence.
A number of years ago, during a visit to Binghamton, New York to see my parents,  I traveled to Stamford, Connecticut where my grandparents and many relatives are buried.  As I prayed at the graves of my grandparents and relatives, I remembered the words that we hear every Ash Wednesday: "Remember that you are dust and to dust you shall return." 
Every visit home reminds me that we are all getting older and that eternity is approaching.
News events here and around the world seem to indicate that most of the world acts as if God does not exist and that there are no eternal consequences for any of our actions.  Homosexual marriages, abortion, wars and violence afford vivid manifestations of a world that has lost its' direction.   Life is the fruit of meaning.  Death results when true meaning is lost.
In today's gospel passage we hear these familiar words:  "If you remain in my word, you will truly be my disciples, and you will know the truth, and the truth will set you free" (John 8: 32). 
Freedom is so misunderstood today.  Freedom is not the same as autonomous.  Freedom is a gift from God and freedom must be rooted in God.  When we live our lives outside of God, we are slaves; we are slaves to sin, to our ego, to every opinion and whim. 
True freedom is rooted in our communion with Jesus.  Only the disciple is truly free and only the free can truly love. 
Thornton Wilder's famous novel, The Bridge of San Luis Rey, ends with these words: "There is a land of the living and a land of the dead and the bridge is love, the only survival, the only meaning."
Love is the why. 
In a world torn apart by war, violence, hatred, confusion and chaos, we all need to be ambassadors of God's love for humanity. We need to show the world that love is possible. We need to show the world that we believe in love!
I would suffocate and die if I could not live each day in love.
Yesterday morning when Pope Francis got out of the pope mobile to tenderly bless a disabled man he was showing us what it means to truly be free and to truly love.  Rooted in total confidence in God, with no fear of the possibilities of suffering bodily harm, he immerses himself into the people that he has been called to serve in love and freedom.
How absurd it is to be selfish. Only Jesus, the icon of the Father's love for you and me, shows us how to love. His way is simple, practical and clear. His way is spelled out for us in the Gospel.
Jesus is the way, the truth and the life.  Only in him can we be truly free, because only in him can we truly love. 
-----
Father James Farfaglia is a contributing writer for Catholic Online. You can visit him on the web at www.fatherjames.org. Apps for Father James' homilies are now available for Android and iPhone.
---
Copyright 2017 - Distributed by THE CALIFORNIA NETWORK
Pope Francis Prayer Intentions for OCTOBER 2017
Workers and the Unemployed.
That all workers may receive respect and protection of their rights, and that the unemployed may receive the opportunity to contribute to the common good.
---
---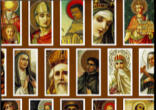 Calling the saints to mind inspires, or rather arouses in us, above all else, a longing to enjoy their company, so desirable in itself. We ... continue reading
---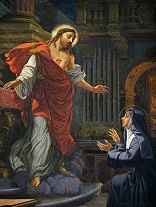 The heart is the center of a person, the place from which he/she makes the choices which will affect the world within them and around them. ... continue reading
---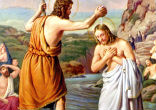 The consideration of Jesus' baptism, gives us an opportunity to remember our own baptism. If you do not know the date of your own ... continue reading
---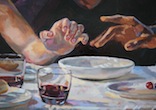 I gave my back to those who beat me, my cheeks to those who plucked my beard; My face I did not shield from buffets and spitting. HYTHE, ... continue reading
---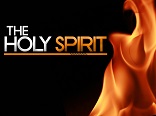 The Spirit makes one man a teacher of divine truth, inspires another to prophesy, gives another the power of casting out devils, enables ... continue reading
---