TUESDAY HOMILY: Going to Joseph in the Year of Faith
---
God the Father entrusted the upbringing of his Son to St. Joseph's care. We should entrust our own spiritual growth to this 'just man' as well.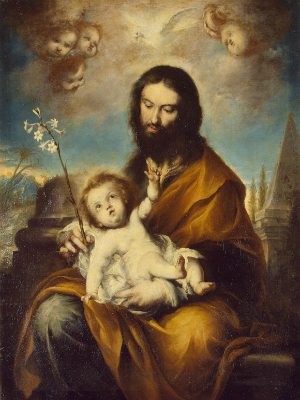 FALL RIVER, MA (Catholic Online). When we think of the Holy Family, our attention goes first to the mysteries of Jesus' birth about which we hear in today's Gospel. Most of our attention goes as it should to the baby Jesus, the eternal Son of God, lying in the manger, adored by angels and animals, wise men and shepherds. Many of us also naturally turn out of devotion to his mother, holding him in swaddling clothes, nursing him, loving him, treasuring all of these miraculous events in her contemplative heart.
But we can be tempted, like most Christians throughout most of the first 1400 years of the Church, to treat the man to whom the Blessed Virgin was espoused almost as a divine afterthought or some kind of ancient "player-to-be-named-later" in a package deal for his young wife. As Matthew's and Luke's genealogies show us, however, he was the penultimate piece in a divine cascade stretching all the way back to King David, to Abraham and even to Adam. It was through him that Jesus, under Jewish law and mentality, would be a descendent of David.
St. Joseph's relative obscurity probably pleases him very much, since he more than anyone would want our focus on Jesus and Mary, just as his always was. But I believe that Jesus and Mary would want us to give more attention to him, as has been given over the course of the last six hundred years and especially the last century.
Jesus and Mary deeply loved Joseph, as he deeply loved them, and they would want us to enter into their love for him so that Joseph might strengthen us in our vocations just as he supported them. So today on this great solemnity of the chaste spouse of the Blessed Virgin, the guardian and foster-father of the eternal Word, it would be good for us to spend some time meditating on the third person of the "earthly trinity" that constituted the Holy Family, because he, more than anyone, can teach us how best to relate to Jesus and Mary in Bethlehem, Nazareth and beyond.
Why was St. Joseph chosen to be the foster father of the Son of God? One reason was clearly because he was a descendent of King David and therefore any foster child would, according to the law, be a son of David, too. But there would have been many eligible descendents of Israel's greatest king alive at the time. Doubtless some of them would have been scholars of the law and capable of training Jesus according to his humanity to be a rabbi rather than a carpenter. Some others would likely have had much more clout and been able to avoid being treated as nobodies by the innkeepers when Jesus was about to be born. Others would probably have been wealthy and much more capable than Joseph of providing for Mary and Jesus, so that at Jesus' presentation, for example, they would have been able to offer a lamb instead of two pigeons.
But it's obvious that to God the qualities that Joseph lacked were insignificant compared to those he had. God the Father, in whom all fatherhood finds its roots, saw in him the qualities he wanted to raise his Son, to teach him how to be a man - and a man of God - according to his humanity. God the Father entrusted to him his most precious treasures and he and those treasures would want us to trust in him as well.
What are those qualities? What can we learn from him to become more like him in relating to God the Father, in relating to the Lord Jesus, in relating to the Blessed Mother? 
First, Joseph was a good man. St. Matthew writes that he was a "just" or "righteous" man. He was "holy," a man in a right relationship with God. He may not have been flashy on the outside but he shone on the inside. As Pope Benedict once said in a rare play on words, St. Joseph "ad-justed" his life to the word of God.
 
Second, he was "righteous" precisely because he was docile and obedient to God. We see his prompt obedience in his response to the angel of God's three interventions in his dreams not to be afraid to take Mary, his wife, into his home, to get up and flee to Egypt, and to return home once again. It would have been easy for Joseph to deconstruct these dreams according to the standard of his conscious desires. Each dream was asking him to do something totally life-changing: to alter completely his notion of what his marriage would entail; to leave his job and his relatives completely behind and journey through the desert to an unknown land; to return once life was settled. But in each of these circumstances, Joseph acted immediately.
He was so prone to hearing God's word and putting it into practice that at the  merest indication of the Lord, he didn't debate or negotiate, but obeyed. St. Joseph never saw obeying God as incompatible with his own good, but rather as the foundation for his own good. God's omnipotence was not seen as a threat to his manliness because St. Joseph didn't equate manliness with being in control, but rather in being responsible and responsive to God and others. His obedience made him capable of sharing mysteriously in the fatherhood of God the Father. Joseph was humble enough to sacrifice whatever his own plans might have been to fulfill God's plans, embracing his vocation to help Jesus and Mary accomplish theirs.
Third, St. Joseph was faithful. He was obedient because he believed. Like Abraham, he is a father in faith to us, responding to one of the greatest mysteries. His example invites us to imitate his loving trust, his total abandonment to divine Providence, his taking God "at his word", that is, without clearly seeing his design. In Cameroon four years ago today, Pope Benedict said, "Throughout all of history, Joseph is the man who gives God the greatest display of trust, even in the face of such astonishing news."
Fourth, St. Joseph was humble, humble enough to raise Jesus with reverence. The great early Christian theologian Origen wrote about him, "Joseph understood that Jesus was superior to him even as he submitted to him, and, knowing the superiority of his charge, he commanded him with respect and moderation. Everyone should reflect on this: frequently a lesser man is placed over people who are greater, and it happens at times that an inferior is more worthy than the one who appears to be set above him. If a person of greater dignity understands this, then he will not be puffed up with pride because of his higher rank; he will know that his inferior may well be superior to him, even as Jesus was subject to Joseph"
Fifth, he was a model of chaste spousal and paternal love. He is a true father, but not according to the flesh, because like God the Father he is at the service of life and growth. He was a protector and a provider and a real paragon of chaste love. His life shows us that the full gift of self toward another does not necessarily have to involve genital relations. He loved Mary and that meant that he was willing to dedicate himself to what was best for her and for the divine Son she was carrying. He put all his love and his life at the service of their vocations, and in doing he fulfilled his own vocation. Chastity is a virtue that helps a person to have self-mastery - to control one's sexual impulses rather than be controlled by them - so that one can give oneself to others in the way that is best for them. Chastity is what allows man to be a protector of women rather than a predator. In his chaste love of Mary, he learned how to grow as a man, and in her chaste reciprocal love, he was blessed beyond measure.
 
Sixth, he was a hard worker centering his work on the Lord. Blessed John Paul II once called him the "very epitome of the Gospel of work," and a synthesis of faith, life and work. In his home, which also was his carpenter shop, Jesus learned to alternative prayer and work. "Saint Joseph taught Jesus human work, in which he was an expert. The Divine Child worked beside him, and by listening to him and observing him, he too learned to manage the carpenter's tools with the diligence and the dedication that the example of his foster father transmitted to him. 

This is a great lesson.: if the Son of God was willing to learn a human work from a man, this indicates that there is in work a specific moral value with a precise meaning for man and for his self-fulfillment."
Lastly, St. Joseph is a silent man of action. He never says a word in Sacred Scripture and yet his actions are remembered to this day. He knew that the body language of his deeds was far more eloquent than his words. He was a "doer of the Word" and not just an "idle listener" of it, as St. James points out. Like his foster son according to the law, he put his stock in "truth and action" more than in "word or speech." But his silence is also important, because it shows us he was steeped in contemplation of the mystery of God, a silent listening to the Word he was raising, a silence woven of prayer and adoration of God's holy will. Benedict XVI said back in 2005 that we should all allow ourselves to be "infected" with St. Joseph's silence in a world that is often too noisy, that encourages neither recollection nor listening to God's voice.
Catholic piety has long borrowed an expression from the life of Joseph the Patriarch in the Book of Genesis to refer to the way we should relate to the foster-father of Jesus and protector of the Church: Ite ad Ioseph, "Go to Joseph." That's what we're to do not only on this great solemnity but throughout this Year of Faith.
He is, par excellence, the "wise and faithful servant whom the Lord put in charge of his household," and he seeks to do for us what he did for Jesus, so that one day we may enter into the house Jesus without tools built for us in the presence of the Father.
Father Roger Landry is pastor of St. Bernadette Parish in Fall River, MA and national chaplain of Catholic Voices USA. His homilies and articles are found on catholicpreaching.com.
---
Copyright 2018 - Distributed by THE CALIFORNIA NETWORK
Pope Francis Prayer Intentions for APRIL 2018
For those who have Responsibility in Economic Matters.
That economists may have the courage to reject any economy of exclusion and know how to open new paths.
---
---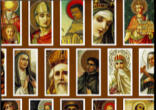 Calling the saints to mind inspires, or rather arouses in us, above all else, a longing to enjoy their company, so desirable in itself. We ... continue reading
---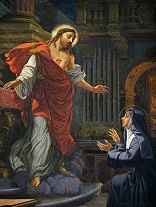 The heart is the center of a person, the place from which he/she makes the choices which will affect the world within them and around them. ... continue reading
---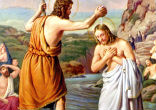 The consideration of Jesus' baptism, gives us an opportunity to remember our own baptism. If you do not know the date of your own ... continue reading
---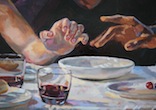 I gave my back to those who beat me, my cheeks to those who plucked my beard; My face I did not shield from buffets and spitting. HYTHE, ... continue reading
---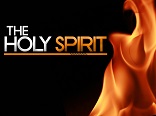 The Spirit makes one man a teacher of divine truth, inspires another to prophesy, gives another the power of casting out devils, enables ... continue reading
---