WEDNESDAY HOMILY: Lent and a Formed Conscience
---
Amen, I say to you, until heaven and earth pass away, not the smallest letter or the smallest part of a letter will pass from the law.
You can be sure you are having a good Lent if you feel waves of unworthiness, pangs of compunction of soul, sentiments of contrition, and an illumination of conscience.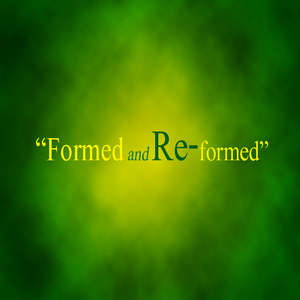 P>HYTHE, KENT, UK (Catholic Online) - As soon as my dad walked out of the line of sight, I grabbed a whole fist full of weeds and pulled.  All of the tops of the weeds had disappeared.  I knew that as soon as I finished weeding the garden I could go fishing, so I tried to get rid of anything in sight.  What I didn't know is that by leaving the roots and only pulling off the tops of the weeds, I had pruned the weeds and that next week I would have to do a lot more work because the roots had grown deeper in the soil.
When I was 6 years old, weeding the garden wasn't fun, but it was clear that if I didn't do it right the first time, it would come back to haunt me.
When a person goes to the Sacrament of Confession and does not confess their sins, as the law of the Church says, "in kind and number," they do not remove sins or their effects from the soul, but rather, they prune those sins like the tops of weeds in the garden of their soul so that they come back with greater forcefulness at another time.
In canon law we read; "A member of the Christian faithful is obliged to confess in kind and number all serious sins committed after baptism and not yet directly remitted through the keys of the Church nor acknowledged in individual confession, for which one is conscious after diligent examination of conscience.  It is to be recommended to the Christian faithful that venial sins also be confessed."  (Canon 988 - §1 and §2).
In the Gospel for today, Jesus tells us, "Not the smallest letter or the smallest part of a letter will pass from the law."  Following the law means recognizing the need to repent when we do not follow it.
Lent is the time of grace when the Lord Jesus shows us the clear need to repent for infringing on the law of God.  Lent is a time when Christ reveals to us the state of our souls.  You can be sure you are having a good Lent if you feel waves of unworthiness, pangs of compunction of soul, sentiments of contrition, and an illumination of conscience.
Unfortunately we live an age when we are not taught the law of God.  In catechesis and sacramental preparation, especially in preparation for the Sacrament of Confession, we are taught "to be nice."  We are taught "to be good persons."  We are not taught about sin.  We do not hear homilies about mortal sin, hell, or the need for confession of sins to be saved.
Perhaps you have heard a priest say, "Just tell me the one thing that bothers you.  Don't worry about the other stuff."  What?  Bogus!  If you have heard this, I am sorry.  No, I really am.  I would like to apologize to you as a priest for my brother who has not taught you the truth of the Catholic faith, or rather Catholic morals.  You see, there has been a huge problem in seminaries and houses of formation where errors in moral theology have been promulgated to stop priests and religious from teaching the fullness of Catholic faith and morals.
Many learn what is called, "the fundamental option."  Basically, this can be put, "Just try to be a good person and don't worry about the rest of it."  In this line of thinking, the only sin is apostasy, like if you would fundamentally reject God in the depths of your being.  But this is NOT the teaching of Jesus Christ, not the teaching of the Catholic Church.
The Church teaches that if you have one unrepented mortal sin on your soul, you are in a state of mortal sin and you are in need of the Sacrament of Confession.  If you die in a state of unreported mortal sin you merit eternal punishment of the fires of hell. -Catechism of the Catholic Church 1861
A mortal sin has three conditions (Catechism of the Catholic Church 1857):
1.  It's bad.  (Grave matter)
2. You know it is bad.  (Full knowledge)
3. You do it anyway. (Deliberate consent)
What is bad, or grave matter?  - Any infringement against the Ten Commandments.  If you commit any sin against the Ten Commandments knowingly your soul is dead and is in immediate need of the mercy of God given in the Sacrament of Reconciliation.
Don't justify yourself.  Don't make excuses.  Don't excuse yourself.  Accuse yourself.  When you justify yourself before God you limit the gift of his mercy to justify you and save your soul.  The more accountable and responsible you make yourself for your own actions, the freer you become. 
Don't wait.  Don't put it off.  Live a holy life now.
Go to confession!  Repent and believe in the Gospel.  Lent is a perfect time to take the ten commandments like a fine toothed comb and cleanse your conscience with a good and sorrowful confession of your sins in the sacrament of mercy.  Confession is the place where we are taught the law of God in the most pure and perfect way, for here we seek to abandon a way of life that is not guided by moral truth for a life that is pleasing to God.
Don't be afraid of following the law.  The first reading for today says that the nations admired the Jews not because they had been given the Ten Commandments through Moses, but because they followed the Ten Commandments.  Everyone knows the law.  It has been written on the hearts of all.  It is called the natural law.  It is the way you can proclaim the Gospel in a very powerful way without saying a word.
Be upright.  Follow the law of God.  In this way, you will let your light shine before men and give glory to your Father.  There is no substitute for it.  When Catholics live the law of God, the light of God shines forth and people are converted.  When Catholics do not live moral lives, nothing else can substitute and they rightfully draw down contempt and scorn from their contemporaries for hypocrisy.
There was a man who was hired at a workplace where there was a great deal of swearing by all his co-workers.  No matter how much he heard them curse, he did not join in.  In fact, every time he heard foul words, he would humble himself before God and pray.  Within six months, due to this man's witness, the people at his workplace had entirely ceased using foul speech, yet he never uttered any kind of verbal correction or moral judgment.  They simply saw his light shining and were attracted to a witness of a pure conscience.
This does not mean you become self-righteous.
Be weary of committing the worst sin of spiritual pride by claiming that you are living a just life while the rest of your fellow men are not.  Do not judge yourself or others.  Never take the moral high ground.  Do not say, "Follow me because I am morally superior than others."
Rather it is better to assume that you are the worst sinner and seek the moral low ground.  Any moral authority you might have from the Gospel is because you are more acutely aware of your sinfulness and thus more aware of the mercy of the Savior.  Say, "Follow me because my heart is broken by my own sinfulness and therefore I am more fully aware of the saving truth of the Gospel."
May Catholics use this time of lenten repentance to become holy and upright, letting the light of Christ shine forth to all that they may see his glory and be converted.  May Our Lady, who is like a refuge and oasis in the desert of Lent, bring forth conversion, grace, repentance and healing.
-----
Father Samuel Medley, SOLT, is a priest of the Society of Our Lady of the Most Holy Trinity, and is currently based in Hythe, Kent, United Kingdom.  He is a speaks to groups around the world on Blessed Pope John Paul II's Theology of the Body.  Visit his homily blog http://medleyminute.blogspot.com or his blog on sexual ethics http://loveandresponsibility.org

---
Copyright 2018 - Distributed by THE CALIFORNIA NETWORK
Pope Francis Prayer Intentions for APRIL 2018
For those who have Responsibility in Economic Matters.
That economists may have the courage to reject any economy of exclusion and know how to open new paths.
---
---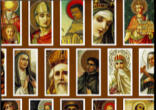 Calling the saints to mind inspires, or rather arouses in us, above all else, a longing to enjoy their company, so desirable in itself. We ... continue reading
---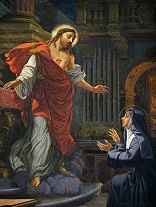 The heart is the center of a person, the place from which he/she makes the choices which will affect the world within them and around them. ... continue reading
---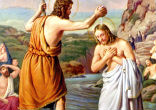 The consideration of Jesus' baptism, gives us an opportunity to remember our own baptism. If you do not know the date of your own ... continue reading
---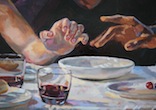 I gave my back to those who beat me, my cheeks to those who plucked my beard; My face I did not shield from buffets and spitting. HYTHE, ... continue reading
---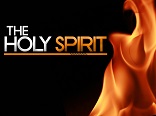 The Spirit makes one man a teacher of divine truth, inspires another to prophesy, gives another the power of casting out devils, enables ... continue reading
---