MONDAY HOMILY: The Abundance of God
---
Jesus teaches that we should not set arbitrary limits to the life of faith or the practice of discipleship.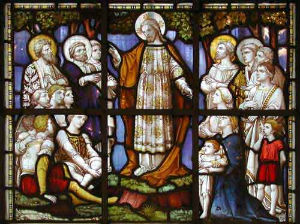 SUGAR LAND, TX (Catholic Online). Every politician has his "stump speech."  A short, pithy summary of his views delivered on numerous occasions to various groups of people.  Exceedingly useful, this sort of address allows the speaker to tailor his oratory to the specific concerns of listeners, while still communicating his core principles.
The Gospel of today's Mass could be construed as Jesus' "stump speech."  Called by many Biblical scholars "The Sermon on the Plain," the sixth chapter of St. Luke's Gospel sounds familiar.  It should.  It is an echo of "The Sermon on the Mount," found in chapter five of the Gospel according to St. Matthew.
Some Biblical scholars propose that both St. Matthew and St. Luke are describing the same event, placing it in different venues for theological purposes.  Others suppose that the briefer Lucan account is a summary of St. Matthew.  Still others suggest that the content of The Sermon on the Mount tends to the theoretical, while The Sermon on the Plain skews to the practical.
They could all be right.  Especially if we see the core content of these two Biblical passages as an expression of Jesus' "stump speech."  Isn't it logical to assume that during the course of his three-year-long public ministry Jesus would repeat himself?  Not because he ran out of things to say, but because he wanted to assure that we would not run out on what he was saying.
Look up an Internet Bible database, and search for the words "repent," or "love," or "follow me," and the results would be too extensive to list here.  Jesus spoke of the same things over and over, in order to reach different groups of people and to reinforce the essential content of the Good News for his disciples.
By hearing today's Gospel, we are privileged to take in a slice of the very heart of the Gospel.
"Be merciful. stop judging. stop condemning. forgive. give." And at the heart of it all, as a final summary:  "For the measure with which you measure will in return be measured out to you" (Luke 6:38).  Jesus relates mercy and its manifestations to the act of measurement.  What are we to make of this?
Why does someone measure a thing in the first place?  Perhaps to quantify it, like measuring the square footage of a room before ordering new carpeting.  Doctors measure their patients' height, weight, blood pressure, cholesterol levels, and other statistics in order to gauge their health and to diagnose disease.  All of us measure time, so that we will be punctual for appointments and practical in the division of our day.
All forms of measurement have one thing in common.  They impose or recognize limits.  One only orders enough carpet for the job at hand.  A doctor insists upon dietary changes if we his patients have exceeded certain vital indices.  Everyone guards their private time and tries to hold something in reserve for rest and relaxation.
Measurement is a form of limiting a thing, of circumscribing its expansion, of holding it within manageable parameters.  In contrast, Jesus teaches that we should not set arbitrary limits to the life of faith or the practice of discipleship.  Instead, we are invited to imitate God's abundance.  How is this to be done?
We cannot imitate God's abundance as shown in his act of creation.  You and I are incapable of bringing something out of nothing.  Similarly, we cannot match God in the work of redemption, but can only receive it gratefully.  Nor can we imitate the bounty of God as made evident in any of those divine attributes that are particular to him.
But we can echo the abundance of God - echo it, not equal it - by being merciful.  "Be merciful, just as your Father is merciful" (Luke 6:36).  To live the virtue of mercy, we have through away our calculators and discard our measuring instruments, and learn how to forgive without limits.
May the Lord give a merciful heart to each one of us, that these days of Lent will overflow with the abundance of God!
-------
Fr. Stephen B. Reynolds is pastor of St. Theresa Catholic Church in Sugar Land, TX, a suburb of Houston.  You may visit the parish website at: www.SugarLandCatholic.com.
---
Copyright 2018 - Distributed by THE CALIFORNIA NETWORK
Pope Francis Prayer Intentions for APRIL 2018
For those who have Responsibility in Economic Matters.
That economists may have the courage to reject any economy of exclusion and know how to open new paths.
---
---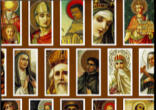 Calling the saints to mind inspires, or rather arouses in us, above all else, a longing to enjoy their company, so desirable in itself. We ... continue reading
---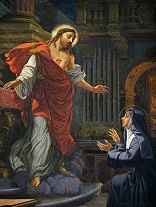 The heart is the center of a person, the place from which he/she makes the choices which will affect the world within them and around them. ... continue reading
---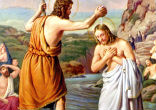 The consideration of Jesus' baptism, gives us an opportunity to remember our own baptism. If you do not know the date of your own ... continue reading
---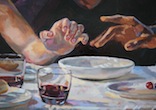 I gave my back to those who beat me, my cheeks to those who plucked my beard; My face I did not shield from buffets and spitting. HYTHE, ... continue reading
---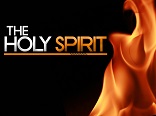 The Spirit makes one man a teacher of divine truth, inspires another to prophesy, gives another the power of casting out devils, enables ... continue reading
---