SATURDAY HOMILY: Sin Brings Sadness, Conversion Brings Joy
---
Sin never leads to happiness. It only leads to sadness and a gnawing emptiness.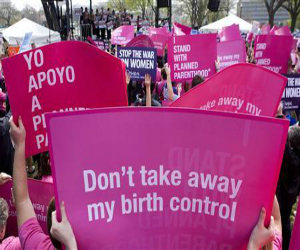 Highlights
By Fr. G. Peter Irving III
Catholic Online (https://www.catholic.org)
1/19/2013 (5 years ago)

Published in Year of Faith
Keywords: abortion issue, roe v wade, year of faith, daily homily, Fr. G. Peter Irving, Margaret Sanger, Mike Wallace, contraception, aborton, sin, conversion, Saint Matthew
---
LONG BEACH, CA (Catholic Online) - Whether you are traveling through some unfamiliar part of town or you are not really sure where you are headed in life, being lost can be both frustrating and frightening. In contrast, what joy and relief there is when you finally figure out where you are and where you are going.
Today's Gospel tells us of the joy of a Jew named Levi who had lost his way on the road of life. One day, Jesus walked into his office and said, "Follow me." Without the slightest hesitation, Levi rose from his desk and leaving everything, began to follow the Lord.
This notorious sinner, who by God's grace discovered his vocation as Apostle, Evangelist and Martyr of Jesus Christ, is now known the world over as St. Matthew. But "Before Christ," Levi-Matthew had been a member of a despised class of Jews who were considered "public sinners" and traitors to the nation because they served as agents of the Roman occupation.
Levi's job was to exact taxes from the Jewish populace for imperial Rome. The taxes were onerous and ridiculously exorbitant. Over time Levi got more or less used to the unpleasant faces and the frequent words of contempt with which he was greeted at his taxation station. But hey, the pay was good and after a while in a job like this, one grows an extra layer of skin.
At the same time, it is safe to assume that on the inside Levi was not a happy man. Are abortionists and pornographers deeply contented people? I highly doubt it (tax collectors in Judea were viewed with a similar revulsion). And as they get older and draw closer to the "judgement cliff," I cannot imagine how such people could possibly look back on their lives with a sense of serenity and profound satisfaction. I suppose there are exceptions, but I bet there are many more who are haunted incessantly by their past misdeeds.
I remember watching a rare interview which Margaret Sanger, the founder of the world's largest abortion provider, Planned Parenthood, gave to the late Mike Wallace, the veteran TV reporter. The year was 1957 and Sanger was 78 years of age.
The topic was not abortion; abortion was still illegal. Rather, the central theme of their conversation was birth control for which Sanger had been a fierce advocate for decades. She was the engine behind the movement to liberalize restrictive birth control laws and by the time of this interview birth control was legal in many states.
The Wallace-Sanger interview touched upon a variety of other topics as well, ranging from God, the Catholic Church and the natural law to the definition of sin, infidelity, divorce and even briefly, homosexuality. The video and the transcript of the entire interview are readily available online.
Mike Wallace did an amazingly good job of asking tough questions, often quoting from Sanger's own writings and statements. Sanger was stubbornly evasive and Wallace doggedly pursued her nonetheless.
Throughout the interview, Sanger is twitching, nervously scratching her head and constantly fidgeting. She rarely smiles and appears humorless and unfeeling. What comes through in the stark black and white kinescope recording is a joyless figure nearing the end of her days. In fact, Margaret Sanger died just six years after this interview was conducted.
I make mention of this because it helps to illustrate a point. Sin never leads to happiness. It only leads to sadness and a gnawing emptiness. No matter how much one attempts to rationalize it or wrap it in a cloak of altruism or deny it altogether (Sanger did all three), sin is sin and the "wages of sin is death" (Romans 6:23).
Please understand, I am not pronouncing judgment on Margaret Sanger's soul. That's God's job. But there's no getting around the fact that for all of her adult life, both in her personal and public life, Sanger was scoring goals for the other team.
But so was Levi-Matthew, at least until that day Jesus came along and invited him to be His follower. This most unlikely conversion shows that no one is beyond God's reach, no one is beyond His mercy.
"As I live, says the Lord GOD, I swear I take no pleasure in the death of the wicked man, but rather in the wicked man's conversion ..." (Ezekiel 33:11).
Pope Benedict XVI tells us that in St. Matthew "the Gospels present to us a true and proper paradox: those who seem to be the farthest from holiness can even become a model of the acceptance of God's mercy and offer a glimpse of its marvelous effects in their own lives" (General Audience, August 30, 2006).
The Prayer After Communion for the Feast of St. Matthew (September 21) reads:
Sharing in that saving joy, O Lord, with which Saint Matthew welcomed the Savior as a guest in his home, we pray: grant that we may always be renewed by the food we receive from Christ.
This saving joy which Matthew experienced led him to host a banquet at his house in Jesus' honor and invite his friends, most of whom were fellow "tax collectors and sinners." He had just given up everything to follow Christ, but he wasn't sad. Instead, he threw a party! Why? Because he had been lost but now he was found. He was exceedingly grateful to the Lord and he could not contain his joy.
These words spoken by our Holy Father at his inaugural Mass as pope come to mind: "Do not be afraid of Christ! He takes nothing away, and he gives you everything. When we give ourselves to him, we receive a hundredfold in return" (Homily, Benedict XVI, April 24, 2005).
Sin always leads to sadness. If left unattended to and "untreated," as it were, sin can lead to despair and final impenitence. On the other hand, true conversion leads to joy. When one finds his way, when one knows he's on the path that God has set out for him, the heart rejoices. "Blessed those whose way is blameless, who walk by the law of the LORD" (Psalm 119:1).
We can ask ourselves, How readily have I responded to the call of God in my life? Am I generously following the path He has shown me or am I holding back? Do I know the saving joy that comes from following God's will?
Grant, O Lord, that we may always be renewed by the food we receive from Christ.
Just as Jesus entered into St. Matthew's life and changed him forever, more and more the Lord wants to enter into our lives especially in our times of prayer and in the Holy Sacrifice of the Mass. This is where He feeds us and speaks to our souls. Can you not hear Him say to you the very words He spoke to Levi-Matthew? "Follow me!" And what will be your answer?
In this Year of Faith we should be praying for the grace of conversion for ourselves and for the whole world. God wants everyone to be saved and to know the joy of living in His presence. May Holy Mary, Refuge of Sinners, and St. Matthew, sinner turned saint, intercede for us!
Fr. G. Peter Irving III is a priest of the Archdiocese of Los Angeles and is pastor of Holy Innocents Church, Long Beach, California.
---
Copyright 2018 - Distributed by THE CALIFORNIA NETWORK
Pope Francis Prayer Intentions for APRIL 2018
For those who have Responsibility in Economic Matters.
That economists may have the courage to reject any economy of exclusion and know how to open new paths.
---
---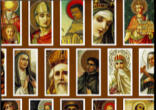 Calling the saints to mind inspires, or rather arouses in us, above all else, a longing to enjoy their company, so desirable in itself. We ... continue reading
---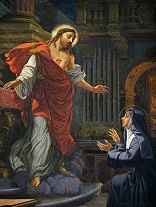 The heart is the center of a person, the place from which he/she makes the choices which will affect the world within them and around them. ... continue reading
---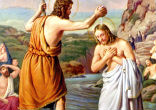 The consideration of Jesus' baptism, gives us an opportunity to remember our own baptism. If you do not know the date of your own ... continue reading
---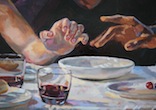 I gave my back to those who beat me, my cheeks to those who plucked my beard; My face I did not shield from buffets and spitting. HYTHE, ... continue reading
---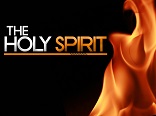 The Spirit makes one man a teacher of divine truth, inspires another to prophesy, gives another the power of casting out devils, enables ... continue reading
---