St. Elizabeth Ann Seton: Passion for God, Compassion for the Poor and a Zeal for Souls.
---
Those who love perfectly, willingly sacrifice everything for Perfect Love
"If I am right Thy grace impart still in the right to stay. If I am wrong Oh, teach my heart to find the better way" -- the prayer of Elizabeth Ann Seton as she contemplated entry into the fullness of truth found in the Catholic Church: a conversion which would ostracize her from family and friends, and which would cost her the financial support she so direly needed as a poor widow and mother of five children.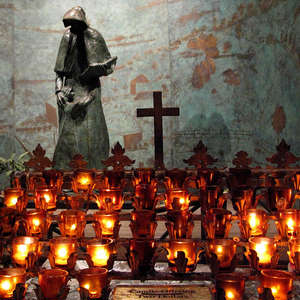 St. Elizabeth Ann Seton's life showed forth a deep passion for love of God, compassion for the poor, and a holy zeal for the salvation of souls.
Highlights
By F. K. Bartels
Catholic Online (https://www.catholic.org)
1/4/2013 (5 years ago)

Published in Year of Faith
Keywords: Saint Elizabeth Ann Seton, first American born saint, St. Seton, conversion to the Catholic Faith, beauty of Catholicism, wife, mother, feminist, religious, foundress, holiness, F. K. Bartels
---
GLADE PARK, CO (Catholic Online) -- Elizabeth Ann was born on 28 August 1774, in New York City, to non-Catholic parents, Dr. Richard Bayley and Catherine Charlton, who raised her as an Episcopalian. When Elizabeth was but three years old, her mother died, leaving her father to marry a devout Anglican woman with children of her own.
The Catholic Encyclopedia informs us that, educated primarily by her father, Elizabeth became an avid reader who took special interest in religious and historical subjects. As a young adult, she demonstrated a devotion to reading Sacred Scripture, especially the Psalms, and was always found wearing a crucifix about her neck. She often went about with her sister-in-law, Rebecca Seton, on missions for the poor, which led to the two becoming known as the "Protestant Sisters of Charity."
At age 19, Elizabeth married William Seton on 25 January 1794, and was blessed with five children. In about 1802, William's firm ended in bankruptcy due to the the combined loss of several ships at sea and the effects of the blockade by the United Kingdom of Napoleonic France. Soon after, William developed tuberculosis and was advised by doctors to travel to Italy for the benefits of a warmer climate. Elizabeth, along with her eldest daughter, attended William on the sea voyage to Italy; however, he died in December of 1803 shortly after his arrival there.
After William's death, Elizabeth stayed for a time in Italy with the Filicchi families, her husband's business friends, and was there first introduced to the profound beauty of the Catholic Faith. After visiting Catholic churches in Italy, she became all the more convincingly drawn to the sacred Liturgy of the Mass, the Eucharist, and the sacrament of Penance and Reconciliation.
Following the divine impulses of the Holy Spirit, Elizabeth sensed her eternal, spiritual and familial home was to be found in the Catholic Church. Further, the pious devotion displayed by the Catholics she met served only to strengthen her desire to immerse herself in the Gospel life transmitted in its fullness by holy mother Church.
The Catholic Life of Sacrifice

Yet anti-Catholic sentiment remained quite virulent in America at that time; therefore Elizabeth knew the decision to become Catholic was sure to cause alienation from friends and family -- a very serious consequence, since as a widow with children she was in dire need of financial support.
Nevertheless, after a period of significant fasting and prayer, she became certain of the divine origin of the Catholic Church as founded by Jesus Christ, and thus joined the ranks of the fullness of truth as a Catholic on the 14 of March, 1805 -- Ash Wednesday. The persecution Elizabeth feared became a reality: ostracized by her conversion, she was forced to provide for her children without aid from her relatives.
Here we arrive at an important element of St. Elizabeth's character: she was unwilling to compromise on the truth -- even at the cost of family and friends, even at the cost of personal comfort and security. She felt obliged in freedom to worship in Spirit and truth in Christ, called by the Father (see Jn 4:23), as a participant at the holy sacrifice of the Mass: the highest and most sublime form of Christian prayer. It would not be an exaggeration to say that she was willing to die for the Catholic Church.
Elizabeth's experience of persecution by American Protestants was not to end with her family. When she joined with a Catholic friend and his wife in an effort to open a school for boys in the suburbs of New York, the school was forced to close under false suspicion as a proselytizing scheme; and when Elizabeth's sister-in-law, Cecilia Seton, voiced her desire to become Catholic, Elizabeth suffered threats to be expelled from the state by the New York Legislature (ibid.).
Psalm 25 likely became the prayer of Elizabeth's heart: "Look upon me, have pity on me, for I am alone and afflicted. See how many are my enemies, see how fiercely they hate me. Preserve my life and rescue me; do not let me be disgraced, for I trust in you" (16,19-20). It is clear her prayers were answered in abundance.
Trust in God is Never Misplaced
After a great deal of struggle to support herself and her children, Elizabeth met Fr. Dubourg, who suggested she open a school for girls in Baltimore, which was begun on the feast of Corpus Christi in 1808. While there, her boys were brought to St. Mary's College, and thus Elizabeth rejoiced in God's care for her and her family, as well as the gift of being allowed to immerse herself in the Catholic Faith on a deeper level.
Elizabeth was soon given charge over a farm near the village of Emmitsburg, which was converted into an institution in order to teach poor children. There, along with the sisters who joined her, Elizabeth endured many hardships. The buildings were in a state of disrepair, the winters were cold, and there was little food. Nevertheless, as a result of the mortification often practiced by Elizabeth and the other sisters, their yoke seemed easy and their burden felt light. They lived in the freedom and joy experienced in a simple and peaceful life of holy abandonment to God's will.
Against her wishes, Elizabeth was elected superior of the new community at Emmitsburg, which, with a few modifications, followed the rule of the Sisters of Charity of St. Vincent de Paul. Mother Seton, now with 18 sisters at her side, together took their vows on 19 July 1813. From then on the community began to flourish, doing many works of charity, and came to be known with great respect and admiration.
St. Elizabeth Ann Seton's life showed forth a deep passion for love of God, compassion for the poor, and a holy zeal for the salvation of souls. Perhaps, on her providential exposure to the Catholic Faith, a desire for the consecrated, religious life surfaced as she fell in love with the profound ritual and the holy, pious silence so characteristic of the Catholic life in the Spirit.
Although the religious life of a convent would be impractical for a widow with children, St. Elizabeth continuously embraced just such a life as best her circumstances would allow. She is remembered for her many sacrifices, as well as for her love of teaching the poor children; for her gift of intellect; for her humility and mortification; for her perseverance; and for her unwavering dedication to the holy dwelling place of mother Catholic Church. She will stand forever as an example of true Christian discipleship.
After suffering from a pulmonary disease, Saint Elizabeth Ann Seton died at Emmitsburg, Maryland, on 4 January 1821. Beatified in 1963, she was canonized on 14 September 1975, by Pope Paul VI, and thus became the first American born saint.
-----
F. K. Bartels is a Catholic writer who knows the Catholic Church offers the fullest means of salvation; therefore his Catholic Faith is one of the greatest gifts a man could ever receive. He is a contributing writer for Catholic Online. Visit him also at joyintruth.com
---
Copyright 2018 - Distributed by THE CALIFORNIA NETWORK
Pope Francis Prayer Intentions for APRIL 2018
For those who have Responsibility in Economic Matters.
That economists may have the courage to reject any economy of exclusion and know how to open new paths.
---
---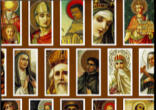 Calling the saints to mind inspires, or rather arouses in us, above all else, a longing to enjoy their company, so desirable in itself. We ... continue reading
---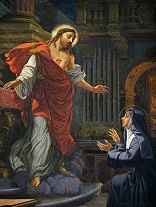 The heart is the center of a person, the place from which he/she makes the choices which will affect the world within them and around them. ... continue reading
---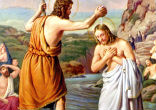 The consideration of Jesus' baptism, gives us an opportunity to remember our own baptism. If you do not know the date of your own ... continue reading
---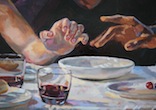 I gave my back to those who beat me, my cheeks to those who plucked my beard; My face I did not shield from buffets and spitting. HYTHE, ... continue reading
---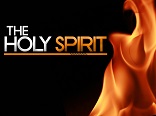 The Spirit makes one man a teacher of divine truth, inspires another to prophesy, gives another the power of casting out devils, enables ... continue reading
---