At Thomas More College, Not Obama But Arinze
---
Cardinal praised the College's dedication to the Catholic intellectual tradition and fidelity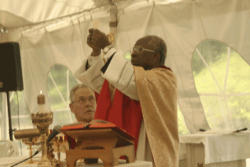 Cardinal Arinze celebrating the Holy Sacrifice of the Mass. He was the commencement speaker and recipient of an Honorary Doctorate.
MERRIMACK, NH (Thomas More College of Liberal Arts) - Some Catholic colleges this year are seeking their commencement speakers from the ranks of men with power in the secular world--regardless of those men's adherence to the fundamental principles of justice and morality.
The Thomas More College of the Liberal Arts turned instead to a man who came from material poverty in a troubled British colony in Africa, a convert from traditional African paganism, who made his name as a pastor of the Christian people in his country, as a peacemaker in its civil war, and a sober guardian of the Church's deposit of Faith.
On Sunday, May 10, 2009, Francis Cardinal Arinze addressed the graduating seniors of 2009, along with their family and friends and most of the students of the College, as part of Thomas More College's commencement exercises.
Cardinal Arinze called Thomas More College "a young and dynamic Catholic liberal arts college...dedicated to forming students intellectually and spiritually within the Catholic intellectual tradition and with unapologetic fidelity to the Magisterium, or the Teaching Authority of the Church."
In his address, Arinze said that a "serious and authentic Catholic college or university has to strive to provide its students rigorous education on relations between faith and reason, on specialization and orientation, and on science and ethics. Students need a realistic and dynamic philosophy of life that shows them how to make a synthesis between religion and daily life. There will thus result an acceptable, integral development of the human person. And the Catholic college or university will have succeeded in forming and turning out model Christians who are good citizens."
The cardinal went on to detail how a college can work to form such Christians and citizens, in light of the fact that "both reason and faith come from God, the first in the natural order, and the second in the supernatural. God is truth. Truth does not contradict itself (Fides et Ratio, 43; Summa Contra Gentiles I, 7). It was Thomas Aquinas who said: 'whatever its source, truth is of the Holy Spirit' (I-II, 109, 1 ad 1). Faith needs reason in order to be articulated in a sound theological synthesis. Reason needs faith in order not to deprive people of the riches of God's revelation.... Sound philosophy and healthy theology go hand in hand."
Further, Arinze insisted, "If a Catholic College or University adopts this attitude of 'courageous creativity and rigorous fidelity,' it will be able to contribute much to promote a healthy synthesis between faith and culture in society. We all recall the famous statement of Pope John Paul II: 'The synthesis between culture and faith is a necessity not only for culture, but also of faith... A faith that does not become culture is a faith that is not fully received, not entirely thought through and not faithfully lived.'"
Speaking of the importance of integrated liberal arts education such as that offered at Thomas More College, Arinze said, "It would be risky to produce citizens who specialize in one little area of life but have no viable vision of the whole of life. While no one pretends to know something about everything, it would be even more dangerous to have to deal with a person who parades himself as knowing everything about a tiny aspect of life, and who is therefore lost in discussing or understanding anything except his own area of specialization."
Addressing the role of philosophical preparation for the advanced study of science and technology, Arinze warned "The scientist, therefore, should not regard whatever is physically possible as also morally lawful. Human action has to take into account the natural law, the eternal law of God written into human nature. Pope John Paul II, when he visited Mount Sinai in 2000, said that before God wrote and gave the Ten Commandments to Moses, he already wrote them into the human heart. That is why people of all religions and cultures, when they are not weighed down by ideology or human weakness, can recognize most of the dictates of the Ten Commandments.
A Catholic college or university educates students to appreciate that moral rules of right and wrong apply also to science, technology, politics, trade and commerce, and indeed to all human endeavors."
Perhaps with an eye toward the appearance of morally objectionable figures at certain famously Catholic colleges, Arinze noted "The Christian must learn to make a synthesis between his duties as a citizen and his religious practices. There must be no divorce between these two dimensions of his life.... We can also in this light see the mistake of politicians who regard the Church as interfering in politics when the Pope or the Bishops speak on contraception, abortion, strange new definitions of family, the rights of workers, the education of children or what moral standards should guide the mass media. While the Church has no mandate from Christ to produce recipes for the solution of political or economic questions, the Church has the duty to invoke the light of the Gospel on various areas of human endeavor, on matters of right and wrong and on the morality of human acts in general. (Deus Cariias Est, 28).
"In the complicated world of today, where all kinds of ideas are struggling for the right of citizenship, a university student needs a clear and viable orientation on the relationship between religion and life. The Catholic College or University is ideally positioned to help him see the light and equip himself for a significant contribution in society."
The cardinal concluded: "If a Catholic college or university answers to its vocation in the ways outlined above, then it will be educating, forming and releasing into society model citizens who will be a credit to their families, their college, the Church and the State. It will prepare for us members of Congress or the Senate who will not say 'I am a Catholic, but...' but rather those who will say 'I am a Catholic, and therefore...'"
As part of commencement exercises, Cardinal Arinze was granted an honorary doctorate of philosophy by the College, and presented with a commemorative icon of the Holy Family painted by Thomas More College's artist-in-residence, David Clayton--who teaches icon and baroque painting to students, twelve of whose icons were presented at commencement to visiting parents.
Educated by Irish missionaries, Cardinal Arinze advanced to All Hallows Seminary in Onitsha, Nigeria, where he earned his degree in philosophy and briefly taught. In 1955 he went to Rome to study Theology at the Pontifical Urban University. He was ordained a priest in November of 1958, and earned his doctorate in sacred theology summa cum laude in 1960. The subject of his dissertation and one of his earliest published works was an examination of Ibo sacrifice in traditional African religion as a precursor to the Holy Sacrifice of the Mass.
Cardinal Arinze spent the early 1960s teaching liturgy, logic, and philosophy at Bigard Memorial Seminary. After a brief period of studies in London, he began working as secretary of education for his diocese in eastern Nigeria. In 1965, Pope Paul VI nominated him to be coadjutor bishop of Onitsha. At that time, he was the youngest Roman Catholic bishop in the world. He attended the final session of the Second Vatican Council, where he made the acquaintance of the Archbishop of Krakow, Karol Wojtyla. In 1967 he was consecrated Archbishop of Onitsha. For the next three years, then Archbishop Arinze stood as a beacon of peace during one of the most violent civil wars in African history. For three years worked with all leaders Christian, Muslim, and polytheists to care for refugees and re-establish peace in the region. Over the next two decades, then Archbishop Arinze over saw the formation of an entirely Nigerian clergy and through his steady stream of pastoral letters encouraged the application of the Church's social and ethical teachings in wider regions, especially in politics, inter-religious dialogue, and the life of the family.
In 1979, Pope John Paul II appointed then Archbishop Arinze the pro-president of the Pontifical Council for Interreligious Dialogue. He has worked tirelessly in this area to advance and deepen sensitive and peaceful co-operation between various sects, religions, and the Catholic Faith. He has been a faithful explicator of the meaning and responsibility found in the Church's role of the lumen gentium (light of the peoples). In 1985, he was elevated to the office of cardinal-deacon. In 1994, Cardinal Arinze presided over the Special Assembly for Africa of the Synod of Bishops. In 1996, he was raised to the rank of cardinal-priest. In 2002, Cardinal Arinze was named the Prefect of the Congregation for Divine Worship and the Discipline of the Sacraments, a position which he held under both Popes John Paul II and Benedict XVI until his retirement on December 9, 2008.
Cardinal Arinze is the author of 10 books available in English. He has been an active force for catechesis within families and has produced over 1,700 video lectures through the Apostolate for Family Consecration, a series widely distributed in the English and Spanish languages. He continues to be sought as a lecturer throughout the world. Thomas More College was deeply honored to host the cardinal and offer his wise words to its graduating seniors and the broader college community.

---
The Thomas More College of Liberal Arts is dedicated to providing a Catholic education to students of all faiths. However, it recognizes that reflection on the specific nature of liberal education has been entrusted to the Church in a special way and so assumes as its task the rediscovery and articulation of this tradition in our own time.
---
---
---
More College
Finding the right College
There's no magic formula for choosing a college, but there are steps you can take to find a good fit. Use this tool to start your journey.
Latest College News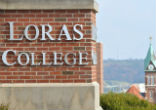 Already known for its legacy of successful, community-driven leaders, Loras College, Iowa's first college and the second oldest Catholic ... continue reading
---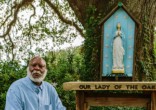 One hundred and seventy-nine years ago, two Jesuit priests sold 272 persons at a slave auction. Their families were torn apart: many of ... continue reading
---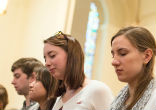 (Vatican Radio) Pope Francis on Friday visited one of Rome's major institutions of higher education today: the Università degli ... continue reading
---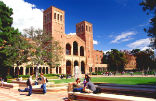 The UCLA campus has been put on lockdown after reports of a shooter in the university's Boelter Hall were released via social media. ... continue reading
---

In a move reminiscent of the early 1900s, North Carolina State University segregated a student Christian group from the rest of the student ... continue reading
---