Prepare for the Lord: Advent is a time to prepare our hearts for the coming of Jesus
---
During Advent, we should prepare our hearts for the coming of Jesus like we joyfully prepare our homes for a visit from a family member or friend, Pope Francis said Sunday, especially removing anything keeping us from Christ.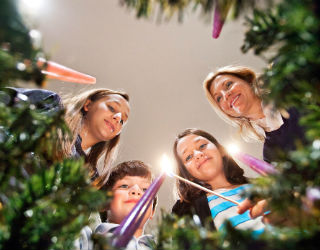 Advent is a time to prepare our hearts for the coming of Jesus.
Vatican City (CNA/EWTN News) - "When we await at home a visit from a loved one, we prepare everything with care and happiness. In the same way we want to prepare ourselves for the coming of the Lord: to wait for him every day with solicitude, to be filled with his grace when he comes," the Pope said Dec. 10.
In his weekly Angelus address, Francis reflected on the first reading from Isaiah, which says to "make straight in the wasteland a highway for our God! Every valley shall be filled in, every mountain and hill shall be made low."
The Pope pointed out that the valleys in this passage can represent our sins of omission, such as failing to pray, or praying very little. The valleys could also be the ways we have failed to have charity toward others, especially those most in need of material or spiritual help.
Therefore, Advent is a good time to fill these valleys in our life, he said; to pray more intensely, to prioritize your spiritual life.
On the other hand, when the verse says, "every mountain and every hill be lowered," we are reminded of our faults of pride, arrogance and superiority, which must become attitudes of meekness and humility, just like our Savior is "meek and humble of heart."
Then, when we've examined our conscience, "we are asked to eliminate all the obstacles we put into our union with the Lord" with joy, he said, because we are preparing for the coming of our Savior.
May the Virgin Mary, he concluded, who prepared for the coming of Christ with her whole being and existence, "help us to follow her example and guide our steps to meet the Lord who is coming."
---
Copyright 2018 - Distributed by THE CALIFORNIA NETWORK
Pope Francis Prayer Intentions for July 2018
Priests and their Pastoral Ministry.
That priests, who experience fatigue and loneliness in their pastoral work, may find help and comfort in their intimacy with the Lord and in their friendship with their brother priests.
---
---
---
More Advent & Christmas
The word Advent derives from the Latin word meaning coming. The Lord is coming. We may reflect that every year at this time we celebrate his coming , so that in a sense we can lose the feeling of expectancy and joyful anticipation, because at the end of the season, everything seems to return to pretty much the same routine. If that is the case, then our preparation may have been lacking ... continue reading

To become the mother of the Savior, Mary "was enriched by God with gifts appropriate to such a role."132 The angel Gabriel at the moment of the annunciation salutes her as "full of grace". In fact, in order for Mary to be able to give the free assent of her faith to the announcement of her vocation, it was necessary that she be wholly borne by God's grace... continue reading
---

The weeks of Advent remind us to set aside some of the hectic business of the holiday season, and to quietly reflect on the promise of the baby born in Bethlehem 2000 years ago. The Bible readings listed below relate to the Advent themes of waiting, preparation, light in the darkness, and the coming of the promised Messiah. continue reading
---
More Advent & Christmas News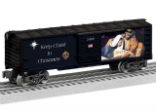 THE 2018 KEEP CHRIST IN CHRISTMAS BOXCAR Exclusively manufactured by Lionel in the USA for the Knights of Columbus.This limited edition is ... continue reading
---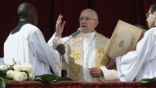 Pope Francis on Christmas Day said the commemoration of Christ's birth is an occasion to remember and pray for every child who suffers due ... continue reading
---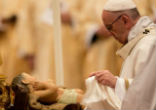 Pope Francis said the birth of Jesus is an invitation for all Christians to imitate him in reaching out to embrace the vulnerable and all ... continue reading
---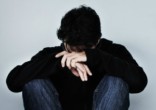 Since you came to Jesus, you've prayed, you've had faith in the Lord and you've done the best you could to meet God halfway - but now, near ... continue reading
---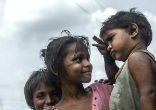 Imagine hearing a knock at your front door. As you open the door, to your great surprise you see a baby lying in front of you. Without ... continue reading
---