Italian monastery on the verge of closing, enjoys new life
---
The investiture of Sister Maria Vittoria della Croce last month marked the first ceremony of its kind to be held in the Italian city of Barletta since the 1940s.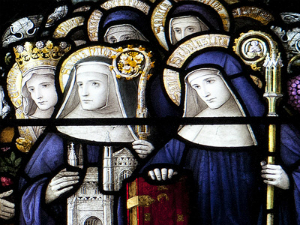 Barletta, Italy (CNA/ACI Presna) - "The monastery of San Ruggero [in Barletta] had been reduced to a very few elderly nuns, but three years ago it was re-founded with the arrival of several young sisters, which revitalized it in terms of vocations," explained Deacon Riccardo Losappio, head of communications for the Archdiocese of Trani-Barletta-Bisceglie.
Losappio told ACI Prensa, CNA's Spanish language sister agency, that these new religious, including the current abbess, come from the Santa Maria delle Rose (Saint Mary of the Roses) Benedictine monastery located in the town of Sant'Angelo in Pontano in the Marche region in eastern Italy.

Now, with the admission of Sister Maria Vittoria della Croce, "the Benedictine monastic community of San Ruggero is comprised of six nuns that have made solemn vows, four nuns who have made temporary vows, two novices and one postulant," he said.
Sister Maria Vittoria della Croce -- whose baptismal name is Carmen D'Agostino -- is 27 years old.
Her induction ceremony into the San Ruggero Benedictine monastery took place April 27 in the co-cathedral Basilica of Saint Mary Major and was presided by the Archbishop of Trani-Barletta-Bisceglie, Leonardo D'Ascenzo.
The photographs of the event were posted by the archdiocese on its Facebook page, where they reached more than 2 million users and drew more than 11,000 shares, 3,700 "likes" and 650 comments.
Losappio explained that "for Benedictine nuns, presenting oneself dressed as a bride is part of the rite of investiture for the religious."
"They always enter dressed that way because they are spouses of Christ who are going out to meet him and they become brides to anticipate in time what one day will be in the fullness of God."
During the investiture ceremony, novices who were previously dressed in a wedding gown "have their hair cut, put on the Benedictine habit and receive the crucifix to indicate their joyful renunciation of all that is vain and ephemeral."
During the ceremony, Archbishop D'Ascenzo wished the new religious "the great beauty of this presence of Jesus maturing more and more in you and to express it as a witness to the outside world through the relationship with the Church and with your community. May you have a blessed path to holiness and I hope that you can be ever more beautiful in the sense of this witness to the Church and with your sisters."
Sister Maria Vittoria della Croce shared her testimony in the archdiocesan newspaper "In Comunione."
The new nun was born in January 1991 in the Italian town of Melfi and finished her studies in nursing at the University of Foggia in 2014. She grew up in a strong Catholic family belonging to the Neocatechumenal Way and has three siblings.
"When I was 15, my mother went to heaven after a long illness which she endured with faith. It was not easy for me, but I can bear witness that the Lord has always provided for my family and me," she stated.
"Thinking about my mother made me look to heaven, to paradise. More than having made a choice, I was chosen by him: at a youth encounter, and then also through others, I felt the love of Christ manifested on the cross," she said.
"I simply accepted this love, this call to fight for the kingdom of heaven, and with the help of the Church to discern this call, I entered the monastery," she said.
For Sister Maria Vittoria della Croce, this vocational call "opened heaven to me" and she is certain that God "loves me as I am, and I am for him a precious pearl."
---
Copyright 2018 - Distributed by THE CALIFORNIA NETWORK
Pope Francis Prayer Intentions for July 2018
Priests and their Pastoral Ministry.
That priests, who experience fatigue and loneliness in their pastoral work, may find help and comfort in their intimacy with the Lord and in their friendship with their brother priests.
---
---
---
More Vocations
Latest Vocation News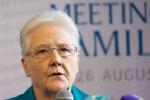 Canon law should be re-written to institute a global zero-tolerance policy against priests who commit sexual abuse, a clerical abuse ... continue reading
---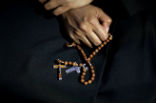 Marian shrines in more than 50 countries throughout world will join in a 24-hour rosary initiative on Friday to intercede for and honor the ... continue reading
---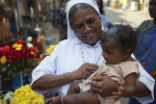 Every Christian is called to be a missionary through prayer, working in collaboration with the Holy Spirit, who gives prayer efficacy, Pope ... continue reading
---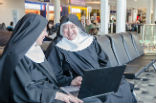 The Vatican has asked nuns to spend less time on social media and more time in prayer and contemplation. The request follows consultation ... continue reading
---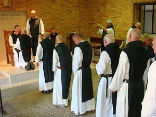 As infants, Monica and Cristian Moya were hovering on the verge of death. But after their mother consecrated them to the Virgin Mary, they ... continue reading
---