Peter and Judas: A Lesson in Hope and Humility
---
Betraying Jesus wasn't the worst thing Judas did.  His ruin came because he lost hope.  His fate was not sealed by his kiss, but by his pride.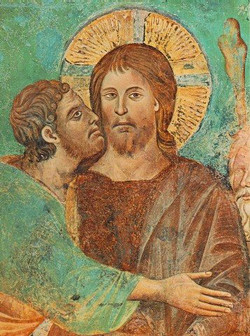 Admit your guilt in God's sight. Then with good heart, with courage and confidence in His mercy, start over again.
WASHINGTON, D.C. (Catholic Online) -  "Going at once to Jesus, Judas said, "Greetings Rabbi!" and kissed him.  Jesus replied, "Friend, do what you came for."  Matthew 26:49-50
"Peter replied, "Even if all fall away on account of you, I never will."  "I tell you the truth," Jesus answered, "this very night you will disown me three times."  But Peter insisted emphatically, "Even if I have to die with you, I will never disown you."  And all the others said the same.  Mark 14:29-31
Peter and Judas are not all that different, it seems.  They are almost the same story, but for two very different endings.  It could be our own story... which end will we choose?
Betraying Jesus wasn't the worst thing Judas did.  As painful as that offense was, it was not Judas' downfall.  His ruin came because he lost hope; he either did not believe in forgiveness or did not trust it would be given him or he decided he could not, would not forgive himself, and so he gave in to despair.  It seems like his despair was proof of his great sorrow for what he had done to his friend and Lord, but it's not the sorrow Jesus wants from us. 
Sorrow that is profitable for our souls leads us toward the One we have betrayed.  If our sadness is merely disappointment with ourselves for having failed (which is pride) then we will choose to beat ourselves into despair and call it our just punishment. But then, why did Jesus die?  If we can be punished enough to atone for our sin, then the Cross was a waste of perfect blood and Jesus a fool.
Jesus does not wait with a stick to beat me, nor does He unload on me a lecture about how I've failed.  It is not proof of my love for Him to dwell on my failures or nitpick my flaws and defects.  It is not proof of the depth of my sorrow to say, "I just can't forgive myself."  If I cannot forgive myself, it simply means I prefer my wounded pride over His suffering.  He suffered greatly at my expense; He was crucified for my sake.  "He was pierced for our transgressions, he was crushed for our iniquities; the punishment that brought us peace was upon him, and by his wounds we are healed."  Isaiah 53:5
If I now refuse to receive His forgiveness and get up and try again, I am saying His suffering wasn't enough.  His wounds are insufficient for my healing.  The punishment He endured has brought peace for others, but not for me.  I may deceive myself into thinking I am humbling myself, feeling the weight of my sin and bearing it nobly, but Jesus grieves all the more because I choose despair over hope.
Judas' betrayal of Jesus was a truly terrible act, but it was not so different from Peter's denial of Jesus.  Both men surely felt great remorse, shame, and bitter sadness at what they had done to their Master and Friend.  Perhaps Peter wished for his own death just as Judas did, thinking for a moment it was the only way out of his guilt.  The only difference was that Peter chose hope, and Judas chose despair.  Judas refused the forgiveness he could have received.  His fate was not sealed by his kiss, but by his pride.
Every one of his disciples that night left Him, denied Him and betrayed Him in some way.  Judas' sin garners the most attention because it seems so much more scandalous than the others, but we miss the point if we only see his act of greed and not the true cautionary lesson.  They all abandoned Him in one way or another, just as we do.  They all betrayed Him to some degree, just as we do.  They all surely were sorrowful, scared, and filled with regret over their sins, just as we are.  But only Judas chose guilt over redemption.
How tempting it is and how the enemy of our souls loves to deceive us into believing that the forgiveness Jesus offers is a fairytale.  It's crazy how we often choose to wallow in self-pity thinking it is humility.  It isn't.  It is the enemy convincing us to make a mockery of the Cross.  The truth is, we have sinned.  You have, I have.  You will again; I will again.  In big and small ways, we will all wound Him and run away.  The truth also is, He died knowing that; He died because of that; He died to heal that.  There is only one response from us that is needed, only one response that will benefit our souls; to run back to Him and try again.
Judas, upon realizing his sin, gave back his silver and ran to hang himself in a tree out of despair.  Peter, after weeping bitterly over his sin, ran toward the tomb where His Lord was buried, hoping.  And Jesus showed Peter extra care and tenderness through the angel: "Go, tell his disciples, and Peter..."
Was not the same compassion available to Judas?  Of course it was.  But like everything Jesus gives to us, it must be taken by us freely.  We can't cling to sin with one hand and forgiveness with the other, believing we are pious and humble.  And it is Satan, not Jesus, who berates us with our failings til we are stuck in prideful despair.  Judas only lacked hope because he lacked humility.
It doesn't matter how many times I fail or fall down or deny Him provided I run back to Him each time and humbly begin again without indulging in "oh, woe is me."  Jesus knows I will do the very thing I vowed not to do; I will sleep when I promised to keep watch with Him; I will leave when I promised to stay.  Yet He is always waiting for me to return and ask for His grace once more.  This does not give me an excuse to sin or a "free pass" to go my own way, do my own thing and then come insincerely to take forgiveness when my conscience is guilty - that is simply rebellion. 
But if I truly desire to follow Him, if I say I love Him and mean it, then my sorrow over my sin must compel me toward Him, like Peter as he ran to the tomb. Seeing how Peter was received by Jesus, with forgiveness and love, gives each of us confidence that He waits for us with mercy and affection.
"Don't be anxious to condemn yourself every time you fall.  Instead, patiently, gently, pick yourself up and start all over again.  Why are you surprised when the weak turn out to be weak, and the frail, frail?  When you turn out to be sinful?  When you fall, be gentle with your frail, weak heart. Lift your heart gently, accept your failure without wallowing in your weakness.  Admit your guilt in God's sight.  Then with good heart, with courage and confidence in His mercy, start over again."  St. Francis de Sales
--------------------------------------
Jennifer Hartline is a grateful Catholic, an Army wife and mother of four precious children (one in Heaven).  She is a contributing writer for Catholic Online on topics of Catholic faith, family, Life and politics.  She is also a serious chocoholic.  Visit her at My Chocolate Heart. 
---
Copyright 2019 - Distributed by THE CALIFORNIA NETWORK
---
---
---
More Lent & Easter
'So it is written that the Christ would suffer and on the third day rise from the dead'
Easter / Lent News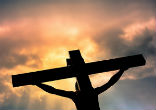 Chocolate bunnies and marshmallow Peeps have graced the shelves of U.S. stores for weeks in anticipation of Easter, but now that the actual ... continue reading
---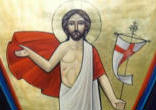 Easter is more than a Day, it is a Way; A Way of living our lives differently now in Him. We are invited to do that by living them in His ... continue reading
---
FREE Catholic Classes Pick a class, you can learn anything
---

The Easter Bunny is a symbol of Easter that is popular in western culture, especially with children. According to folklore, the Easter ... continue reading
---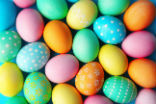 Easter eggs are a traditional part of modern Easter celebrations, but their origins are shrouded in history, raising questions about their ... continue reading
---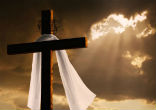 This Easter, make sure to take a moment with your family to thank Jesus for his amazing sacrifice. LOS ANGELES, CA (Catholic Online) - Turn ... continue reading
---