Jesus Weeps and Offers the Path to Peace
---
Jesus continues to visit us. He is walking in our own lives right now
If this day you only knew what makes for peace- but now it is hidden from your eyes. For the days are coming upon you when your enemies will raise a palisade against you; they will encircle you and hem you in on all sides. They will smash you to the ground and your children within you, and they will not leave one stone upon another within you because you did not recognize the time of your visitation. (Luke19:41-44)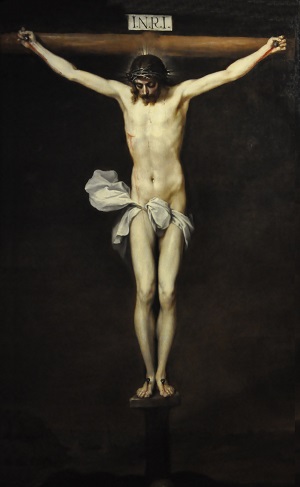 P>CHESAPEAKE, VA (Catholic Online) - The Gospel this morning is short in the number of words in the text, but profoundly powerful in its message. It offers to each of us a treasure which all men and women long for, a path to peace. We will only find this path to true peace when we recognize the time of our own visitation; when we enter into an ongoing relationship with the One who is the only source of true peace, Jesus Christ.
In the Gospel text we encounter Jesus as He begins His journey to Jerusalem. There He will voluntarily offer Himself on the Second Tree of the Cross. he will deal death a fatal blow and crush the evil one whose lies had unleashed its awful effect, separation from God and the resulting bad fruit of estrangement.The Cross, an instrument of torture, will become the sign of peace, for those who find their refuge under its shadow and embrace the One who stretches out His arms to emrace the whole world.  
There Jesus will deal definitively with the great enemy of peace, the sin which impedes it in each of our lives. With tenderness He looks out from the Mount of Olives and sees the Holy City of Jerusalem. How he loves that City. Then, Jesus weeps. He knows the City will soon be overtaken and destroyed by the armies of Titus. He He weeps the tears of Love and cries compassion from His Sacred Heart:
If this day you only knew what makes for peace- but now it is hidden from your eyes. For the days are coming upon you when your enemies will raise a palisade against you; they will encircle you and hem you in on all sides. They will smash you to the ground and your children within you, and they will not leave one stone upon another within you because you did not recognize the time of your visitation. (Luke19:41-44)
He had spent three years walking her dusty streets and encountering her inhabitants, welcoming them all to find peace through encountering God, fully revealed. He had taught in the temples and engaged the learned with the wisdom of heaven itself. He had healed the sick, multiplied bread - and even raised the dead. However, they failed to recognize the time of their visitation. Their eyes were closed to the One who held within Him and His Message the very path to peace. They did not recognize God in their midst.
Jesus continues to visit us. He is walking in our own lives right now. Soon, He will come to us in the most Holy Eucharist and take up His residence within us. He is present in the person sitting right next to us. he is found in the eyes of the poor, in all of their manfestations. His love and mercy are revealed in the events of our everyday life, if we have the eyes to see Him - the eyes of living faith. It is in encountering Him that we find the path to peace.
In a world which is spiraling out of control, we who bear the name Christian are called to live in this true peace. We are also called to bring others to this true peace, by bringing them to an encounter with the One who it's only Source, Jesus Christ, the Savior. Peace is not the absence of conflict. Rather, it is the presence of God. It grows and transforms us when we learn to live in that presence. When we do, we become its very instrument.
At the Last Supper, right before he walked the Way of the Cross for each one of us, Jesus spoke these words to his disciples: "Peace I leave with you; my peace I give to you. Not as the world gives do I give it to you. Do not let your hearts be troubled or afraid". (John 14:27) We need to hear these words today, deep inside. In that place the Scripture refers to as the heart. The path to true peace passes through prayer, encounter and communion.
Jesus set forth the relational framework for a life of prayer in the prayer we call the Our Father. We will soon pray it together and offer one another a sign of peace. In the Gospel of St. Luke, after teaching the disciples to enter into a life of communion by utilizing that prayer as a framework, he tells the disciples a parable concerning one type of prayer, persevering prayer for needs. (Luke 11:1-13) However, His entire time with the disciples is an instruction in Prayer and communion with His Father. It is a demonstration of living in real peace.
He shows them - and He shows us us - the pattern of living in a continual communion with the Father. He invites them - and He invites us - into this very communion of love which He has with the Father, in the Spirit. he shines His light on the path to peace. We discern that path and learn to walk its way when we come to recognize the time of our own visitation. This is not an unattainable aspiration! It is an invitation into a new way of living, a life of communion with God - a life of peace, even in the midst of travail.
Through His saving Incarnation, His Life, Death, Resurrection and Ascension, Jesus removes the impediment to all of us our entering into this true peace and communion. He also capacitates us to begin living in that communion in the here and now, by cultivating lives of prayer and communion. He shows us the path to the peace we long for and makes it possible, beginning right now. We learn to recognize His visitation; all of His visitations. We do not reject Him, we embrace Him.
Then, He enlists each one of us in bringing the whole world to peace, through encountering Him, and learning to recognize his visitation.
---
Copyright 2018 - Distributed by THE CALIFORNIA NETWORK
Pope Francis Prayer Intentions for APRIL 2018
For those who have Responsibility in Economic Matters.
That economists may have the courage to reject any economy of exclusion and know how to open new paths.
---
---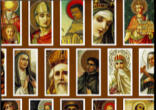 Calling the saints to mind inspires, or rather arouses in us, above all else, a longing to enjoy their company, so desirable in itself. We ... continue reading
---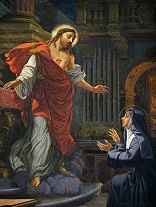 The heart is the center of a person, the place from which he/she makes the choices which will affect the world within them and around them. ... continue reading
---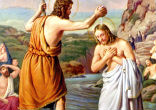 The consideration of Jesus' baptism, gives us an opportunity to remember our own baptism. If you do not know the date of your own ... continue reading
---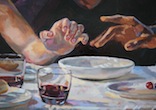 I gave my back to those who beat me, my cheeks to those who plucked my beard; My face I did not shield from buffets and spitting. HYTHE, ... continue reading
---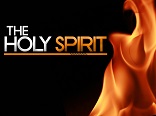 The Spirit makes one man a teacher of divine truth, inspires another to prophesy, gives another the power of casting out devils, enables ... continue reading
---