Often, it takes the depletion of all of our own efforts and resources before we are willing to give up - and then give in - to Him. But when we do - the life of true, living and enduring faith begins
Sometimes, prayer does indeed change the circumstances. Sometimes it is the circumstances that change us! The old bumper sticker Prayer Changes Things is limited in its ability to grasp this deeper aspect of Christian living. So, I offer a revision, Prayer changes people and people change things. The lesson St Paul gave to the early Christians in Greece about being shipwrecked and experiencing daily struggles is critical for us to hear in our own age. God is searching for men and women who will surrender their lives in love to Him, no matter what happens in their lives.Men and women who learn to see the apparent collapse around them as birthpangs of a Loving Plan to be revealed.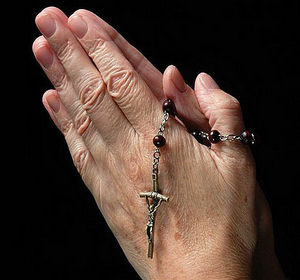 Hands in Prayer with Rosary.
Highlights
Catholic Online (www.catholic.org)
9/12/2013 (3 years ago)
Published in Year of Faith
Keywords: prayer, suffering, struggle, penance, suffering, spirituality, shipwreck of St Paul, contemplation, meditation, piety, call, vocation, Deacon Keith Fournier
---
CHESAPEAKE, VA.  (Catholic Online) - In Luke 6:12-19 we read this account of the call of the twelve apostles by Jesus: Jesus departed to the mountain to pray, and he spent the night in prayer to God. When day came, he called his disciples to himself, and from them he chose Twelve. And he came down with them and stood on a stretch of level ground. A great crowd of his disciples and a large number of the people from all Judea and Jerusalem and the coastal region of Tyre and Sidon came to hear him and to be healed of their diseases; and even those who were tormented by unclean spirits were cured. Everyone in the crowd sought to touch him because power came forth from him and healed them all.
What jumped off the page this morning is the importance of prayer.
Before Jesus made this historic and eternal decision he spent the entire night in prayer. I know that in His Sacred humanity he shows us the pattern for our own lives. So, I asked myself, "how many nights have I spent in prayer making the important decisions of my life?"  I will not embarrass myself further by putting the answer in writing. 
Throughout the accounts of the earthly life of Jesus we find Him in this kind of prayer. He lived in a continual communion with the Father. His prayer opened the heavens, healed the sick, raised the dead, brought provision to the hungry, gave him clarity for making decisions and brought the glory of heaven to earth.
Prayer still does all of this - for those who learn its ways and live their lives immersed in God.
Through prayer we recover the capacity for a communion of love with the living God and plunge ourselves into its embrace. Prayer becomes a process of Love exchanged for love. In its classroom we learn how to live in the real stuff of our everyday lives while maintaining a communion with God.
Lately, I have seen deep despair in the lives of so many Christians. Some of this is precipitated by the culture taking a nosedive into nihilism. However, many are also facing intense struggles on every front of their lives. I know I am.In the midst of the struglle we must reject the error of a Gospel without the cross. This does not mean that God does not love us. It also does not mean that he does not hear our prayer.
This Gospel without the Cross is not a new error. Look at St Paul. He accomplished great things for the Lord. He faced great struggles, including financial ones. He wrote to the Christians in Greece about his experience: "I know indeed how to live in humble circumstances; I know also how to live with abundance. In every circumstance and in all things I have learned the secret of being well fed and of going hungry, of living in abundance and of being in need." (Philippians 4:12).
He was challenged by errant teachers of his day who preached a Gospel without the cross. They were prominent in Corinth. They pointed to Paul's struggles as a sign that he had fallen out of favor with the Lord. They were wrong.

They questioned his authority and turned the faithful against him. They called themselves 'super apostles'. Paul turned their false Gospel on its head. 
He asked the Corinthians: "Are they ministers of Christ? I am still more, with far greater labors, far more imprisonments, far worse beatings, and numerous brushes with death. Five times I received forty lashes minus one. Three times I was beaten with rods, once I was stoned, three times I was shipwrecked, .on frequent journeys, in dangers from rivers, dangers from robbers."
"Dangers from my own race, dangers from Gentiles, dangers in the city, dangers in the wilderness, dangers at sea, dangers among false brothers; in toil and hardship, through many sleepless nights, through hunger and thirst, through frequent fastings, through cold and exposure. And apart from these things, there is the daily pressure upon me of my anxiety for all the churches. Who is weak, and I am not weak? Who is led to sin, and I am not indignant?  If I must boast, I will boast of the things that show my weakness." (2 Corinthians 11:22-29)
Notice something of profound importance. Paul viewed struggle not as a sign of God's lack of action in his life but as an invitation to enter more deeply into a communion with God. Do we? His relationship with the Risen Jesus who had called him in the desert continued to grow and enabled him to cultivate the interior strength he needed to not only face his struggles, but find the Lord in them. 
This kind of faith comes from living life fully surrendered to the Lord. This ability to actually practice such surrender comes through God's grace. It is promoted by a lifestyle of prayer and communion; the kind demonstrated by Jesus in this Gospel account. Paul learned to empty himself - of himself - in order to be filled with the life of God. We are invited to walk the same way. .
Paul was given all the grace he needed, when he needed it. He learned to offer his suffering, struggle and setbacks to God by joining them to the Cross of Jesus Christ. St. Jose Maria Escriva referred to this way of life as a Christian revolution: "The great Christian revolution has been to convert pain into fruitful suffering and to turn a bad thing into something good. We have deprived the devil of this weapon; and with it we conquer eternity." (St. Jose Maria Escriva, The Furrow #887)
We will suffer. We will be misunderstood. We will be betrayed by friends and shipwrecked - at least figuratively. We will experience the instability that accompanies daily life. It is an invitation to walk the way of discipleship.
Sometimes, prayer does indeed change the circumstances. Sometimes it is the circumstances that change us! The old bumper sticker Prayer Changes Things is limited in its ability to grasp this deeper aspect of Christian living. So, I offer a revision, Prayer changes people and people change things.
The lesson St Paul gave to the early Christians in Greece about being shipwrecked and experiencing daily struggles is critical for us to hear in our own age. God is searching for men and women who will surrender their lives in love to Him, no matter what happens in their lives.Men and women who learn to see the apparent collapse around them as birthpangs of a Loving Plan to be revealed. 
Often, it takes the depletion of all of our own efforts and resources before we are willing to give up - and then give in - to Him. But when we do - the life of true, living and enduring faith begins. People who live the way of discipleship become the kind of men and women through whom the Risen Lord can continue his redemptive mission. Through them He changes things in the lives of those whom He loves.
---
Copyright 2017 - Distributed by THE CALIFORNIA NETWORK
Pope Francis Prayer Intentions for DECEMBER 2016
Universal:
End to Child-Soldiers: That the scandal of child-soldiers may be eliminated the world over.
Evangelization:
Europe: That the peoples of Europe may rediscover the beauty, goodness, and truth of the Gospel which gives joy and hope to life.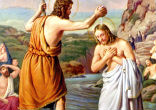 By Fr. James Farfaglia
The consideration of Jesus' baptism, gives us an opportunity to remember our own baptism. If you do not know the date of your own baptism, it is a good idea to go through your personal files and find out when it occurred. CORPUS CHRISTI, TX (Catholic ... continue reading
---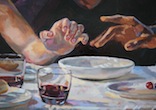 By Fr Samuel Medley, SOLT
I gave my back to those who beat me, my cheeks to those who plucked my beard; My face I did not shield from buffets and spitting. HYTHE, KENT, UK (Catholic Online) - I didn't steal any cookies mommy! says a little boy whose mother asked him if he was hungry, wiping the ... continue reading
---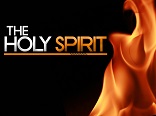 By Catholic Online
The Spirit makes one man a teacher of divine truth, inspires another to prophesy, gives another the power of casting out devils, enables another to interpret holy Scripture. The Spirit strengthens one man's self-control, shows another how to help the poor, teaches ... continue reading
---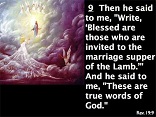 By Deacon Keith Fournier
It is not accidental that the Bible, from beginning to the end, uses marriage as a metaphor and a symbol to reveal the plan of God for the whole human race. Marriage was God's plan from the beginning as we see in the first book of Genesis. Throughout the Old ... continue reading
---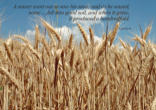 By Deacon Keith Fournier
"A sower went out to sow. And, as he sowed, some seed fell on the path, and birds came and ate it up. Some fell on rocky ground, where it had little soil. It sprang up at once because the soil was not deep, and when the sun rose it was scorched, and it withered for ... continue reading
---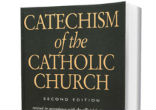 By Michael Terheyden
How we interpret the Bible is of immense importance! It directly affects what we believe about Christ, the Church, and our faith, but it is also related to many of the grave problems in our society and the world. Yet, despite the gravity of this situation, we have good ... continue reading
---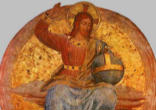 By Deacon Keith Fournier
We celebrate the Feast of Christ the King. It is one of many opportunities the Catholic Church year offers to each one of us to consider the creature called time, receive it as a gift, and begin to really live our lives differently. This is one of ... continue reading
---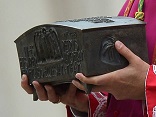 By Deacon Keith Fournier
On the Solemnity of the Feast of Christ the King, the Sunday which marks both the end of the Church Year and the end of the Year of Faith, inaugurated by Pope Emeritus Benedict XVI, Pope Francis greeted thousands of the faithful and presided over Holy Mass and the ... continue reading
---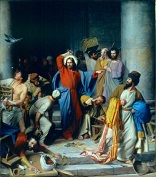 By Father Randy Sly
Becoming a House of Prayer is the best discipline we can take on. St. Ephraem of Syria states that Virtues are formed by prayer. Prayer preserves temperance. Prayer suppresses anger. Prayer prevents emotions of pride and envy. Prayer draws into the soul the Holy ... continue reading
---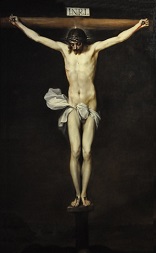 By Deacon Keith Fournier
If this day you only knew what makes for peace- but now it is hidden from your eyes. For the days are coming upon you when your enemies will raise a palisade against you; they will encircle you and hem you in on all sides. They will smash you to the ground and your ... continue reading
---
All Year of Faith News