At its foundation, a supernatural outlook is the understanding that all that we do is done for the glory of God. In other words, time at work is not time spent away from God
What is the "one thing" that Martha lacks?  She does not yet possess that complete love of God, which leads to a loss of supernatural outlook.  Even though Martha's work took her away from Jesus' side, if she had undertaken her tasks with a supernatural orientation of the mind and heart, she would not be missing out on anything.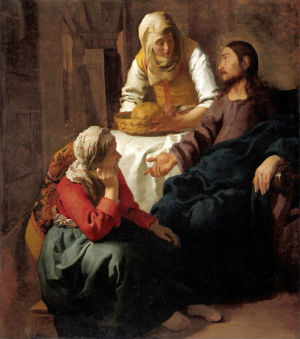 Jesus with Martha and Mary
Highlights
Catholic Online (www.catholic.org)
7/30/2013 (3 years ago)
Published in Year of Faith
Keywords: Daily Homily, Year of Faith, Gospel of Luke, Martha and Mary, Bethany, Action, Contemplation, Unity of LIfe, Supernatural Outlook, Fr. Stephen B. Reynolds, St. Theresa Sugar Land, Tx
---
SUGARLAND, TX (CatholicOnline) - Today is the Memorial of St. Martha, one of Jesus' close friends.  The liturgy offers two options for the Gospel reading of the Mass.  This reflection is based on Luke 10:38-42.
After a long day of walking from the Jordan River valley up to Jerusalem, Jesus stops to rest at the home of his good friends, Martha, Mary and Lazarus.  These siblings offered true friendship to Jesus, and their home was a refuge where the Lord could rest and be among those who loved him.
On this particular occasion, we witness a mild conflict between the two sisters.  Upon Jesus' arrival at the house, Martha busied herself with all the practicalities of hospitality.  She was working away in the kitchen, in order to prepare refreshments for her friend and guest.  At the same time, Mary was keeping Jesus company, sitting "beside the Lord at his feet listening to him speak" (Luke 10:39).
This arrangement did not suit Martha at all, who complains to Jesus that she has been left to do all the work.  "Lord, do you not care that my sister has left me by myself to do the serving?  Tell her to help me" (Luke 10:40).  Martha may have said this will a smile on her face, but it nevertheless strikes us as a double rebuke.  Martha criticizes her sister, but she also criticizes the Lord, who has allowed Mary to sit by him, rather than helping her sibling.
Jesus undoubtedly knew of Martha's frustration.  He could see how hard she was working and that all of her service was rooted in love for him.  At the same time, Martha craves the Lord's attention, and this has caused her to become a little self-centered, and thus, a little too sensitive to perceived slights.
Rather than rebuking her sharply as Christ might have done with the Pharisees and others who acted insincerely, he speaks to Martha gently, "Martha, Martha, you are anxious and worried about many things. There is need of only one thing.  Mary has chosen the better part and it will not be taken from her" (Luke 10:41-42).
What is the "one thing" that Martha lacks?  She does not yet possess that complete love of God, which leads to a loss of supernatural outlook.  Even though Martha's work took her away from Jesus' side, if she had undertaken her tasks with a supernatural orientation of the mind and heart, she would not be missing out on anything. 
What is a supernatural outlook and how do we acquire it?
At its foundation, a supernatural outlook is the understanding that all that we do is done for the glory of God.  In other words, time at work is not time spent away from God.  If we are living what many spiritual writers call "unity of life," then we will see that we can live in communion with God even when we are not engaged in times of formal or liturgical prayer.  All of our work and activity of any sort, as long as it is honorable and good, can be transformed into a living prayer, leading us into a contemplative union with God.
To foster this union, we must first do our work well.  We can't sanctify something - and we wouldn't want to offer it to God - if it is incomplete, second-rate, or an afterthought.  Next, we must consciously offer that work to God as a sacrifice of praise.  This transforms our human work into a offering that we freely give to God, and that can be done with a particular intention or person in mind.
Finally, when we use our work as a form of apostolate, trying to help those around us draw closer to God, by means of our own Christian witness, then work becomes not just an onerous task to accomplish for some practical end, and is transformed into an apostolic mission.
Sometimes, the attitude of Martha and Mary is presented as a contrast between the active and the contemplative life.  That is a reasonable interpretation of this passage.  At the same time, we don't want to overlook the fact that as Christians in the midst of the world, we want to be active contemplatives.  Rather than choosing the path of Martha or that of Mary, we ought to choose them both, and ask the Lord to transform our work into a vehicle of contemplation.
-----
Fr. Stephen B. Reynolds is the Pastor of St. Theresa Catholic Church in Sugar Land, Texas. You are invited to visit them on the Web at: www.SugarLandCatholic.com.

---
Copyright 2017 - Distributed by THE CALIFORNIA NETWORK
Pope Francis Prayer Intentions for DECEMBER 2016
Universal:
End to Child-Soldiers: That the scandal of child-soldiers may be eliminated the world over.
Evangelization:
Europe: That the peoples of Europe may rediscover the beauty, goodness, and truth of the Gospel which gives joy and hope to life.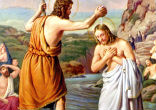 By Fr. James Farfaglia
The consideration of Jesus' baptism, gives us an opportunity to remember our own baptism. If you do not know the date of your own baptism, it is a good idea to go through your personal files and find out when it occurred. CORPUS CHRISTI, TX (Catholic ... continue reading
---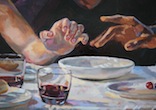 By Fr Samuel Medley, SOLT
I gave my back to those who beat me, my cheeks to those who plucked my beard; My face I did not shield from buffets and spitting. HYTHE, KENT, UK (Catholic Online) - I didn't steal any cookies mommy! says a little boy whose mother asked him if he was hungry, wiping the ... continue reading
---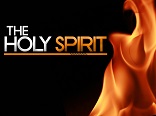 By Catholic Online
The Spirit makes one man a teacher of divine truth, inspires another to prophesy, gives another the power of casting out devils, enables another to interpret holy Scripture. The Spirit strengthens one man's self-control, shows another how to help the poor, teaches ... continue reading
---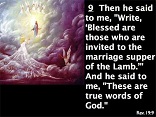 By Deacon Keith Fournier
It is not accidental that the Bible, from beginning to the end, uses marriage as a metaphor and a symbol to reveal the plan of God for the whole human race. Marriage was God's plan from the beginning as we see in the first book of Genesis. Throughout the Old ... continue reading
---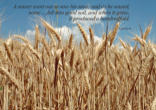 By Deacon Keith Fournier
"A sower went out to sow. And, as he sowed, some seed fell on the path, and birds came and ate it up. Some fell on rocky ground, where it had little soil. It sprang up at once because the soil was not deep, and when the sun rose it was scorched, and it withered for ... continue reading
---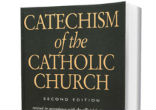 By Michael Terheyden
How we interpret the Bible is of immense importance! It directly affects what we believe about Christ, the Church, and our faith, but it is also related to many of the grave problems in our society and the world. Yet, despite the gravity of this situation, we have good ... continue reading
---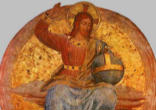 By Deacon Keith Fournier
We celebrate the Feast of Christ the King. It is one of many opportunities the Catholic Church year offers to each one of us to consider the creature called time, receive it as a gift, and begin to really live our lives differently. This is one of ... continue reading
---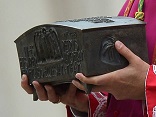 By Deacon Keith Fournier
On the Solemnity of the Feast of Christ the King, the Sunday which marks both the end of the Church Year and the end of the Year of Faith, inaugurated by Pope Emeritus Benedict XVI, Pope Francis greeted thousands of the faithful and presided over Holy Mass and the ... continue reading
---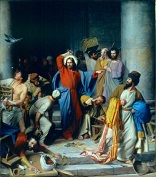 By Father Randy Sly
Becoming a House of Prayer is the best discipline we can take on. St. Ephraem of Syria states that Virtues are formed by prayer. Prayer preserves temperance. Prayer suppresses anger. Prayer prevents emotions of pride and envy. Prayer draws into the soul the Holy ... continue reading
---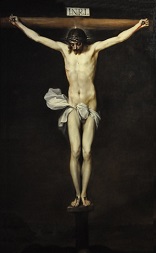 By Deacon Keith Fournier
If this day you only knew what makes for peace- but now it is hidden from your eyes. For the days are coming upon you when your enemies will raise a palisade against you; they will encircle you and hem you in on all sides. They will smash you to the ground and your ... continue reading
---
All Year of Faith News