FRIDAY HOMILY: Virtuous Serpents and Honorable Doves
---
Being Sent as Sheep Among Wolves
In our gospel readings for the past couple of days, Jesus is getting his apostles ready for their first mission without him. He gave them authority over evil spirits and to drive out disease. He also provided marching orders on how they were to proceed from town to town.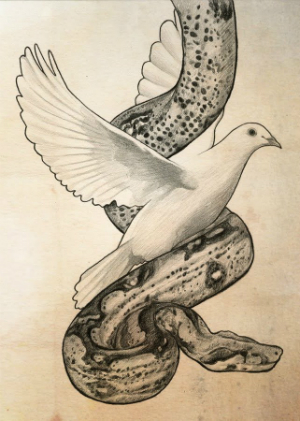 WASHINGTON, DC (Catholic Online) - Growing up in suburbia, I was totally unaware of the world that makes up rural America. Mid-point in my work as a pastor, I was called to a church in Manhattan, Kansas, the home of Kansas State University. In addition to having fine architectural and engineering programs, K-State is known for its agriculture schools and its school of veterinary medicine.
With some of the "Ag" faculty as a part of the parish, I was quickly immersed into this strange world of crops and cattle guards - which I found out had nothing to do with people standing guard over the cattle!
It was in the Kansas heartland where I learned about sheep. The more I learned, the more I could see why we are so often compared to this lowly animal by our Lord! To start with, sheep are not very smart, need to be protected and always seem to be wandering off and getting themselves into predicaments.
In our gospel readings for the past couple of days, Jesus is getting his apostles ready for their first mission without him. He gave them authority over evil spirits and to drive out disease. He also provided marching orders on how they were to proceed from town to town.
In today's reading from Matthew 10:16-23, he shares his realistic assessment of what they will probably experience, not simply on the one mission but from this point on - particularly after his passion, resurrection and ascension. "Jesus said to his Apostles: "Behold, I am sending you like sheep in the midst of wolves; so be shrewd as serpents and simple as doves.
"But beware of men, for they will hand you over to courts and scourge you in their synagogues, and you will be led before governors and kings for my sake as a witness before them and the pagans." (Matt. 10:16-18)
These words must have been somewhat disconcerting to the apostles. Being sent as sheep among wolves is a certain sign of destruction. They knew how ruthless the Romans could be and how dispassionately legalistic their own religious leaders had become. They would be lambs led to the slaughter.
This would have been the case, except that the Lord wanted to use this as a means of revealing to them a great secret, one that would be revealed to succeeding generations of believers through the St. John the Apostle, "You are of God, little children, and have overcome them, because He who is in you is greater than he who is in the world."
Jesus was not going to leave them alone in their mission. He would send the Holy Spirit with them - they may look like lambs but they will have the courage and fortitude of a lion.
So what would this look like? Our Lord gives them a hint - "be shrewd as serpents and simple as doves."
In his timeless treasury of devotional writing titled "In Conversation with God," Fr. Francis Hernandez describes these two characteristics as virtues to be cultivated in our lives. That approach to these metaphorical symbols seems much more appealing than merely talking about slithering around like a snake or cooing like a pigeon. 
When we are sent into the world for the work of the gospel, two key virtues need to be developed - prudence and simplicity. Prudence is more than merely common sense; it our inclination to make choices which contribute to the common good. It is called the "charioteer of the virtues" (CCC 1806) and is the guide of all the other virtues. Simplicity is the opposite of needless complexity; it is a life that is honest, straightforward, and uncomplicated.
We need to remember that virtues don't just come naturally, they have to be cultivated. As the Catechism of the Catholic Church states, Human virtues are firm attitudes, stable dispositions, habitual perfections of intellect and will that govern our actions, order our passions, and guide our conduct according to reason and faith. They make possible ease, self-mastery, and joy in leading a morally good life. The virtuous man is he who freely practices the good.
They are the fruit and seed of morally good acts.
Serpent-like Prudence
As the natural enemy of man, serpents do a good job of avoiding contact. While we think of them sliding and gliding along, they spend a lot of time being still and out of the way.
Prudent actions are used to avoid confrontation, giving the one with that virtue the opportunity to serve another day. This is a much different approach from the William Wallace bravado of "Braveheart," where after he's given the terms for surrender, he matter-of-factly states, "I'm going to pick a fight."
The prudent person cultivates a lifestyle of careful action. As the Catechism states, Prudence is "right reason in action," writes St. Thomas Aquinas, following Aristotle. It is not to be confused with timidity or fear, nor with duplicity or dissimulation. The prudent man determines and directs his conduct in accordance with this judgment. With the help of this virtue we apply moral principles to particular cases without error and overcome doubts about the good to achieve and the evil to avoid. (CCC 1806)
In today's culture, sheep-among-wolves seems to still be a valid image. Our world is becoming more and more hostile to the cause of the gospel. We are being painted, especially by those who passionately embrace practices that are condemned by Holy Scripture and Catholic teaching, as intolerant extremists. As a side note, I'm still amazed when people use the label "intolerant" when making statements that are in themselves intolerant!
This is a time when the Church needs prudent apologists. Those who are able to give a reason for the hope that lies within and are cultivate right actions toward providing for the common good of all.
Dove-like Simplicity
Then, Jesus adds a second simile - we are to be simple, or innocent, as doves. This counteracts any inclination that we might have that, like the snake, we need to attack with a poisonous bite.
Simplicity - or innocence - as a virtue is easy to explain: "what you see is what you get." The word in the Greek here means to be "pure" or "unmixed." It is the same word used in the Beatitudes when Jesus says, "Blessed are the pure in heart, for they shall see God."
As a virtue, what we want to develop is a life that does not have many layers of complexity. We are called by Christ to live clear and transparent lives where we allow ourselves to be honest in our relationships. We have no hidden agendas and don't use empty flattery.
People with the virtue of simplicity are clear and transparent, and their relationships are honest and solid. There is no secret agenda, no hidden intentions. The simple person is never two-faced; she is sincere and straight, with nothing to hide.
During a retreat years ago I was talking with a man who shared (not in the confessional but in a casual conversation) that he was tired of trying to be a different person in the different areas of his life. When he was with his friends, he was the "wild and crazy party guy." When at Mass, he was pious, loving and prayerful. At home, he tried to be "Father Knows Best" and, again, at work was, as he put it, in command.
I asked him what would happen if he got individuals from all these parts of his life in one room and asked them to describe him. He said, "None of the descriptions would be alike!"
Again, as sheep among wolves, we can easily be tempted to morph into different personas depending on the circumstance. We can skip a private prayer before a business lunch, choose to add salty language at the office to fit in, or do a number of other things as a cover-up for who we really are.
Not only will those around be presented with a false image of who we are, but the gospel message - both in word and action - will also be hidden as well. When we live lives of simplicity, not only will we see God, as we read in the Beatitudes, but those around us will be able to see him as well.
St. Vincent de Paul, who was a great advocate of simplicity, once wrote, Among those who make profession of following the maxims of Christ, simplicity ought to be held in great esteem; for, among the wise of this world there is nothing more contemptible or despicable than this. Yet it is a virtue most worthy of love, because it leads us straight to the kingdom of God, and, at the same time, wins for us the affection of men; since one who is regarded as upright, sincere, and an enemy to tricks and fraud, is loved by all, even by those who only seek from morning till night to cheat and deceive others.
Prudence and simplicity are two virtues worth cultivating, especially in light of our call to the New Evangelization, where we go into the world to make disciples. In Pope Francis' first Encyclical, Lumen Fidei, we read, Faith is passed on, we might say, by contact, from one person to another, just as one candle is lighted from another. Christians, in their poverty, plant a seed so rich that it becomes a great tree, capable of filling the world with its fruit.
These seeds are planted by those who are able to successfully navigate through the world of wolves by virtuous living and, in the love of Christ, clearly and simply deliver the message of light.
-----
 
Father Randy Sly is the Associate Editor of Catholic Online and a priest with the Personal Ordinariate of the Chair of St. Peter (http://usordinariate.org) established by the Holy Father, Pope Benedict XVI, through the Apostolic Constitution Anglicanorum Coetibus. He is currently the chaplain of the St. John Fisher Ordinariate Community, a priest in residence at Our Lady of Hope Catholic Church and Director of Pro-Life Activities for the Ordinariate. He is a popular speaker for parishes, apostolates and organizations. 
---
Copyright 2018 - Distributed by THE CALIFORNIA NETWORK
Pope Francis Prayer Intentions for APRIL 2018
For those who have Responsibility in Economic Matters.
That economists may have the courage to reject any economy of exclusion and know how to open new paths.
---
---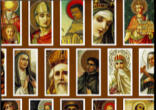 Calling the saints to mind inspires, or rather arouses in us, above all else, a longing to enjoy their company, so desirable in itself. We ... continue reading
---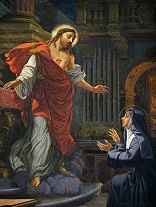 The heart is the center of a person, the place from which he/she makes the choices which will affect the world within them and around them. ... continue reading
---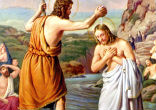 The consideration of Jesus' baptism, gives us an opportunity to remember our own baptism. If you do not know the date of your own ... continue reading
---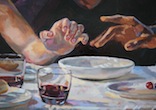 I gave my back to those who beat me, my cheeks to those who plucked my beard; My face I did not shield from buffets and spitting. HYTHE, ... continue reading
---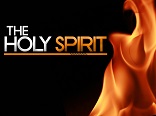 The Spirit makes one man a teacher of divine truth, inspires another to prophesy, gives another the power of casting out devils, enables ... continue reading
---