TUESDAY HOMILY: The Good Fight of the Faith
---
The Year of Faith is meant to inspire us toward more and better prayer and Jesus asks for that improvement in the way we pray for vocations.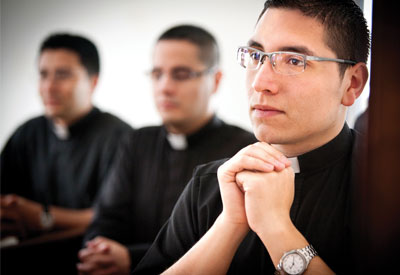 FALL RIVER, MA (Catholic Online). Prayer is simply faith in action. For this Year of Faith to be more than a meaningless ecclesial exercise, each of us and the whole Church must respond to God's help to pray more and better.
Today's readings are part of that divine help.
In the first reading from Genesis, we encounter the mysterious scene of the nocturnal wrestling match between Jacob and an angel of God that throughout the history of the Church has been treated as an illustration of the "battle of prayer."
Describing this scene in the midst of its tremendous section on prayer, the Catechism of the Catholic Church says, "Before confronting his elder brother Esau, Jacob wrestles all night with a mysterious figure who refuses to reveal his name, but he blesses him before leaving him at dawn. From this account, the spiritual tradition of the Church has retained the symbol of prayer as a battle of faith and as the triumph of perseverance" (2573).
Pope Benedict XVI gave an entire catechesis on this scene on May 25, 2011 at the beginning of his beautiful 18 month series on prayer. He that our prayer requires the tenacity not to give up when prayer is hard, but to continue struggling to see God and embrace his will. Prayer is he emphasized, "the good fight of the faith."
"For the believer the episode of the struggle at the Jabbok thus becomes a paradigm. .  a reference point for understanding the relationship with God that finds in prayer its greatest expression," Pope Benedict said.. "Prayer requires trust, nearness, almost a hand-to-hand contact that is symbolic not of a God who is an enemy, an adversary, but a Lord of blessing who always remains mysterious, who seems beyond reach.
"Therefore the author of the Sacred text uses the symbol of the struggle, which implies a strength of spirit, perseverance, tenacity in obtaining what is desired. And if the object of one's desire is a relationship with God, his blessing and love, then the struggle cannot fail but ends in that self-giving to God, in recognition of one's own weakness, which is overcome only by giving oneself over into God's merciful hands,
He finishes by saying that such a struggle summarizes not just the prayer of a Christian but also the entire life of faith.
"Our entire lives are like this long night of struggle and prayer, spent in desiring and asking for God's blessing, which cannot be grabbed or won through our own strength but must be received with humility from him as a gratuitous gift that ultimately allows us to recognize the Lord's face. And when this happens, our entire reality changes; we receive a new name and God's blessing. . Whoever allows himself to be blessed by God, who abandons himself to God, who permits himself to be transformed by God, renders a blessing to the world."
This connection between prayer and the life of faith is underlined by Jesus in the Gospel.
St. Matthew tells us Jesus' heart exploded with pity for the crowds because they were like abandoned and mangled sheep without a shepherd. And so he turned to his disciples and told them, "The harvest is abundant but the laborers are few; so ask the master of the harvest to send out laborers for his harvest."
Jesus had already spent days teaching these hungry crowds in their synagogues, curing every disease and illness and casting out demons. There was a need for urgent need for hardworking collaborators. He knew there would also be an pressing demand for such coworkers whose hearts likewise would be so moved with mercy that they would follow Jesus in caring for the vast crowds.
And so Jesus gave an imperative with no expiration date. He told his disciples to pray, not just for bodies in the vineyard, but "laborers," those who know how to roll up their sleeves and work up a sweat.
Little did those who began to pray recognize that they were going to be the Harvest Master's answers to those prayers, as we'll see in the Gospel tomorrow when Jesus after a night of prayer calls the first 12 apostles by name.
Likewise, when we pray to the Harvest Master, we're not only praying for "others' to step forward to labor in the Vineyard but we need to be open to how the Lord wants all of us, in different capacities, as apostles in that vast worldwide vineyard bringing in a great harvest of souls before they perish on the vine.
Our prayer is not isolated from our life. Faith unites and is meant to suffuse both.
And the struggle of prayer and the life of faith likewise continues.
We're living in an age in which, in many parts of the United States and across the globe, the vineyard is in tough shape. There's a massive shortage of laborers, causing those who are in the vineyard to work themselves to burnout trying to do the work that several people once did together. Fewer are praying to the Harvest Master.  The Harvest Master is still calling, but many are not hearing that call or responding.
This Year of Faith, which is a preparation for a relaunching of the New Evangelization, the New Harvesting, must be met with making good on this command to pray to the Harvest Master for laborers and creating a culture in the Church such that everyone is open to listen to how God wants our help in in that Harvest.
I've always been moved by the story of how Lu Monferrato, a tiny village in Italy, responded to these words of the Lord. In 1881, the mothers of this little village of a few thousand inhabitants began to gather each Tuesday afternoon for Eucharistic adoration to pray to the Harvest Master for vocations as laborers in his vineyard. They would pray together, "O God, grant that one of my sons may become a priest! I myself want to live as a good Christian and want to guide my children always to do what is right, so that I may receive the grace, O God, to be allowed to give you a holy priest! Amen!"
That preserving prayer, flowing from their tenacious faith, bore more fruit than any of them could have ever imagined. In the span of a few decades, this one village- much smaller than many parishes in United States - produced 152 priestly vocations and 171 religious women to 41 different congregations.
And so it's time for some pointed questions hopefully leading to resolutions.
Is your heart moved with pity on the vast crowds who are still mangled and abandoned because they wander without the Good Shepherd?
Will you put into practice Jesus' words in the Gospel to pray to the Harvest Master with the same perseverance with which Jacob struggled, which with the mothers of Lu Monferrato, assembled each week for a Holy Hour?
Are you prepared to be an answer to that prayer if Christ calls you to be one of those laborers, as a lay catechist or charitable worker, a priest, religious, deacon, consecrated person, or some other position in Christ's fields?
Father Roger Landry is pastor of St. Bernadette Parish in Fall River, MA and national chaplain of Catholic Voices USA. His homilies and articles are found on catholicpreaching.com.
   
---
Copyright 2018 - Distributed by THE CALIFORNIA NETWORK
Pope Francis Prayer Intentions for APRIL 2018
For those who have Responsibility in Economic Matters.
That economists may have the courage to reject any economy of exclusion and know how to open new paths.
---
---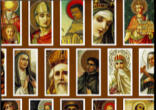 Calling the saints to mind inspires, or rather arouses in us, above all else, a longing to enjoy their company, so desirable in itself. We ... continue reading
---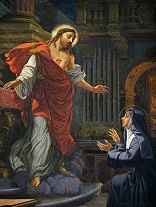 The heart is the center of a person, the place from which he/she makes the choices which will affect the world within them and around them. ... continue reading
---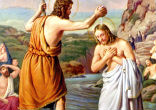 The consideration of Jesus' baptism, gives us an opportunity to remember our own baptism. If you do not know the date of your own ... continue reading
---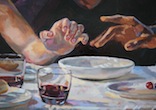 I gave my back to those who beat me, my cheeks to those who plucked my beard; My face I did not shield from buffets and spitting. HYTHE, ... continue reading
---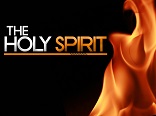 The Spirit makes one man a teacher of divine truth, inspires another to prophesy, gives another the power of casting out devils, enables ... continue reading
---