WEDNESDAY HOMILY: Me, Myself, and I, How to Overcome the Unholy Trinity
---
God will not be outdone in generosity.
The more you sow, the more you reap. Each one should give what he has decided in his own mind, not grudgingly or because he is made to, for God loves a cheerful giver.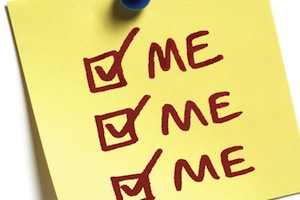 P>HYTHE, KENT, UK (Catholic Online) - Me, Myself, I, Facebook, Twitter, YOUtube, iPhone, iPad, I, EGO, ME - the I generation, we live in the age of me.
We live in a time when the self is worshiped.
We live in an age when selfidolatry is the greatest competitor for God - unbridled egoism and promotion of one's own person is the greatest thing that keeps people from true worship of God, which ultimately comes down to sacrificing one's own ego, one's will, to the Holy Will of God.
It therefore takes a particular generosity to desire to go unnoticed, to will to be not followed, subscribed to, or commented upon.
The Lord teaches this in the Gospel for today, in which he teaches a radical contempt for what others think, a turning away from seeking other's approval and seeking only the approval of God, to become pleasing to him alone.  He says: "do not let your left hand know what your right hand is doing."
What does this mean?
The right and left hand are simply expressions of one's fundamental and primordial actions: eating, walking, talking, etc. We use them in everyday basic acts.  To not let the left hand know what the right hand is doing means therefore that our fundamental actions should be leavened with a kind of generosity that seeks to please God even in the way we live, move, and have our being, and therefore does not care about what others think.
Sow generously.  Reap generously.
Do not care what anyone thinks except God.  This takes a very potent kind of generosity, especially when we are surrounded by messages and voices that tell us to be over-preoccupied with ourselves.  He is the only one you should ultimately think about, even with regard to very basic actions that you do every day.
To do this practically try this: for every blogpost, every comment, every word, thought, action - think first, "What would God think of this?  What would He say?  What would He do?  What would He think?"  With mighty generosity thrust aside the vain worry about what you look like before others, what image you are making, what figure you cut.
Another very practical way of mortifying one's own ego is service.  Go and feed the hungry.  Go and cook a meal for your chidden.  Be preoccupied with their welfare instead of your own.  Serve your spouse.  Be sensitive to your coworkers.
Stop.  Look.  Listen.  Observe those around you.  Discover the needs of others as the very real demands that love places upon you for this moment.  In His goodness, God will probably present you with a very real way of having to forget about your own welfare and to worry about the other.  Serve.  Pray.  Love.
In the mystery of the Most Holy Eucharist we find the epitome of selfless love.  This is my body.  This is my blood.  Jesus gives himself entirely over to those who undeservedly receive his blessings and accept his love so that they may in turn love without expecting return.  At every holy sacrifice of the Mass, Jesus, with reckless abandon, gives himself over into our hands - he offers his whole being without reserve.  The Eucharist is the school of generous love.  It is the place where we learn to love without expecting return.
May Our Lady, the Mother of God, who gave her whole being over to Christ in selfless love teach us to offer ourselves and our love freely, without expecting return.
-----
Father Samuel Medley, SOLT, is a priest of the Society of Our Lady of the Most Holy Trinity, and is based in Hythe, Kent, United Kingdom.  He speaks to groups around the world on Blessed Pope John Paul II's Theology of the Body.  Visit his homily blog http://medleyminute.blogspot.com or his blog on sexual ethics http://loveandresponsibility.org

---
Copyright 2018 - Distributed by THE CALIFORNIA NETWORK
Pope Francis Prayer Intentions for APRIL 2018
For those who have Responsibility in Economic Matters.
That economists may have the courage to reject any economy of exclusion and know how to open new paths.
---
---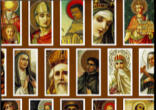 Calling the saints to mind inspires, or rather arouses in us, above all else, a longing to enjoy their company, so desirable in itself. We ... continue reading
---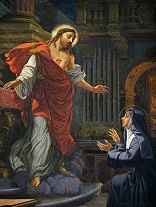 The heart is the center of a person, the place from which he/she makes the choices which will affect the world within them and around them. ... continue reading
---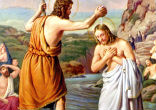 The consideration of Jesus' baptism, gives us an opportunity to remember our own baptism. If you do not know the date of your own ... continue reading
---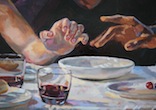 I gave my back to those who beat me, my cheeks to those who plucked my beard; My face I did not shield from buffets and spitting. HYTHE, ... continue reading
---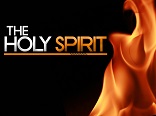 The Spirit makes one man a teacher of divine truth, inspires another to prophesy, gives another the power of casting out devils, enables ... continue reading
---