TUESDAY HOMILY: Christian Perfection
---
The Year of Faith is a summons for us to live faithfully by Jesus' standards, rather than as everyone else does. Today Jesus makes that calling emphatically clear.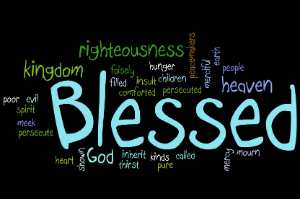 FALL RIVER, MA (Catholic Online). Throughout the Sermon on the Mount, which we began to ponder eight days ago and will continue to examine until next Thursday, Jesus has calling us, as his disciples, to live by his standards, not by the standards of others. To live by Jesus' standards is one of the principal goals of the Year of Faith.
Last Thursday, Jesus told us that our relationship with God must surpass that of the scribes and the Pharisees, who were the most religiously observant Jews.
Today he declares that we need to do better than the tax collectors who love those who love them, than the upright Gentiles who greet and do good to those who great and do good to them.
He calls us to live by his standards, not by the morés of others. The world just calls us to be a "good person. Jesus, rather, calls us to be holy as the Lord, our God, is holy, to love as he loves, to forgive as he forgives, to live as he lives.
In the Gospel today, Jesus puts a dramatic exclamation point on this calling, telling us, "Therefore, be perfect as your heavenly Father is perfect."
Many times when we hear this we're thrown off by the word "perfect" and think that this is an unachievable standard, because after all, none of us is perfect, none of us will ever be perfect, and therefore if God is calling us never to make a mistake, then he's calling us to something beyond human capacity. Therefore we feel justified in blowing off what Jesus says because it's clearly impossible.
But before we dismiss what Jesus says as if he couldn't possibly have meant it, we should focus on a few things:
First, the main emphasis of what Jesus is saying is "Be like your heavenly Father." He was specifically calling us to be like him in particular ways in the Gospel.
Earlier in the passage he gave us specific exhortations so that we "may be children of [our] Father in heaven, who makes his sun rise on the evil and the good, and sends rain on the righteous and on the unrighteous."
Just as God the Father loves everyone and does good to everyone, including those who curse him, including those who make themselves his enemy through sin and an evil life, including those who try to use him whenever they need him but then just ignore him without any thanksgiving afterward, Jesus tells us to do the same, to love our enemies, to pray for those who persecute us, to walk the second mile, to give our cloak as well as our tunic, to give generously to all those who need to borrow.
We're called to be good - to let our sun or life-giving rain fall - not just on those who are good to us but even on those who are not good to us, just as the Father does.
This is the path to true holiness. This is the means by which we become, in action, sons and daughters of our heavenly Father, by behaving as he behaves.
We cannot be like God the Father, on the other hand, when we don't love others enough to forgive them when they hurt us, to pray for them when they persecute us, to sacrifice for them when they're in need, to avoid all vengeance against them when they strike us on our cheek. 
Second, when Jesus calls us to be "perfect" like our Father in heaven, we have to understand the Greek word St. Matthew employs. There are two things we can say about it.
First, the real translation from the Greek verb tense is "be perfected as your heavenly Father is perfect." Jesus is calling us to allow God to carry out his work of perfection in us by the power of the Holy Spirit. The path to perfection is not principally our work but our cooperation with God's work, to allow him to bring to perfection within us what he has started on the day of our baptism.
This is absolutely essential.
We need to give God permission to sculpt us into his image and likeness, to form us to love like he loves, to be merciful as he is merciful, to sacrifice for all just like he lets his sun shine equally on his faithful and his unfaithful sons and daughters, because he loves them all.
The Greek word St. Matthew uses is "teleios," which means being apt for its purpose.
A screwdriver is teleios for driving in a screw. An umblemished Lamb was teleios for the sacrifice in the temple. A student is teleios when  he has mastered the material, lives in and can teach it to others. When we're called to be "teleios" as our heavenly Father is "teleios," Jesus is saying we're called to come to full stature, to achieve the end for which we were made, to be fully in the image and likeness of God, in short, truly to be holy as God is holy, to love like God loves, to be merciful as he is merciful, to behave truly as children of our Father.
One application of this is to be generous as God is generous.
In today's first reading, St. Paul reminds sought to test the genuineness of Corinthians' faith and love by their concern for poor and destitute of the Church of Jerusalem for whom he was taking up a collection. He reminded them of "the gracious act of our Lord Jesus Christ, who for your sake became poor although he was rich, so that by his poverty you might become rich." He was encouraging them, like he had successfully encouraged the Macedonians, to follow Christ's standard of self-emptying generosity so that they in term might become truly wealth, truly teleios, truly perfected.
There's a beautiful prayer St. Paul makes in his letter to the Philippians when he says, "I am sure that he who has begun this good work in you will bring it to fulfillment on the day of Christ Jesus."
This prayer has made itself repeatedly into the rites of religious professions and the ordination of deacons, priests and bishops and in religious professions. The bishop prays, for example, during the ordination of a priest that the Lord who has begun the good work in the man may bring it to fulfillment, so that the man might truly grow into the image of Christ the High Priest by modeling his life on the mystery of the Lord's Cross, which is the greatest sign of the self-sacrificing love for God and others that is meant to characterize the priesthood.  That is what is meant to be perfected as a priest.
For us as Christians, God wants to bring the good work he began in us on the day of our baptism to completion. Everything in life is meant to help us become "teleios," something we should ponder anew in this Year of Faith.
The sacraments are meant to help us come to perfection by assisting us from within to become more and more like the one we encounter in the Sacraments, Jesus Christ, who feeds us with himself, who forgives us our sins, who fills us with his Holy Spirit, who conforms us to himself, who joins us in one flesh with another to become a true communion of persons in marriage and family resembling the Trinitarian interpersonal communion, and who helps unite our sufferings to his.
The Word of God is meant to help us to become teleios, by imparting to us God's wisdom and showing us the true path to love like he loves.
Prayer is meant to help us to become teleios.
Our daily life, not just the good times but also the tough and challenging things, including our sufferings, is meant to help us to become teleios, This means that when someone slaps us on the cheek, or begs from us, or hates or persecute us, all of can be used by God to bring us to perfection.
That's what God the Father did to bring God the Son to perfection. We read in the Letter to the Hebrews, that when "he was in the flesh, Jesus offered up prayers and supplications, with loud cries and tears, to Him who was able to save him from death, and he was heard because of his reverence. Although he was Son, he learned obedience through what he suffered and, being perfected, because the source of eternal salvation to all who obey him."
Jesus was perfected according to his human nature, precisely through his suffering. He was perfected when he didn't retaliate against the brutal Roman soldiers who slapped him, mocked him and put a crown of thorns on his head. When they took his tunic in order to scourge and crucify him, he allowed them to take his cloak as well. When they compelled him to walk with the Cross on his shoulders, he continued nearly two miles, helped by Simon of Cyrene. When he was being crucified, he cried out with love for his enemies and prayer for his persecutors, "Father, forgive them for they do not know what they are doing." And by his horrendous but salvific death, Jesus opened the gates of salvation not just for the righteous, but for us all, provided that we convert and follow him through that narrow gate.
That's why, to become perfected, to become holy, we need to follow Jesus Christ not just partially, not just at a distance, not just picking-and-choosing the parts of his teaching that don't require a radical change on our part, but up close, fully, totally.
The whole Sermon on the Mount is meant to lead us to true happiness, to true spiritual perfection as sons and daughters of God. We need, however, not just to hear Jesus' message, but to believe it, embrace it and live it, by allowing God to do what he wishes to do in us, to raise us, just like any Father or Mother wants to raise a child, to fulfill all of the potential with which he has created us, to be holy like he is holy, perfect as he is perfect, fully human and more and more divine.
There are those of us who want to pretend that there's another way - that we can still please God, live a good Christian life, and get to heaven without taking Jesus' words seriously and literally.
We want to believe that as long as we do a few good deeds, come to Mass, pray a little each day, give something to the poor, that that's all that God wants.
If we do these things, we think that we can continue not to strive for sanctity but rather, to quote Leviticus, to "hate our kind in our heart," to "reprove our neighbor," and to "take vengeance."
We think that if someone takes something from us, we're justified in taking their eye or their tooth, that we're okay in slapping someone back who slaps us first, that we're fine in loving only those whom we think deserve our love, that we're cool with God being generous only to those who we trust, that it's acceptable to vanquish our enemy before our enemy vanquishes us.
Today is the day in which Jesus wants us to recognize that this is not the way to human fulfillment. His way alone is.
That leaves us with a choice.
St. Paul in his first letter to the Church in Corinth wrote with loving concern, "Do not deceive yourselves. If you think that you are wise in this age, you should become fools so that you may become wise. For the wisdom of this world is foolishness with God."
To those who are wise in this age, the whole Sermon on the Mount - from the beatitudes to what Jesus teaches us today about turning the other cheek and loving, having unconquerable benevolence, toward even our enemies - is totally idiocy, just like they believe that the Cross is utter folly.
But those who are truly wise know, with St. Paul, that the Cross is the power and the wisdom of God.
Those who are truly wise see that Jesus' words alone are the path to eternal life.
Those who are foolishness in the eyes of the world and wise in what pertains to God are the only ones who will come to perfection
Today Jesus teaches us the true path to have it all.
May we respond to his help to cooperate with him in transforming us by Holy Spirit so that we may have it all, in this world and in the next!
Father Roger Landry is pastor of St. Bernadette Parish in Fall River, MA and national chaplain of Catholic Voices USA. His homilies and articles are found on catholicpreaching.com.
---
Copyright 2018 - Distributed by THE CALIFORNIA NETWORK
Pope Francis Prayer Intentions for APRIL 2018
For those who have Responsibility in Economic Matters.
That economists may have the courage to reject any economy of exclusion and know how to open new paths.
---
---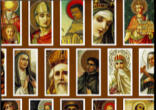 Calling the saints to mind inspires, or rather arouses in us, above all else, a longing to enjoy their company, so desirable in itself. We ... continue reading
---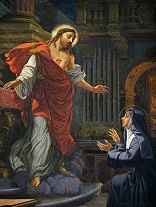 The heart is the center of a person, the place from which he/she makes the choices which will affect the world within them and around them. ... continue reading
---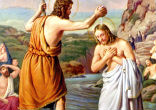 The consideration of Jesus' baptism, gives us an opportunity to remember our own baptism. If you do not know the date of your own ... continue reading
---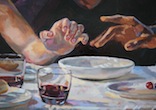 I gave my back to those who beat me, my cheeks to those who plucked my beard; My face I did not shield from buffets and spitting. HYTHE, ... continue reading
---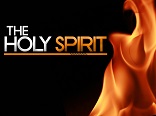 The Spirit makes one man a teacher of divine truth, inspires another to prophesy, gives another the power of casting out devils, enables ... continue reading
---