TUESDAY HOMILY: Our Greatest Allegiance
---
With St. Thomas More, we are called to say - We are good American citizens, but citizens of heaven first!
Today in the Gospel, Jesus teaches us all how to live by faith when others try to get us to compromise it. Two groups that were archenemies conspired to try to trap Jesus. Both the Herodians and the Pharisees wanted Jesus out of the way, because both felt threatened by him. Jesus describes how to resolve conflicts between our commitments to God and to our nation.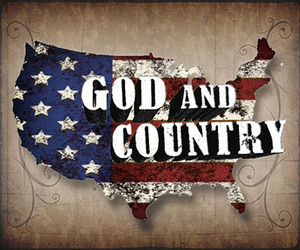 P>FALL RIVER, MA (Catholic Online). In this Year of Faith, it's important for all Catholics to recognize that if we really believe in God, it requires putting him first, giving him our greatest allegiance of all.
When we do, it's unsurprising that others, who wish to be in first place in our life, will get jealous and maybe make life difficult. It's par for the Christian course and we need to be ready to suffer in order to keep God in first place.
We see this happen sometimes in families when, for example, one of the spouses has a deep conversion and starts to spend much more time with God in prayer, witness and service. The other spouse often begins to resent it.
We also see it occur in governments with a tendency toward a subtle or explicit totalitarianism. They begin to see the true faith of believers as a threat, because such leaders recognize that they may not be able to intimidate or manipulate those who live by moral absolutes.
Today in the Gospel, Jesus teaches us all how to live by faith when others try to get us to compromise it.   
Two groups that were archenemies conspired to try to trap Jesus. Both the Herodians and the Pharisees wanted Jesus out of the way, because both felt threatened by him.
They decided to ask him a question about which they themselves were constantly in disagreement - whether it was lawful to pay taxes to or support in any way the Roman empire.
The Herodians were sycophants, and, regardless of how they personally felt about a foreign power's ruling over them, decided that if you couldn't beat the Romans, you should join them. They cooperated with the Romans in almost everything, including taxes.
The Pharisees, like most of the Jewish people, deeply resented being dominated by a pagan power, and found utterly repulsive the thought of giving a tribute to a foreign ruler who fancied himself a god.
They thought their long-standing disagreement was a perfect catch-22 by which to nail the carpenter from Nazareth.
So they approached Jesus and manifested their mendacity and hypocrisy by a barrage of empty flattery:
"Teacher, we know that you are sincere, teach the way of God with accordance to the truth, show deference to no one, and don't play favorites."
Then came the question: "Is it lawful to pay taxes to the emperor or not?"
It was the perfect query, they thought, because no matter how Jesus answered it, they had him. If he failed to respond, he would lose authority by ducking one of the most relevant political questions of the day.
If he said "yes," he would risk losing the affection of the masses, who hated the Romans, hated the emperor, and particularly hated being forced to give him any recognition at all.
If he said "no," then they could turn him over to Pontius Pilate for inciting lawlessness among the people.
But Jesus could not be trapped, and he always brings good out of evil. In answer to their hypocrisy, Jesus pointed the path to true human integrity.
In response to their mendacity, Jesus gave us a truth to live by, one that is as relevant today to our life of faith as it ever was.
After he had asked to see the coin used for the tax and they brought him one (showing that all of them used the money when it served their purposes!), he queried, "Whose image is this and whose inscription?" When they responded, "Caesar's," he gave them and us the principle that extends far beyond than the glory days of Rome. "Then give to Caesar the things that are Caesar's, and to God the things that are God."
Most of Jesus' original listeners thought that you couldn't serve two masters  both God and Caesar; either you gave to God, they thought, or gave to Caesar. Jesus said it was not necessarily "either. or" but could be and should be "both. and."
We have responsibilities in the social order (what we might call the horizontal plane); we also have responsibilities toward God (the vertical plane). The two should go together. One of our responsibilities toward God is to love our neighbor; and one of the greatest services to our neighbor is the service of the truth that comes from God.
Today, we're not intending in our prayerful reflection on today's Gospel to trap Jesus in his speech, but to learn from him the truth that will set us free. And as we ask him the same question about the allegiance we owe to the social order - to our society, our nation, our communities, our families - he turns to us and asks us something.
He doesn't request to see a dollar bill, but rather says to us, "Look in the mirror!"
Next he asks us: "Whose image is this?"
He wants us to recognize that we are made in the image and likeness of God. And then he wants to say to us, "Then give to God the things that are God's."
All that we are, all that we have, all our time, our talents, our money, our resources, our health comes from God, are part of our being in his image, and we're called by him in justice, in wisdom and in love, to give back to God the things that are his.
What are we to do when conflicts arise between the two orders of responsibility, to this world and the next? How do we resolve them?
The best principle, I think, comes from the example and last words of one of the great saints in the history of civilization. After he refused to take a false oath affirming King Henry VIII as the supreme head of the Church in England and another affirming that Henry's marriage to his wife Catherine of Aragon was invalid and that any children from Anne Boleyn would be legitimate heirs to the English throne, he was thrown into the Tower of London where he was harassed and starved and otherwise pressured into submission, but never relented.
Finally, he was sentenced to death. As he stood on the platform where he would be beheaded, he was asked whether he had any last words. His valedictory, right before he had his head chopped off, was "I have always been the king's good servant, but God's first."
Those words each of us is called to make his own. Each of us is called to be the good servants of our nation, of our communities, of our cities, but God's good servants first. Should there ever be a conflict between what we owe to God and what civil leaders claim we owe to them, God must win.
And the greatest service we can give to society and to her rulers is to serve God faithfully, because by this we bring to them the truth, which is the only foundation on which society can be firmly grounded.
We're living in an era in which we need many more St. Thomas Mores, because it's time in which supposed conflicts between what we owe to God and what others claim we owe to society are growing.
A numerically small but very litigious group of atheists, in conjunction with secularists on the courts, are trying to abuse the principle of the separation of Church and state to eliminate any reference from God in public life or public policy.
This principle of the separation of Church and state comes historically from Christian reflection on Jesus' principle in today's Gospel of giving to Caesar and giving to God. It was enshrined in our Constitution to prevent any one religion from becoming a national religion and to prevent the national government from infringing on religious liberty; it was never intended as a means by which God could be entirely kicked out of public life.
But that's precisely what these secularists and atheists, helped by the ACLU, are trying to do. They want to eliminate "one nation under God" from the pledge of allegiance. They want to excise "in God we trust" from our currency. They want to prevent crčches on public property. They want to purge prayers at graduations and sporting events. They want to remove any reference to the Ten Commandments anywhere and everywhere.
Secularists in government are taking it a step further in their attempts to reduce freedom of religion to freedom of worship, as if all the Constitution protects is our prayer, but not our living according to our faith. The federal government is trying to use its coercive powers to force those who are opposed to chemical abortions, contraception, and sterilization to have to pay for it, something to which the U.S. Bishops have been objecting for two years.
Later this month, on the vigil of the Memorial of St. Thomas More and St. John Fisher, Catholics in the United States will begin a second Fortnight for Freedom, so that we may pray, ponder, and put into action Jesus' call to give to Caesar what is justly Caesar's, but to give to God what belongs to God.
Today's Gospel scene is a great way to begin to get ready. Jesus is asking us to look in the mirror and see in whose image we are made. Then he is calling us to act in accordance with that dignity.
With St. Thomas More, we are called to say, "We are good American citizens, but citizens of heaven first!"
-----
Father Roger Landry is pastor of St. Bernadette Parish in Fall River, MA and national chaplain of Catholic Voices USA. His homilies and articles are found on www.catholicpreaching.com

---
Copyright 2018 - Distributed by THE CALIFORNIA NETWORK
Pope Francis Prayer Intentions for APRIL 2018
For those who have Responsibility in Economic Matters.
That economists may have the courage to reject any economy of exclusion and know how to open new paths.
---
---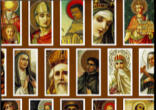 Calling the saints to mind inspires, or rather arouses in us, above all else, a longing to enjoy their company, so desirable in itself. We ... continue reading
---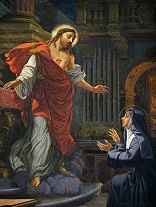 The heart is the center of a person, the place from which he/she makes the choices which will affect the world within them and around them. ... continue reading
---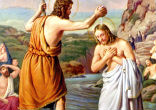 The consideration of Jesus' baptism, gives us an opportunity to remember our own baptism. If you do not know the date of your own ... continue reading
---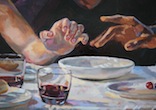 I gave my back to those who beat me, my cheeks to those who plucked my beard; My face I did not shield from buffets and spitting. HYTHE, ... continue reading
---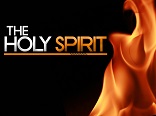 The Spirit makes one man a teacher of divine truth, inspires another to prophesy, gives another the power of casting out devils, enables ... continue reading
---