MONDAY HOMILY: Treasure in Heaven or on Earth?
---
The man of the Gospel had asked Jesus for guidance, and the Lord gave it.  Yet, the man fails to see this revelation as a grace.  He sees it as a burden, because he is unwilling to do what God asks of him.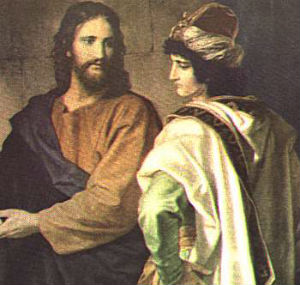 Highlights
By Fr. Stephen B. Reynolds
Catholic Online (https://www.catholic.org)
5/27/2013 (4 years ago)

Published in Year of Faith
Keywords: Gospel of Mark, Rich Young Man, Daily Homily, Year of Faith, Detachment, Riches, Commandments, Holiness, Treasure in Heaven, Fr. Stephen B. Reynolds, St. Theresa Sugar Land
---
P style="LINE-HEIGHT: normal; MARGIN: 0px; FONT-FAMILY: 'Times New Roman'; FONT-SIZE: 14px">CATHOLIC ONLINE (Sugar Land, TX).  During the course of his public ministry, Jesus encountered all sorts of people in every possible condition of life.  He met the rich and the poor, the sick and the suffering, those under the influence of the devil, and those seeking holiness of life.  No one and nothing is beyond the Lord's interest and his power to save.
St. Mark highlights one of these memorable encounters in today's Gospel.  A man approaches the Lord, and asks to be guided to eternal life (Mark 10:17-27).  Jesus responds by recalling the Commandments.  Then something remarkable happens.  The man says, "Teacher, all of these I have observed from my youth."
Can he be serious?  This man claims to have obeyed the Commandments of God, without exception.  Is this even possible?
St. John the Apostle, who may have been present for this exchange, weighs in, "If we way we have no sin, we deceive ourselves, and the truth is not in us" (I John 8-9).  The Catholic Church has always taught that, apart from a special grace from God - such as that given to the Blessed Mother - it is impossible to avoid venial sin.  
So was this man lying?
Jesus doesn't seem to think so.  Whenever he confronts hypocrisy or dishonesty, Jesus does not hesitate to criticize it.  In fact, of all the spiritual ills that the Lord encounters, spiritual fraud is among the most offensive to him.
However, even though the man in this account appears to have been sincere, there is a blind spot in his life.  He shows us that by itself, sincerity is not self-justifying.  We need to be truthful with ourselves and about ourselves.  At the same time, we have to be realistic about our virtues and vices.  Without authentic self-awareness, one loses perspective about what needs to change and be converted in one's life.
So, while sincere, this man is missing something.  We discover what that is as his dialogue with Jesus unfolds.  To open the man's eyes to the need for conversion in his life, Jesus challenges him:  "Go, sell what you have, and give to the poor and you will have treasure in heaven; then come, follow me" (Mark 10:21).
This man's wealth has blinded him to the need for conversion.  He desires holiness, but is seems as though his heart is piled high with other things.  They must be removed for the light of Christ to enter and make it possible for the life of holiness to begin to unfold.
"The precept of detachment from riches is obligatory for entrance into the Kingdom of heaven" (Catechism of the Catholic Church, no. 2544).
The man of the Gospel had asked Jesus for guidance, and the Lord gave it.  Yet, the man fails to see this revelation as a grace.  He sees it as a burden, because he is unwilling to do what God asks of him.
The Gospel tells us, that before giving him direction, Jesus looked at the man with love.  In contrast, he walks away from Jesus with sadness.  If we reject Jesus, we will be sad.
Perhaps later on, after some reflection, or after the Lord's resurrection, this man had a change of heart.  We don't know.  There is still time for us, however.  Each moment is an opportunity to change our heart and redirect it towards Jesus.  
The Blessed Mother can teach us how to do this.  She was faithful to God's will without fail, and it brought her great interior serenity. Let us ask Mary to help us keep our hearts always fixed upon the Lord.
-----
Fr. Stephen B. Reynolds is the Pastor of St. Theresa Catholic Church in Sugar Land, Texas. You are invited to visit them on the Web at: www.SugarLandCatholic.com.
---
Copyright 2018 - Distributed by THE CALIFORNIA NETWORK
Pope Francis Prayer Intentions for APRIL 2018
For those who have Responsibility in Economic Matters.
That economists may have the courage to reject any economy of exclusion and know how to open new paths.
---
---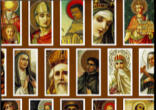 Calling the saints to mind inspires, or rather arouses in us, above all else, a longing to enjoy their company, so desirable in itself. We ... continue reading
---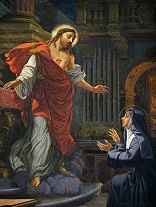 The heart is the center of a person, the place from which he/she makes the choices which will affect the world within them and around them. ... continue reading
---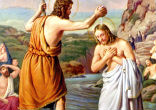 The consideration of Jesus' baptism, gives us an opportunity to remember our own baptism. If you do not know the date of your own ... continue reading
---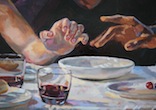 I gave my back to those who beat me, my cheeks to those who plucked my beard; My face I did not shield from buffets and spitting. HYTHE, ... continue reading
---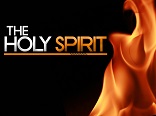 The Spirit makes one man a teacher of divine truth, inspires another to prophesy, gives another the power of casting out devils, enables ... continue reading
---