FRIDAY HOMILY: I Am the Way, For Real!
---
Jesus as the direction, journey and destination
Whenever I hear the words, "I am the way, the truth, and the life." I'm reminded of C.S. Lewis' comment on Jesus when he responded to the idea that Jesus was merely a good teacher and nothing more. Lewis disagreed vigorously with that observation, saying that Jesus either was a lunatic with the mentality of a poached egg or he was exactly who he said he was.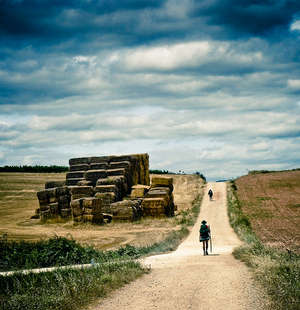 The Way, The Truth, And The Life
WASHINGTON, DC (Catholic Online) - Years ago several of us from my parish in Manhattan, Kansas began cycling together for a cause. We had all been cyclists for a while, riding individually around the beautiful Flint Hills. One day over early morning coffee at Hardees in "Aggieville," we began talking about using our interest in bicycling to help raise awareness for foreign missions.
Then and there we established "Miles for Missions," a yearly trek to raise money per mile while also informing people of our commitment to taking the gospel to places not like home. The dates we're set for the first ride and a course selected. It would be about a 150 mile ride over a two-day period.
The first MFM event was a great success and we decided to do the ride again the following year.
The second year was quite different from the first, especially on the second day of riding. I'm not sure if we felt over-confident during MFM-2 or what, but the directions we gave to the riders were not as specific.
A large group of riders started out before I did, so I decided to start out and catch up with them. Arriving at the first rest stop, there was no one to be seen. I had no idea where they had gone. The rest of the riders caught up with me and I told them to wait while I went to see where they might have gone.
It was one of those "I'm their leader, which way did they go?" scenarios, as I would stop at farms and general stores to see if anyone had seen a group of cyclists riding past. Returning to the rest stop after a fruitless search, they were there, fatigued and a bit out of breath. They had missed one of the turns and kept riding. Having discovered the problem, the weary band had to retrace their journey and then get on the correct road.
As the old adage goes, no matter how sincere you are on arriving at your destination, if you're on the wrong road, you'll never get there.
Of all the words and warnings our Lord spoke on earth, the words he uttered in today's gospel reading are among the most important.
"Let not your hearts be troubled; believe in God, believe also in me. In my Father's house are many rooms; if it were not so, would I have told you that I go to prepare a place for you? And when I go and prepare a place for you, I will come again and will take you to myself, that where I am you may be also. And you know the way where I am going." Thomas said to him, "Lord, we do not know where you are going; how can we know the way?" Jesus said to him, "I am the way, and the truth, and the life; no one comes to the Father, but by me." (John 14:1-6)
Whenever I hear the words, "I am the way, the truth, and the life." I'm reminded of C.S. Lewis' comment on Jesus when he responded to the idea that Jesus was merely a good teacher and nothing more. Lewis disagreed vigorously with that observation, saying that Jesus either was a lunatic with the mentality of a poached egg or he was exactly who he said he was.
The claims are hard to ignore. Either Jesus is the way of redemption and the way to heaven or he is not. After honestly and carefully examining all that he said and did along with the fulfillment of so many Old Testament prophecies, it would seem to me that one could only come to the former conclusion.
In the first volume of Jesus of Nazareth by our Pope Emeritus, Benedict XVI, points to the key "I am" sayings of the Lord, which include "I am the Bread of Life," "the Light of the World," "the Door," "the Good Shepherd," "the Resurrection and the Life," "the Way, the Truth, and the Life," "the True Vine."
 
These all point to one critical mission for the Son of God - to bring abundant and eternal life to the world. He writes, "In the end, man needs just one thing, in which everything else is included; but he must first delve beyond his superficial wishes and longings in order to learn to recognize what it is that he truly needs and truly wants. He needs God. "
When Jesus calls himself "the way," there are so many dimensions we can consider. A "way" can be a highway, a road or a path. It is also includes the direction, the journey itself as well as the destination.
Jesus is the way in providing direction
In his incarnation, Jesus provided a compass that pointed to the true north of faith. At the time he walked the earth, there were multiple religions all residing in our near Israel. This not only included polytheistic beliefs but also a variety of versions of Judaism.
In the midst of all this theological turmoil, Jesus declares himself to be the only way in exclusion of all else. He is the direction that people need to follow for the hope of life eternal.
When my father was alive, we used to share a love of boating and would often go out on Chesapeake Bay where he lived. At first, I didn't know the area very well so he would give me a direction. "Do you see the large white tower in the distance at twelve o'clock?" he'd say to me. "Just keep us heading in that direction and we'll stay in deeper water."
Christ sets a direction in himself that will keep us from second guessing where we are and whether we're in danger or not spiritually. We simply keep our eyes on him.
The writer of Hebrews underscored the importance of this in chapter 12, just after his discourse on faith. "Therefore we also, since we are surrounded by so great a cloud of witnesses, let us lay aside every weight, and the sin which so easily ensnares us, and let us run with endurance the race that is set before us, looking unto Jesus, the author and finisher of our faith, who for the joy that was set before Him endured the cross, despising the shame, and has sat down at the right hand of the throne of God." (Heb. 12:1,2 - emphasis mine)
Jesus is our journey
While our Lord set the direction, he also became the definer of our journey. Through his teachings, he put substance to our time on earth and highlighted those things that were of greatest import.
Many years ago I was heavily involved in youth ministry. As a former Rock 'n Roll Disk Jockey, I was often asked to speak on rock music to youth groups from various churches. I had put together several taped interviews with prominent rock musicians that I'd use during the talk.
One of the featured performers was Frank Zappa of the Mothers of Invention, a late 60's - early 70's band. Zappa was a strange character, as was the entire group. In his interview, he talked about the meaninglessness of life - that really all we were intended to do is simply decorate time.
"Without music to decorate it, time is just a bunch of boring production deadlines or dates by which bills must be paid," he said.
Jesus was not simply interested in finding ways to decorate time, but to invest it for the increase of grace in our lives and the lives of others. Time has a two-fold purpose for our Lord.
It was an investment in our own sanctity, as we spend time in prayer and formation around the truths that he taught. I remember years ago hearing someone say that Jesus lived a life of devotion interrupted by periods of ministry. This is the life he wants us to have - abiding in his life and love.
It is also an investment in others; that the love of Christ might be shown in both word and deed. He has called us to minister to the poor, those who have been disabled, those in prison and others who have been victims and victimizers in the world.
He also called us to go into the world, baptizing and proclaiming the Gospel with only one goal in mind - to make disciples. As he said in Luke 6:40, a disciple when he is fully taught will be like his teachers.
As the Catechism reminds us, In (the apostles and their successors), Christ continues his own mission: "As the Father has sent me, even so I send you." The apostles' ministry is the continuation of his mission; Jesus said to the Twelve: "he who receives you receives me." (CCC 858)
Jesus is also the destination
In today's reading, Jesus tells his followers that he is going ahead of them to prepare a place in his Father's house. Eternity was never far from Jesus thinking as this was at the heart of his redemptive mission. He was not called to simply bring a message to straighten out the world, but a work of salvation that would establish a way and a hope for eternal life.
Ironically, this part of his Way, has lost a lot of emphasis in our current post-modern culture. I remember several years ago talking to an individual who worked for the U.S. Government and was in charge of a media project in which I was invited to participate.
One day the subject got around to faith and I began to simply share the truths of the gospel with her. As we talked, I mentioned that our hope for eternal life in heaven was the great gift we received from Jesus Christ.
She quickly replied, "No one thinks about heaven anymore; that's an outmoded concept."
The great visionary and leader of the Church, Pope Leo XIII anticipated this mindset as one of three concerns he had for the future. In 1893 he wrote an Encyclical on the Holy Rosary entitled Laetitiae Sanctae (Of Holy Joy) he addressed all three - the distaste for a simple and laborious life; repugnance for suffering of any kind and the forgetfulness of the future life.
It's this last one that I want to highlight here, although all three are quite present in our world today. His encyclical would be well worth the read!
Pope Leo writes, The third evil for which a remedy is needed is one which is chiefly characteristic of the times in which we live. Men in former ages, although they loved the world, and loved it far too well, did not usually aggravate their sinful attachment to the things of earth by a contempt of the things of heaven. Even the right-thinking portion of the pagan world recognized that this life was not a home but a dwelling-place, not our destination, but a stage in the journey.
But men of our day, albeit they have had the advantages of Christian instruction, pursue the false goods of this world in such wise that the thought of their true Fatherland of enduring happiness is not only set aside, but, to their shame be it said, banished and entirely erased from their memory, notwithstanding the warning of St. Paul, "We have not here a lasting city, but we seek one which is to come" (Heb. xiii., 4).
How true he is. Today we find people so obsessed with the "now" that the "next" means nothing to them. It is all about "going for the gusto" as an old beer commercial used to put it. Not only are many people now-oriented, they are also quasi-comedic about the concept of heaven. "Why worry about going to heaven?" they joke. "All my friends are in hell."
Melvin Udall, Jack Nicholson's character in the 1997 classic As Good As It Gets, sums up how fatalistic this view of life can become. When leaving his psychiatrist's office, he looks around at the patients waiting to see their "shrink" and says, "What if this is as good as it gets?"
In his book, The Invisible World, Anthony DeStefano observes, The Resurrection is one of the most comforting beliefs of Christianity. To know that you're eventually going to have a body in Heaven means that when you meet your departed friends and relatives there, you're going to be able to see them in the flesh. It means that if you're sad right now because your mother died, take heart! When you see her again in heaven, she won't be some kind of ghost. It will be her. You'll be able to run up to her and hug her and kiss her and feel the warmth of her skin and hear her voice again. That's what the Resurrection means. That's what awaits us in Heaven.
...Heaven is going to be real. If you get anything out of this discussion, please let it be that. I don't know where you happen to be now as you're reading these words. Maybe you're in your bedroom, or sitting on a bus, or somewhere on vacation lounging on the beach. Wherever you are, take a quick look around you. Listen to the sounds. Breathe in the air. What you see and hear and smell is real. It's not a dream. What you absolutely must understand is that Heaven is going to be like that. It's not going to be less real than what you're experiencing now. If anything, it's going to be more real.
As Catholic Christians, we must do all we can to regain this eternal perspective. Not only does it give us hope for our own future but compels us to move forward in evangelization. If it were only about what happens on earth, why mess with other people's lives.
But, if we dread the loss of heaven and the pains of hell, as we pray in our Act of Contrition, for ourselves and for others, we have our mission - informing others of this great destination.
Jesus is the Way - our direction, our journey and our destination. In his message for World Communication Day in 1997, Blessed John Paul II stated, "The 'way' of Christ is the way of a virtuous, fruitful and peaceful life as children of God and as brothers and sisters in the same human family. The same Jesus who is "the way, the truth and the life" is also "the light of the world" - the light that illumines our path, the light that enables us to perceive the truth, the light of the Son who gives us supernatural life here and hereafter."
Our journey through life is truly our own "Miles for Missions" experience, beginning at our baptism and culminating in never-ending life. May our path be enlightened by him as we travel toward eternity.
-----
 
Father Randy Sly is the Associate Editor of Catholic Online and a priest with the Personal Ordinariate of the Chair of St. Peter (http://usordinariate.org) established by the Holy Father, Pope Benedict XVI, through the Apostolic Constitution Anglicanorum Coetibus. He is currently the chaplain of the St. John Fisher Ordinariate Community, a priest in residence at Our Lady of Hope Catholic Church and Director of Pro-Life Activities for the Ordinariate. He is a popular speaker for parishes, apostolates and organizations.
---
Copyright 2018 - Distributed by THE CALIFORNIA NETWORK
Pope Francis Prayer Intentions for APRIL 2018
For those who have Responsibility in Economic Matters.
That economists may have the courage to reject any economy of exclusion and know how to open new paths.
---
---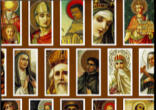 Calling the saints to mind inspires, or rather arouses in us, above all else, a longing to enjoy their company, so desirable in itself. We ... continue reading
---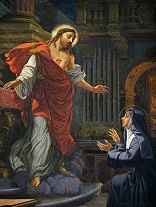 The heart is the center of a person, the place from which he/she makes the choices which will affect the world within them and around them. ... continue reading
---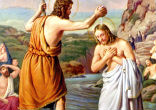 The consideration of Jesus' baptism, gives us an opportunity to remember our own baptism. If you do not know the date of your own ... continue reading
---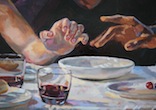 I gave my back to those who beat me, my cheeks to those who plucked my beard; My face I did not shield from buffets and spitting. HYTHE, ... continue reading
---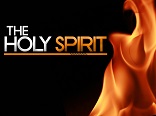 The Spirit makes one man a teacher of divine truth, inspires another to prophesy, gives another the power of casting out devils, enables ... continue reading
---