MONDAY HOMILY: Obedience to God Unties the Knots of Life
---
We should never be afraid to say "yes" to God.  Even when it is difficult or requires much sacrifice, we cannot be truly free unless we live and act in harmony with the will of God.  Anything else is simply an illusion.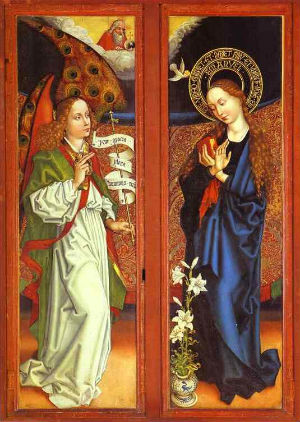 style="margin: 0.0px 0.0px 0.0px 0.0px; text-align: justify; font: 14.0px Times New Roman">SUGAR LAND, TX (Catholic Online).  The Church celebrates the Solemnity of the Annunciation every year on March 25 - exactly nine months before Christmas.  Because that date feel within Holy Week this year, the Annunciation could not be observed at its traditional time. Today is the first "available" date outside of Holy Week and the Easter Octave, and so we commemorate the mystery of Mary's "yes" to God today.
The fact that the Church makes special provision for the celebration of the Annunciation even when it cannot be observed on the traditional day speaks volumes.  This is an important feast day, for it highlights the mystery of the Word-made-flesh.  With Mary's assent to the message of the Angel Gabriel, Christ the Lord assumes a human nature in the womb of his mother.  Even thought Jesus will not be born for another nine months, his earthly existence in the flesh begins at the moment of the Annunciation.
According to the Gospel account, the Angel Gabriel informs Mary that God has a distinct plan for her life.  "Behold, you will conceive in your womb and bear a son, and you shall call his name Jesus.  He will be great, and will be called the Son of the Most High" (Luke 1:31-32).  Mary asks one clarifying question, indicating not her doubt, but her pre-existing understanding that she was called to a virginal life.  When the manner of the child's conception is revealed, Mary rejoices in the heretofore-unknown richness her vocation.  She will be both Virgin and Mother.
As ever-virgin, Mary witnesses that she is at God's complete disposal, without ay division of mind or heart.  As Mother of God, Mary gives full meaning to the Biblical description once applied to Eve, "the Mother of the living" (cf. Genesis 3:20).  As one created in God's image and likeness, Mary models the complete identification of her will with that of the Father: "Behold, I am the handmaid of the Lord; let it be to me according to your word" (Luke 2:38).
"At once virgin and mother, Mary is the symbol and the most perfect realization of the Church: 'the Church indeed . . . by receiving the word of God in faith becomes herself a mother. By preaching and Baptism she brings forth sons, who are conceived by the Holy Spirit and born of God, to a new and immortal life. She herself is a virgin, who keeps in its entirety and purity the faith she pledged to her spouse'"  (Catechism of the Catholic Church, no. 507).
Mary's complete availability to God shows that it is possible to give one's whose life to the Lord, even when quite young.  Today, many young people want to do great things for God.  Some are hindered, however, by a lack of freedom that is, ironically, the fruit of being bombarded by seemingly endless choices and options.  The fear of missing out on what is "new" or "fashionable" should be acknowledged for what it is: an obstacle to embracing God's will with a joyful freedom. 
We should never be afraid to say "yes" to God.  Even when it is difficult or requires much sacrifice, we cannot be truly free unless we live and act in harmony with the will of God.  Anything else is simply an illusion.
St. Irenaeus wrote "The knot of Eve's disobedience was untied by Mary's obedience" (Adv. Haeres. 3,22).  Since his election, Pope Francis' devotion to "Mary, Untier of Knots." How are the knots of our lives untied? By faith and obedience to God.
Disobedience always complicates life.  A person who tells a lie has to continue lying to cover up for their deception.  A person who leads a life marked by impurity or lust becomes a slave to their passions.  One who continually thinks of themselves and better than everyone else will always be dissatisfied with others and will find it difficult to make lasting friendships. 
As we celebrate the Annunciation today, let us ask Mary to untie the knots of our lives by teaching how to live in the freedom of one who knows the will of God and who embraces it without fear.
Fr. Stephen B. Reynolds is pastor of St. Theresa Catholic Church in Sugar Land, TX, a suburb of Houston.  You may visit the parish website at: www.SugarLandCatholic.com.
---
Copyright 2018 - Distributed by THE CALIFORNIA NETWORK
Pope Francis Prayer Intentions for APRIL 2018
For those who have Responsibility in Economic Matters.
That economists may have the courage to reject any economy of exclusion and know how to open new paths.
---
---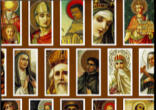 Calling the saints to mind inspires, or rather arouses in us, above all else, a longing to enjoy their company, so desirable in itself. We ... continue reading
---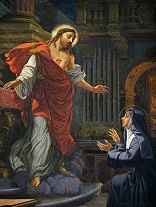 The heart is the center of a person, the place from which he/she makes the choices which will affect the world within them and around them. ... continue reading
---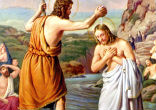 The consideration of Jesus' baptism, gives us an opportunity to remember our own baptism. If you do not know the date of your own ... continue reading
---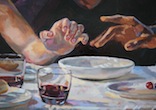 I gave my back to those who beat me, my cheeks to those who plucked my beard; My face I did not shield from buffets and spitting. HYTHE, ... continue reading
---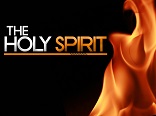 The Spirit makes one man a teacher of divine truth, inspires another to prophesy, gives another the power of casting out devils, enables ... continue reading
---