MONDAY HOMILY: And behold, Jesus met them.
---
The Resurrection of Christ is more than just the resuscitation of a body... it is a crucial leap into a new order of being.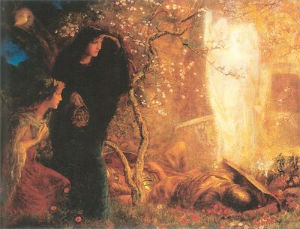 style="margin: 0.0px 0.0px 0.0px 0.0px; text-align: justify; font: 14.0px Times New Roman">SUGAR LAND, TX (Catholic Online).  When Mary Magdalene and Mary the mother of James return to Jesus' tomb, they expect to find a dead body. Their purpose in going there was to complete the burial preparations they began two days before. Since the Sabbath commences on Friday evening at sundown, and Jesus died at about three that same day, there was only a small window of opportunity to prepare his body for burial before the Jewish Holy Day.
In his Gospel, St. John describes how Joseph of Arimathea brought one hundred pounds of "myrrh and aloes," substances used to treat the body before burial (see John 19:38); Pope Benedict XVI said of this gesture: "The quantity of balm is extraordinary and exceeds all normal proportions: this is a royal burial.  If Jesus was manifested to us as high priest by the casting of lots for his robe, so now he is revealed to us as king by the manner of his burial: just when it seems that everything is finished, his glory mysteriously shines through" (Jesus of Nazareth, p. 228).
Instead of death, they encounter life.  The words of the Angel: "Do not be afraid. He has risen as he said" (Matthew 28:5-6) give hope to these holy women.  As they run back to the Upper Room to tell the Apostles what has happened, they must have thought of the many times in which Jesus prophesized his passion, death and resurrection.
In fact, just in the Gospel of St. Matthew, Jesus is quoted as having predicted his Resurrection a total of six times.  Did Mary Magdalene ever hear Jesus speak of this?  If so, she probably regarded his words as symbolic or as an analogy like in one of Jesus' parables.
The words of the Angel changed all of that; Mary's encounter with the Risen Lord gives life to her hope.
"And behold, Jesus met them" (Matthew 28:9).  The Lord would not let the two Mary's go back to the Apostles with the "meager" witness of the angels.  He wants them to bear personal witness to the fact of the Resurrection.  The Lord, who once was dead, truly lives.
But Jesus has not merely come back to life: he has been changed.  The Resurrection of Christ is more than just the resuscitation of a body, as in the case of Lazarus or the son of the Syro-Phoenician woman, whom Jesus raised.  They were returned to life, but they were not transformed.

Again, to quote Pope Benedict XVI: "Christ's Resurrection is something more, something different. [It is] absolutely the most crucial leap into a totally new dimension that there has ever been in the long history of life and its development: a leap into a completely new order." (Pope Benedict XIV, Homily of the Easter Vigil, April 15, 2006).
The Resurrection of Christ transforms our lives also.  "For if we have been united with [Christ] in a death like his, we shall certainly be united with him in a resurrection like his" (Romans 6:5).  The fruits of the resurrection are communicated to us through the sacrament of Baptism.
We descend with our sinful humanity into the tomb of the font, and rise as children of God, regenerated in the Holy Spirit.
 "The great explosion of the Resurrection has seized us in Baptism so as to draw us on. Thus we are associated with a new dimension of life. To live one's own life as a continual entry into this open space: this is the meaning of being baptized, of being Christian. This is the joy of the Easter Vigil. The Resurrection is not a thing of the past; the Resurrection has reached us and seized us. We grasp hold of it, we grasp hold of the risen Lord, and we know that he holds us firmly even when our hands grow weak" (Benedict XVI, Ibid.).
Fr. Stephen B. Reynolds is pastor of St. Theresa Catholic Church in Sugar Land, TX, a suburb of Houston.  You may visit the parish website at: www.SugarLandCatholic.com.
---
Copyright 2018 - Distributed by THE CALIFORNIA NETWORK
Pope Francis Prayer Intentions for APRIL 2018
For those who have Responsibility in Economic Matters.
That economists may have the courage to reject any economy of exclusion and know how to open new paths.
---
---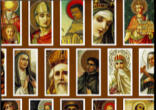 Calling the saints to mind inspires, or rather arouses in us, above all else, a longing to enjoy their company, so desirable in itself. We ... continue reading
---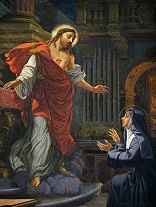 The heart is the center of a person, the place from which he/she makes the choices which will affect the world within them and around them. ... continue reading
---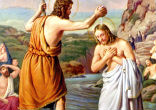 The consideration of Jesus' baptism, gives us an opportunity to remember our own baptism. If you do not know the date of your own ... continue reading
---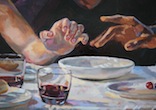 I gave my back to those who beat me, my cheeks to those who plucked my beard; My face I did not shield from buffets and spitting. HYTHE, ... continue reading
---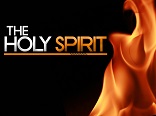 The Spirit makes one man a teacher of divine truth, inspires another to prophesy, gives another the power of casting out devils, enables ... continue reading
---