FRIDAY HOMILY: The Hanukkah Challenge - Believe My Works
---
When the words of the Gospel may fall on deaf ears, there is still its works
It was during Hanukkah that Jesus had a conflict with those at the temple. He had just told them that he was the Good Shepherd, which brought great division among those who were listening. As St. John states, "Although Jesus had used this figure of speech, they did not realize what he was trying to tell them." (John 10:6)  Unyielding in their condemnation, he makes one final appeal. "Look what I've done!"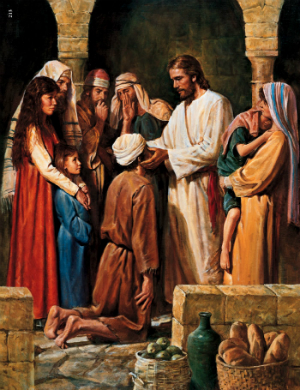 WASHINGTON, DC (Catholic Online) - In the 2nd Century BC, Judas Maccabeus led in the restoration worship in the temple in Jerusalem during a revolt against the Seleucid Empire. King Antiochus IV Epiphanes, had invaded Judea, desecrated the temple by sacrificing pigs there and then debased the site further by instituting the worship of Zeus.
Judas ordered that the temple be cleansed, that new altars were to be built and new holy vessels made for the worship of God. Their celebration lasted eight days and, according to the Tractate Shabbat from the Talmud, they found only enough undefiled oil for the sanctuary lamp to last one day. Miraculously it lasted eight.
In I Maccabees 4:59 we read, Then Judas and his brothers and all the assembly of Israel determined that every year at that season the days of dedication of the altar should be observed with gladness and joy for eight days, beginning with the twenty-fifth day of the month of Chislev.
This great time of restoration is held every year as an annual feast, the Feast of Dedication or the Festival of Lights. It is also called Hanukkah, a name with which we are more familiar. The Menorah is lit during the Feast, one candle for each day.
It was during Hanukkah that Jesus had this conflict with those at the temple. He had just told them that he was the Good Shepherd, which brought great division among those who were listening. As St. John states, "Although Jesus had used this figure of speech, they did not realize what he was trying to tell them." (John 10:6)
He is later called upon to make a clear statement of identity. They ask him point blank, is he the Messiah or not? He tells them, I told you, and you do not believe. The works that I do in my Father's name, they bear witness to me; but you do not believe, because you do not belong to my sheep.
My sheep hear my voice, and I know them, and they follow me; and I give them eternal life, and they shall never perish, and no one shall snatch them out of my hand. My Father, who has given them to me, is greater than all, and no one is able to snatch them out of the Father's hand. I and the Father are one.
As today's reading (John 10:31-42) begins, his response obviously didn't meet with a positive response as v. 31 states, "The Jews took up stones again to stone him."
It seems quite clear that nothing Jesus could say would change very many minds. Taking him at this word was not going to take place. He even appealed to Scripture, comparing his message to one Psalm 82, where the judges of Israel were called gods. If they could be called gods, how much more could he claim that right?
 Unyielding in their condemnation, he makes one final appeal. "Look what I've done!"
Jesus answered them, "I have shown you many good works from the Father; for which of these do you stone me? The Jews answered him, "It is not for a good work that we stone you but for blasphemy; because you, being a man, make yourself God."
Jesus answered them, "Is it not written in your law, `I said, you are gods'? If he called them gods to whom the word of God came (and scripture cannot be broken), do you say of him whom the Father consecrated and sent into the world, `You are blaspheming,' because I said, `I am the Son of God'? If I am not doing the works of my Father, then do not believe me; but if I do them, even though you do not believe me, believe the works, that you may know and understand that the Father is in me and I am in the Father." (John 10:32-38)
Even if you don't believe my words, believe my works.
The beauty of the incarnation is that the good news of the Gospel was expressed in both word and deed.
I remember a time back in elementary school when I told my class someone pretty exciting - at least it was back in those days. My cousin was Roy Rogers, whose real name was Leonard Slye (part of our family kept the "e"). I guess "Leonard Slye, King of the West" was lacking a certain cowboy luster. He changed his name when he became an actor.
It was our Show and Tell Time when I made this declaration and after a short time of mocking and snickering I pulled a framed picture out of a paper bag. The 8X10 black and white photo showed Roy Rogers and Dale Evans in all their western finery. One the picture in black ink Roy had written the words, "Randy, To my kinfolk, from Roy and Dale."
The works of Christ, much like the voice of his Father at his baptism and on the Mount of Transfiguration, are confirming his identity and what he is here to do. They are the proof, the picture and signature of God the Father, confirming that his Son has truly come to earth.
In prison, John the Baptist had even wondered and his question was answered with a report. Now when John heard in prison about the deeds of the Christ, he sent word by his disciples 3 and said to him, "Are you he who is to come, or shall we look for another?"[a] 4 And Jesus answered them, "Go and tell John what you hear and see: 5 the blind receive their sight and the lame walk, lepers are cleansed and the deaf hear, and the dead are raised up, and the poor have good news preached to them. 6 And blessed is he who takes no offense at me."
Works Testify to God's Presence in Us
With the election of the new Holy Father, Pope Francis, the plight of the harassed and helpless has already been brought to the forefront, even by the secular media. One particular image shows then-Archbishop Bergoglio washing and kissing the feet of AIDS patients in Buenos Aires.
What would cause a man to do such a thing? One would have to argue that it is the love of Christ within. The same love that sent Mother Theresa to the poorest of the poor in India, St. Vincent de Paul to the slums of Paris and countless unnamed saints to minister in manifold ways in every generation.
The presence of Christ's grace and love is transformative, causing us to do things that are well beyond the norm for ordinary human beings. As St. Paul says, I have been crucified with Christ; it is no longer I who live, but Christ who lives in me; and the life I now live in the flesh I live by faith in the Son of God, who loved me and gave himself for me. (Galatians 2:20)
In today's Gospel, this is essentially the intention of Jesus, to have the people acknowledge the presence and power of God in him through the works he accomplished. He knew that the things he did could find no other explanation.
Works Confirm Our Faith
As an enthusiastic participant in the Jesus movement of the late 60's and early 70's, I couldn't get enough of the Bible. A group of us were regularly studying the Scripture, going to teaching sessions and simply talking about The Lord over coffee.
We also wanted to put our faith in action, following the teachings of James.
He wrote, If a brother or sister is ill-clad and in lack of daily food, and one of you says to them, "Go in peace, be warmed and filled," without giving them the things needed for the body, what does it profit? So faith by itself, if it has no works, is dead. But someone will say, "You have faith and I have works." Show me your faith apart from your works, and I by my works will show you my faith. (James 2:15-18)
One of the dimensions that we lacked back then was a better understanding of the dignity of the human person. Often, ministries were born as a means of obtaining "targets" for evangelization where addressing one's physical needs was only a precursor to a presentation of the Gospel.
While the outworking of ministries might not have been much different, how much more would our faith have been refined by offering gifts of love, recognizing Jesus heart for the poor and "as you did it to one of the least of these my brethren, you did it to me." (Matt. 25:40)
Archbishop Fulton Sheen puts it this way, "Show me your hands. Do they have scars from giving? Show me your feet. Are they wounded in service? Show me your heart. Have you left a place for divine love?"
Works Actually Make a Difference in the Lives of Others
Have you ever tried to describe the taste of something? I find this especially interesting when reading the descriptions of a wine tasting where a wine has hints of pear, apple and a smokiness with traces of leather. You really need to take a sip and see if you like it.
Faith is the same way. The psalmist writes, "Taste and see that the Lord is good." The love of Christ operative in believing Christians allows those who walk in darkness to sample His light. They can have a divine encounter with him through us.
As St. Paul told the Church at Corinth, "Therefore, My beloved brethren, be steadfast, immovable, always abounding in the work of the Lord, knowing that in the Lord your labor is not in vain" (1 Corinthians 15:58).
As a young man, even though I was baptized and confirmed as an Anglican, my faith in Christ had no daily value and received little attention. It wasn't until I had an encounter with those who had given themselves completely to Christ that I truly tasted the love of Christ.
I met two men while I was in the Navy, stationed at Pearl Harbor, Hawaii. Doing some beach time in Waikiki on Sunday morning, I met them after a "Sun and Soul" talk I happened upon near the Royal Hawaiian Hotel.
We started talking about what had just been said and it didn't take long for me to see that they had a love for the Lord that was deep and profound - something I didn't have but desperately wanted. I had tasted and seen the love of Christ in action and wanted to find that same love for myself.
Blessed John Paul II wrote about people like me in "Redemptoris missio, On the permanent validity of the Church's missionary mandate," People today put more trust in witnesses than in teachers, in experience than in teaching, and in life and action than in theories. The witness of a Christian life is the first and irreplaceable form of mission: Christ, whose mission we continue, is the "witness" par excellence (Rv 1:5; 3:14) and the model of all Christian witness. The Holy Spirit accompanies the Church along her way and associates her with the witness he gives to Christ (cf. Jn 15:26-27)...
The evangelical witness which the world finds most appealing is that of concern for people, and of charity toward the poor, the weak and those who suffer. The complete generosity underlying this attitude and these actions stands in marked contrast to human selfishness. It raises precise questions which lead to God and to the Gospel. A commitment to peace, justice, human rights and human promotion is also a witness to the Gospel when it is a sign of concern for persons and is directed toward integral human development.
Today's postmodern world of moral and philosophical relativism leave less room for a rational discussion regarding the Gospel. There is little regard for Holy Scripture and no real common ground on the issue of faith. It's now all about my own "personal peace and affluence" as Francis Schaeffer prophesied almost 40 years ago.
Today's evangel must be one of love in action. St. Francis of Assisi has been quoted as saying, "Preach the Gospel at all times, and when necessary, use words." While this has been contested; that it is not actually from Francis, he certainly lived that way.
However, in his rule of 1221, he did tell his friars not to preach without first getting permission. He then went on to say, "Let all the brothers, however, preach by their deeds." (Chapter 17)
Jesus' Hanukkah challenge for the people in the temple still echoes through the world today as we seek to make his message known in all the nations. If they won't believe our words, may our works declare his love and redemption.
-----
 
Father Randy Sly is the Associate Editor of Catholic Online and a priest with the Personal Ordinariate of the Chair of St. Peter (http://usordinariate.org) established by the Holy Father, Pope Benedict XVI, through the Apostolic Constitution "Anglicanorum Coetibus." He is currently the chaplain of the St. John Fisher Ordinariate Community, a priest in residence at Our Lady of Hope Catholic Church and Director of Pro-Life Activities for the Ordinariate. He is a popular speaker for parishes, apostolates and organizations.
---
Copyright 2018 - Distributed by THE CALIFORNIA NETWORK
Pope Francis Prayer Intentions for APRIL 2018
For those who have Responsibility in Economic Matters.
That economists may have the courage to reject any economy of exclusion and know how to open new paths.
---
---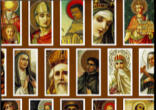 Calling the saints to mind inspires, or rather arouses in us, above all else, a longing to enjoy their company, so desirable in itself. We ... continue reading
---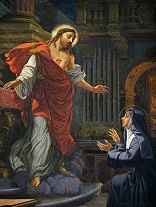 The heart is the center of a person, the place from which he/she makes the choices which will affect the world within them and around them. ... continue reading
---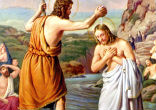 The consideration of Jesus' baptism, gives us an opportunity to remember our own baptism. If you do not know the date of your own ... continue reading
---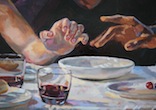 I gave my back to those who beat me, my cheeks to those who plucked my beard; My face I did not shield from buffets and spitting. HYTHE, ... continue reading
---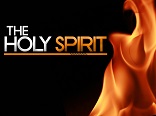 The Spirit makes one man a teacher of divine truth, inspires another to prophesy, gives another the power of casting out devils, enables ... continue reading
---