FRIDAY HOMILY: Hard Sayings, Hard Work
---
Finding truth in the age of spin is not easy, you have to work for it
Looking beyond the lectionary reading for today (John 7:1, 2, 10, 25-30), there is a lot of important information that was left out from this chapter. That's why it's always a good idea to study the  readings in your Bible and include the empty spaces you'll find.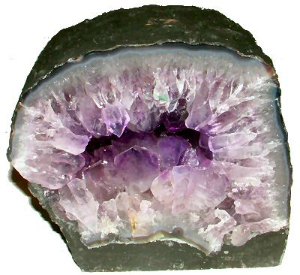 WASHINGTON, DC (Catholic Online) - "Context is everything. A text without a context is a pretext!" I can still remember Dr. Robert Traina, my seminary professor, saying that regularly during class. We would end up saying it with him. An he was right.
Looking beyond the lectionary reading for today (John 7:1, 2, 10, 25-30), there is a lot of important information that was left out from this chapter. That's why it's always a good idea to study the  readings in your Bible and include the empty spaces you'll find.
There has been a dip in our Lord's popularity. It really began after the feeding of the 5,000 - an amazing miracle - when Jesus began to expound more completely on the heavenly provision for the Jews during their wilderness wanderings as well as the 5,000 men (along with women and children) who heard him teach at the Sea of Galilee. He contrasted God-given manna with the sustenance of eternal bread that will come through his life.
In John 6:49-58 we read: Your fathers ate the manna in the wilderness, and are dead. This is the bread which comes down from heaven, that one may eat of it and not die. I am the living bread which came down from heaven. If anyone eats of this bread, he will live forever; and the bread that I shall give is My flesh, which I shall give for the life of the world."
The Jews therefore quarreled among themselves, saying, "How can this Man give us His flesh to eat?"
Then Jesus said to them, "Most assuredly, I say to you, unless you eat the flesh of the Son of Man and drink His blood, you have no life in you. Whoever eats My flesh and drinks My blood has eternal life, and I will raise him up at the last day. For My flesh is food indeed, and My blood is drink indeed. 56 He who eats My flesh and drinks My blood abides in Me, and I in him. As the living Father sent Me, and I live because of the Father, so he who feeds on Me will live because of Me. This is the bread which came down from heaven-not as your fathers ate the manna, and are dead. He who eats this bread will live forever."
Unfortunately, after this teaching, many began to fall away, declaring, "This is a hard saying, who can understand it?"
St. John goes on in Chapter 6: From that time many of His disciples went back and walked with Him no more. Then Jesus said to the twelve, "Do you also want to go away?"
But Simon Peter answered Him, "Lord, to whom shall we go? You have the words of eternal life. Also we have come to believe and know that You are the Christ, the Son of the living God." (vs. 66-69)
The twelve continued to follow but there was great disillusionment.
In today's Gospel from Chapter 7, in the verses left out of the lectionary, Jesus' relatives told him that they were going to Jerusalem for the Feast of Tabernacles, also called the Feast of Booths, which is held in late September or early October. This is a festival that last seven days, recalling the Exodus wanderings of Israel as well as celebrating the autumn harvest.
They encouraged him to go along and word miracles in Jerusalem. They felt he needed to get a bigger and better crowd with more exposure. They told him he needed to go public, although John adds that they really didn't believe in him.
He refused saying that, as he did at the wedding in Cana, his hour had not yet come. Once they left however, he changed his mind in accordance with the will of the Father and heads to the Feast, but on God's terms not his relatives.
The Jews were already looking for him, according to verse 11, and he was being talked about a lot by those at the Feast.
Quite different from his triumphal entry, which will come later. This visit to Jerusalem takes place in secret, both coming and going from the feast.
While in Jerusalem, however, he continued his teaching ministry in the temple, where many began to believe.
Eventually Jesus was discovered and confronted by some of the people who opposed him. The words they share become a blinding indictment that their opposition to him is based on faulty information - for example, they claimed to know where he came from and that this information would not be known about the real Messiah.
Two schools of thought actually existed among the rabbis of the time. One said that the Messiah's appearance would actually come in adulthood, that his origin would remain a mystery. The other school said that he would be born in Bethlehem, according to the prophecy of Micah.
Ironically, both of these are actually true about Jesus; however, the crowd thinks they know him as a Nazarene from Galilee. He challenges them at this point, using another hard saying.
Then Jesus cried out, as He taught in the temple, saying, "You both know Me, and you know where I am from; and I have not come of Myself, but He who sent Me is true, whom you do not know. But I know Him, for I am from Him, and He sent Me."
This really upset the crowd, as he claimed to "know" the God of Abraham, Isaac and Jacob intimately and that he came from him.
Obviously, the crowd was not interested in further dialog on the subject, taking time to discover what he meant by what he said. It simply offended their sensibilities and they were ready to have him arrested.
Since becoming a Catholic, I have encountered many from the world I left behind - Protestantism - who approached me with the same confidence that they really knew what we believed.
Many want to challenge me on "the Mary thing" or "praying to saints," etc. Most often, it seems, they are not looking to step into a time of dialog but merely challenge me on the basis of their perceptions.
In a few cases, after explaining the actual Catholic position (sometimes even from our Catechism), they have said, "Oh no, that's not true. That's not what Catholics believe."
Hard sayings call for hard work in seeking for the truth.
My journey into the Catholic faith was not an emotion based knee-jerk reaction because they have cooler vestments and better buildings. It took a time of asking, seeking and knocking where the teachings of the Church could be encountered and learned.
By an honest and earnest study of Scripture and Church tradition with respect to Roman Catholic teaching, I became convinced of two things. First, my assumptions were quite wrong. I had held on to thoughts, ideas and convictions about Catholic thought that had no place in reality. They were things I had heard from others or misunderstood in my own pursuit.
There was also the problem of language. Often there were words, phrases and concepts that had a completely different meaning when you take time to explore usage. There are so many examples, but one that quickly comes to mind is the difference in Catholic thought between worship and veneration. The former belongs only to God, while the latter can, in fact, be offered to the Blessed Virgin Mary and the Saints.
Second, the fullness of faith is found in the Catholic Church. As it states in the Catechism, "This Church, constituted and organized as a society in the present world, subsists in (subsistit in) the Catholic Church, which is governed by the successor of Peter and by the bishops in communion with him." (CCC 816)
This conviction did not arise from simply reading that passage in the Catechism and agreeing with it. Rather, a fresh view of the Church began to emerge and take shape particularly in reading the Church Fathers.
I recently taught two sessions on the "First Letter of Clement to the Corinthians" for the Institute of Catholic Culture in Northern Virginia. The oldest document outside of the New Testament, Pope St. Clement not only addresses the issues at Corinth in a pastoral way but, through this epistle, gives us a window into the world of the New Testament church.
In those early days, we see that the church is already lead through the orders of Bishops, Priests and Deacons while maintaining a certain liturgical and seasonal approach to ministry. There is also a sense of relationship and primacy with the Church of Rome that is a key factor to why the letter was really written in the first place.
Today, we are living in a world of spin, where the sound byte is everything, not the context. While this may be a generalization, it does seem that most people want to believe something that sounds good rather than something you have had to dig out through exercising the mind.
Once more we are confronted with crowds who want easy "believism." I'm reminded of that commercial on television now where a girl makes the comment, "They can't put anything on the internet that isn't true." The guy responds, "Where'd you hear that?" She replies, "The internet."
Does the Church have some hard sayings? Absolutely. Sometimes they look like ugly hard rocks. Split them open and you will be surprised and blessed by what you find. There are wonderful and powerful insights to come when you invest some hard work and crack open each nugget of teaching and find a beautiful gem of truth inside.
-----
 
Father Randy Sly is the Associate Editor of Catholic Online and a priest with the Personal Ordinariate of the Chair of St. Peter (http://usordinariate.org) established by the Holy Father, Pope Benedict XVI, through the Apostolic Constitution Anglicanorum Coetibus. He is currently the chaplain of the St. John Fisher Ordinariate Community, a priest in residence at Our Lady of Hope Catholic Church and Director of Pro-Life Activities for the Ordinariate. He is a popular speaker for parishes, apostolates and organizations.
---
Copyright 2018 - Distributed by THE CALIFORNIA NETWORK
Pope Francis Prayer Intentions for APRIL 2018
For those who have Responsibility in Economic Matters.
That economists may have the courage to reject any economy of exclusion and know how to open new paths.
---
---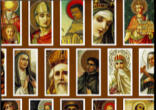 Calling the saints to mind inspires, or rather arouses in us, above all else, a longing to enjoy their company, so desirable in itself. We ... continue reading
---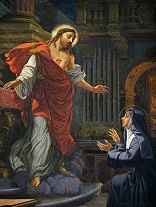 The heart is the center of a person, the place from which he/she makes the choices which will affect the world within them and around them. ... continue reading
---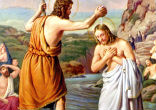 The consideration of Jesus' baptism, gives us an opportunity to remember our own baptism. If you do not know the date of your own ... continue reading
---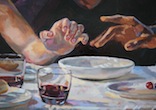 I gave my back to those who beat me, my cheeks to those who plucked my beard; My face I did not shield from buffets and spitting. HYTHE, ... continue reading
---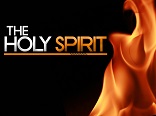 The Spirit makes one man a teacher of divine truth, inspires another to prophesy, gives another the power of casting out devils, enables ... continue reading
---