TUESDAY HOMILY: Coherence in Preaching and Living God's Word
---
Jesus' words about fathers, teachers and guides put into relief the reasons for Pope Benedict's greatness and our Christian apostolic calling.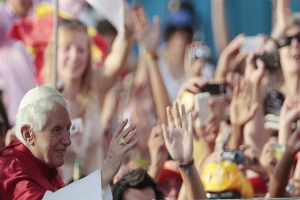 FALL RIVER, MA (Catholic Online). We're two days from Pope Benedict's last day as our Pope. When he announced his resignation 15 days ago, most of the Church and the world was shocked, wondering what the future would be like without his leadership here on earth. But in his declaration of resignation, he reminded us all that Jesus Christ, not the Pope, is the Supreme Pastor of the Church.
Even though successors of St. Peter will come and go, the Good Shepherd will never have an interregnum. Today's Gospel helps us to understand not only the relationship between Christ and the Pope - crucial for our faith in this Year of Faith - but also between Christ and all of us who are called by our baptism and confirmation to proclaim his Gospel to all creation.
 
But at first there's something disconcerting with regard to the Pope. In Christian piety, we called Benedict "Holy Father," and have recognized him, even in his relatively short eight-year papacy, to be one of the greatest teachers in the history of the Church. Yet Jesus today, with very strong language, tells us to call no one on earth our father or our teacher. Are we ignoring the Supreme Pastor's words?
Jesus wants to make clear that we have only one Father, one Teacher and one Spiritual Guide - God himself. God is our Father, and any human fatherhood (physical for the dads here, and spiritual for the priest or the pope) is derivative and vicarious of the Eternal Father's paternity. Jesus is our one Teacher or Master and any other teaching must point to Him who is the Truth. The Holy Spirit is our one Spiritual Guide, or Rabbi, and any other guide must cooperate with the Holy Spirit to point the person along the straight path to true life and love.
Jesus tells us to call no one on earth our father, or teacher, or rabbi, because so often human parents, instructors, or guides, rather than leading us to God, sometimes can seem to want to take God's place. Jesus' concern is not really one of vocabulary, but of mentality. Regardless of the words we use, he wants us to know that no one can take his place as the giver of life, as our teacher and our guide - and to the extent that any parent, teacher, or guide is worthy of the name, they must first be a good child, student and disciple of the one Father, Teacher and Guide. And we can be grateful that Joseph Ratzinger was indeed certainly one!
That said, Jesus also stresses, paradoxically, that God doesn't work alone. Throughout salvation history, he has used many others as his instruments to bless us with the gifts of fatherhood, knowledge and direction. He illustrates this by what he says about the scribes and Pharisees. He tells us that they sit on "Moses' seat."
God raised up Moses to pass on to the chosen people God's words and direction, leading them from slavery into the promised land. The scribes were those people who made their entire living out of knowledge of the Law of the Covenant God gave through Moses. The Pharisees were the group of people who publicly dedicated themselves full-time to trying to live by that law. Jesus said that since they sit on Moses' seat, "Do whatever they teach you and follow it," because it is not their words that one's following, but God's words through them.
Jesus also gave a warning, however, one that must have pained him to say: "But do not do as they do, for they do not practice what they teach." They were hypocrites who were not acting on the words of God. They used the word to put burdens on others, but had no love for those to whom they were preaching; they didn't "lift a finger," didn't make the least effort, to help others understand how every one of God's commands is given out of love and meant to help us to learn how to love God and love others.
Jesus told us that insofar as the Pharisees and the scribes sat in Moses' chair and passed along to the people what Moses himself had heard from God, their words were actually God's words and needed to be followed. Their personal hypocrisy, in other words, could not be used as an excuse by others not to follow the words of God they were teaching. But Jesus also stressed that we should not consider them great or exalted and follow them as individuals, because they were not humble servants of others, but rather proud hypocrites whose example would lead others astray.
What does this mean for Catholics in this Year of Faith? If Jesus, who said that we have only one Father, Teacher and Guide, told us that God works vicariously to pass on to us his words and guidance though those sit on Moses' seat, how much more would he say the same thing about those who sit not on Moses' seat but on Christ's own chair! The Pope is Christ's own earthly vicar. The bishop is a successor of the apostles. The priest is ordained by Christ through a bishop to be his collaborators. All of them, to varying degrees, sit on Christ's own chair and are called to transmit not just the law of Moses, given by God to the Jewish people, but the law of Jesus Christ, given by God to the whole human race.
So much did Jesus identify with them as his messengers that, before he sent them out to preach, he said, "Whoever listens to you listens to me, and whoever rejects you rejects me, and whoever rejects me rejects the one who sent me" (Lk 10:16). So Jesus is clearly saying to everyone in the Church relative to Pope Benedict and his successor, to bishops and priests, "Insofar as they sit on my chair or stand in my pulpit, 'do whatever they teach you and follow it,' for it is not just they speaking, but I speaking through them."
Jesus wants all of us to receive the word just like the Thessalonians received St. Paul's preaching, "not as a human word but as what it really is, God's word, which is also at work in you believers." So, too, the word that our Holy Father or our bishop or our parish priest passes on is not to be accepted as merely a "human word," but "as it really is," God's word at work in the heart of believers.
As Pope Benedict concludes his Pontificate, we can be grateful that so many responded to his profound and clear teaching not just as the word of a super-intelligent German intellectual but as it is really is, God's word, announced through Christ's earthly vicar and ambassador, and that it did so much work in the heart of believers.
At the same time, however, there's another truth in today's Gospel that, while thankfully it doesn't apply to Pope Benedict, we need to acknowledge with regard to some in the Church who aren't as faithful as Pope Benedict was to living coherently with Christ's words.
Just as Jesus 2000 years ago didn't stop with a simple affirmation of the divine provenance of his preachers' words, so today too Jesus, with great pain, likely would say about some of the clergy and faithful he has chosen and sent out, "But do not do as they do, for they do not practice what they teach."
There have certainly been popes, bishops, priests, professors, parents, catechists and others who, like the scribes and Pharisees, have failed to live the word they preach to others. There are certainly "evangelizers" today who burden others with the word, without showing them how it leads them to love God and others.
There are preachers whose knowledge of the word has made them proud rather than holy. There are Christians whose example not only should not be imitated, but should be castigated. In recent years, we have seen the names of bishops, priests, Catholic politicians, celebrities, judges, teachers, and parents who likewise have not put into practice the faith they profess.
But there's even a greater evil that spiritual parents, teachers and guides can do. Jesus didn't even mention it in today's Gospel, because, despite their defects, the scribes and the Pharisees reverenced the word of God so much that they never would have committed this evil. They may have misunderstood God's word, but they would never have tried to change it, or ignore it, or lie about it.
But it was not always that way. In the time after the exile, many priests were teaching contrary to God's Law. God sent the prophet Malachi to them, saying, "You have turned aside from the way; you have caused many to stumble by your teaching." Their teaching was not based on the inerrant word of God, but on their own opinions or half-truths. They were not living according to the Word of God and their immoral behavior started to alter their preaching so that they began to preach the same untruths they practiced.
The same thing that happened after the exile happens in our own day. Very often Catholics come to me with questions, bewildered because a priest or deacon in the pulpit, or a Catholic professor in an article, or a prominent Catholic in public life or in their family said something that was completely different than what they had learned growing up. I could cite hundreds of examples of these false instructions, but here are some of the most common ones:
Jesus didn't really work miracles; Scripture really isn't the word of God, but the word of men; you don't have to follow the teachings of the Pope and the bishops, just your conscience; the Eucharist is not really Jesus' body and blood, just a symbol; it's no longer necessary to go to confession; it's not a mortal sin to miss Mass on Sunday and when we do voluntarily, of course we can receive Holy Communion the next time we go; sex outside of marriage, or contraceptive use in marriage, aren't wrong as long as people love each other; Hell doesn't exist and if it did, God wouldn't really allow anyone to go there because he loves us; the Church's teachings on marriage are homophobic and immoral, discriminating against those of the same-sex; the Church has no good reason not to ordain women as priests; it's possible to be a good Catholic and be pro-choice, as long as you wouldn't have an abortion yourself.
Such preaching malpractice and theological abuse may be the worst and most harmful damage a spiritual father or mother, a teacher or guide can commit. Jesus talked about such scandalizers when he said that those who fail to keep his commandments and teach others not to keep them would be the least in his kingdom, emphasizing that it would be better for them to have had a millstone tied around their neck and tossed into the depth of the Galilean sea than to have led any of his little ones astray.
The Lord, rather, wants us to have integrity, to preach His words - all of them, including the more challenging messages - and to practice what he wants us to preach. I've always been moved by the instruction given to those who have just been ordained deacons, words that should apply to each of us. The bishop places the Book of the Gospel in his hands and says, "Receive the Gospel of Christ, whose herald you have become. Believe what you read, teach what you believe, and practice what you teach." Each of us is called to become one with the word, to believe it, teach it and put it into practice.
The greatest way we preach that Gospel, moreover, is by putting it into practice. Our example is worth a thousand homilies, books, catechetical fervorinos, or treatises. According to tradition, St. Francis of Assisi, before sending his friars out to preach, would instruct them: "Preach always, and if you must, use words." 
We give thanks that Pope Benedict, who sat on the cathedra of Peter - which really is the vicarious teaching chair of Christ - was one who really sought to conform all of his words and body language to Christ's words and self-giving. He was a spiritual father who reminded us of the paternity of God the Father; a teacher who helped us to grasp far better the teaching of Jesus of Nazareth; a guide who strove to help us live by the Holy Spirit.
We pray that the Lord reward him in this life and in the next.
And we pray, as the chair of Peter is about to vacant, that the Lord will help the Cardinals choose another who will be as coherent to the Word and faithful to the task. 
Father Roger Landry is pastor of St. Bernadette Parish in Fall River, MA and national chaplain of Catholic Voices USA. His homilies and articles are found on catholicpreaching.com.
---
Copyright 2018 - Distributed by THE CALIFORNIA NETWORK
Pope Francis Prayer Intentions for APRIL 2018
For those who have Responsibility in Economic Matters.
That economists may have the courage to reject any economy of exclusion and know how to open new paths.
---
---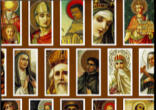 Calling the saints to mind inspires, or rather arouses in us, above all else, a longing to enjoy their company, so desirable in itself. We ... continue reading
---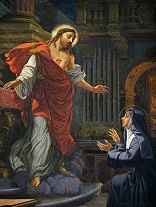 The heart is the center of a person, the place from which he/she makes the choices which will affect the world within them and around them. ... continue reading
---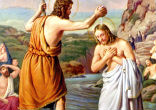 The consideration of Jesus' baptism, gives us an opportunity to remember our own baptism. If you do not know the date of your own ... continue reading
---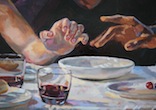 I gave my back to those who beat me, my cheeks to those who plucked my beard; My face I did not shield from buffets and spitting. HYTHE, ... continue reading
---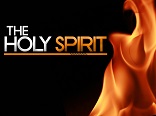 The Spirit makes one man a teacher of divine truth, inspires another to prophesy, gives another the power of casting out devils, enables ... continue reading
---