TUESDAY HOMILY: Faith in Action
---
A Year of Faith, therefore, needs to be a year drenched in intense prayer.
Jesus' teaching on prayer in the Our Father reveals to us not just the most important vocal prayer ever recited, but the proper way to relate in faith to the Father, to the Son, to the Holy Spirit and to others.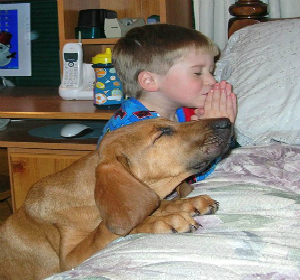 FALL RIVER, MA (Catholic Online). Prayer, Pope Benedict has continuously reminded us, is faith in action. A Year of Faith, therefore, needs to be a year drenched in intense prayer. During Lent we are all called to return to the fundamental importance of prayer, fasting and almsgiving in the Christian life and so it's especially important for us in this first full week of Lent to ponder the role of prayer in our life and and examine the quality and quantity of our prayer.
Pope Benedict highlighted the importance of prayer in his shocking decision last week to resign the papacy. He mentioned in his statement of resignation that he would "devotedly serve the Holy Church of God in the future through a life dedicated to prayer," carried out in a monastery on Vatican grounds.
Throughout his papacy, in his catecheses on prayer over the last two years as well as in many talks to priests, seminarians, religious and faithful, he has repeatedly stated that the most important thing we do as Christians for God and others is to pray.
By resigning the papacy in order to continue to serve the Church through prayer is to declare that he believes the work of prayer is even more important than the ministry of the papacy. And if prayer is even more important than the work of the successor of St. Peter, then it's hard to argue that any other ministry in the Church - or any other human work - is more important than prayer either. There's probably been no greater illustration of the lesson Jesus taught Martha and Mary in Bethany than this. 
Today in the Gospel Jesus teaches very clearly about how to pray well. First, however, he teaches us what prayer is not intended to be. "In praying, do not babble like the pagans, who think that they will be heard because of their many words. Do not be like them."
Many Catholics believe that prayer means "saying one's prayers," as if all that the Lord asks of his is to repeat a few phrases a day when we get up, eat meals, and go to bed. Many of Jesus' contemporaries often behaved as if this was the meaning of prayer, mouthing throughout the day the words of the Psalms. We know, however, that their hearts were far from God: many of those who recited the Torah incessantly in fact ended up conspiring to murder Jesus, the Word made flesh.
That's one of the reasons why St. Cyprian taught the early Christians, prayer "is the work of the heart, not the lips, because God doesn't look at the words but at the heart of the person praying."
When we say vocal prayers - like the Rosary, Creed, Divine Mercy Chaplet, Memorare, Angelus, Act of Contrition, Stations of the Cross, Consecration to the Sacred Heart of Jesus - it's important that our heart fully align itself with the words being said, lest our prayer become useless babbling.
Jesus, whose example inspired the disciples to ask him to teach them to pray, reveals to us today the real way to pray. At first glance, it might seem that he just gives us a vocal prayer, something that many times we can just rattle off our lips without really involving either our heart or our mind.
But the fact that St. Matthew and St. Luke recount slightly different versions of what we now call "the Lord's prayer" reveals to us that Jesus was not giving us a "formula" of magic words to recite, but showing us the principles that should guide all our prayer.
The prayer of the "Our Father" shows us, as St. Thomas Aquinas taught, not only what we should desire but the order in which we should desire them.
Jesus taught us to pray first for the Father's glory - for his name to be hallowed, his kingdom come and his will done - so that we could pray in imitation of Jesus whose ardent love to glorify the Father becomes our own.  After we pray for these intentions for God to be glorified, we turn to our own needs, and Jesus teaches us the four most important ones: for daily sustenance, forgiveness, strength in temptation and protection from the evil one.
These petitions are also all basically found in Jesus' great priestly prayer in John 17, which shows much they influenced Jesus' own conversations with God the Father. 
Let's together look more carefully what Jesus teaches us about prayer in the words of the Our Father.
The first expression and approach to prayer he gives us is that our first word should be"Abba!," which doesn't just mean "father" but "daddy." So many of Jesus' recorded prayers begin with this word. "Father, I give you thanks that you have hidden these things from the wise and the clever but revealed them to the merest of children." "Father glorify your Son so that your Son may glorify you." "Father, I thank you for having heard me; I know that you always hear me." "Father, if it be your will, take this chalice away from me." "Father, forgive them for they do not know what they're doing." "Father, into your hands I commend my spirit."
The most important work of the Holy Spirit in our prayer, as St. Augustine taught, is not to put words on our lips (quid ores) but to change who we are as we pray (qualis ores). The Holy Spirit helps us to cry out "Abba, Father!" Jesus in teaching us this first word of prayer is reminding us to pray as beloved sons and daughters. If human parents know how to give good things to their children, Jesus told us, how much more will our heavenly Father give good things to those who ask him. All our prayer should be done with this filial confidence, like a little child who trusts in his father's goodness.
The second word (in the original Greek) is "our." Jesus had come to save us by incorporating us into his body the Church and he wants us to pray not just for ourselves and individually, but with and for others.
He has us pray not to "my" Father, but "our" Father, to give "us," forgive "us," and deliver "us." He specifically incentivized common prayer when he told us that whenever two or more of us are gathered in his name, he'll be present in our midst. God is the Father of us all and Jesus wants us to pray together with Him and with each other, to leave individualism behind and love and intercede for our brothers and sisters.
Jesus then has us recall that our Father is in heaven, so that the treasure of our heart will seek to be with Him. Our aspirations in prayer are to seek the things that are above, where Christ is seated at the Father's right hand.
Next, we turn to the three petitions seeking the Father's glory. The first is that his name be hallowed. Since God is already is "holy, holy, holy," what does it mean to hallow his name? It means that we're asking his help so that his name may be glorified by us and in us, so that others in seeing our good deeds of love may glorify his name.
To pray for the coming of the Father's kingdom is to beg for the grace for ourselves and others to enter into his kingdom, and his kingdom will be wherever he reigns and his will is done. We beg for the grace to do his will and enter his kingdom just as the saints have done on earth and in heaven.
When we turn to asking for things that concern ourselves, Jesus has us begin by imploring each day our daily bread. The first thing we note is that he doesn't teach us to pray, "Give us always the food we'll need," but he seems to want us to turn to the Father every day with trust, like the Israelites awaiting the manna in the desert.
But the more important thing to recognize is that the word translated as "daily" is, in Greek, epiousious, which literally means "supersubstantial" bread. Several Fathers of the Church noted that this is a request not merely for material bread, for the food that perishes, but rather for the food that endures to eternal life that the Son of Man promised to give us. It points to the Eucharist, the true Manna, which God the Father gives us every day, just like he gave the Israelites their daily manna in the wilderness.
That leads us to an important realization: If we have prayed insistently to the Father to give us each day this supersubstantial bread, and the Father has responded by giving us His Son on the altar, shouldn't we come to receive Him as often as we possibly can at daily Mass?
We then are taught to ask that our sins be forgiven, but with an interesting condition, "just as we have forgiven those who have sinned against us."
Jesus tells us immediately after the words of prayer that unless we forgive others their sins, ours won't be forgiven. The measure of forgiveness with which we measure will be measured back to us. Making God's mercy dependent on our own is not a form of divine extortion, but, rather, Jesus wants us to realize that unless we have forgiven others, God's mercy can't penetrate our hardened hearts.
Being as compassionate as our Father is compassionate is one of the most important ways for us to hallow his name and prayer for mercy, as Jesus showed us on the Cross, is one of the high points of Christian prayer, because it attunes us to the Father's merciful heart.
In the next petition, we ask God to help us not to yield to temptation, recognizing that our spirit is willing, but our flesh is week. Just as the ancient serpent tempted Adam and Eve in the Garden and Jesus in the desert, so he comes after us, and we ask God for the strength, as we see in Jesus, to choose him each time the devil seeks to tempt us to choose against him. Victory over temptation, Jesus teaches us, happened through prayer.
That leads to the last petition, in which we pray not only to be given the grace to resist temptation but to be delivered from the Evil One, whom Jesus called the "father of lies" and a "murderer from the beginning." Jesus prayed during the Last Supper that the Father would protect us from the Evil One, and we're echoing that same prayer. It's a prayer that implies both holiness (deliverance from the devil in this world) and heaven (deliverance from him forever).
This Year of Faith is a time for us to ponder more deeply than ever before how the words of the Our Father indicate to us a total way of being a Christian, for we live as we pray and pray as we live. It's a time for us to meditate profoundly on these seven petitions and how they're supposed to become our seven deepest desires. It's an occasion for us to be grateful for how many times God has already answered these petitions because we made them with faith, rather than just babbling the words.
The Our Father is the great prayer of the Church, Christ's body and family. That's why we pray it in the Mass immediately after we lift up Jesus' body and blood praying that "all glory and honor" be the Father's, through, with and in Jesus in the Eucharist. That's why it was taught to the first Christians as a long awaited revealed secret only after they became God the Father's sons and daughters through baptism.
Let's ask the Holy Spirit for his help so that we may pray it today, with Christ and for and with all our Christian brothers and sisters throughout the world, more filially and faithfully than we ever have before.
 
Father Roger Landry is pastor of St. Bernadette Parish in Fall River, MA and national chaplain of Catholic Voices USA. His homilies and articles are found on catholicpreaching.com.
---
Copyright 2018 - Distributed by THE CALIFORNIA NETWORK
Pope Francis Prayer Intentions for APRIL 2018
For those who have Responsibility in Economic Matters.
That economists may have the courage to reject any economy of exclusion and know how to open new paths.
---
---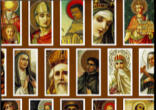 Calling the saints to mind inspires, or rather arouses in us, above all else, a longing to enjoy their company, so desirable in itself. We ... continue reading
---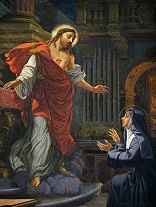 The heart is the center of a person, the place from which he/she makes the choices which will affect the world within them and around them. ... continue reading
---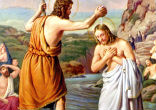 The consideration of Jesus' baptism, gives us an opportunity to remember our own baptism. If you do not know the date of your own ... continue reading
---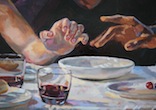 I gave my back to those who beat me, my cheeks to those who plucked my beard; My face I did not shield from buffets and spitting. HYTHE, ... continue reading
---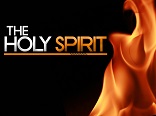 The Spirit makes one man a teacher of divine truth, inspires another to prophesy, gives another the power of casting out devils, enables ... continue reading
---