FRIDAY HOMILY: Taking a Lesson from the Land
---
Jesus reminds us that faith is about seeds and soil
In today's gospel passage - Mark 4:26-34 - our Lord gives us two parables involving seeds. In both cases he compares the Kingdom of God to normal organic growth. Just as God has built certain laws or norms into the way things work on earth, he also has built certain norms into the spiritual world as well.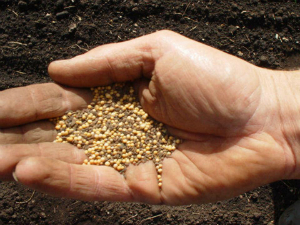 WASHINGTON, DC (Catholic Online) - I am a product of suburbia. I grew up in a small town just outside of Buffalo, New York and spent my teen years in a small town outside of Battle Creek, Michigan. We never had a vegetable garden. From the standpoint of knowing anything about agriculture, I had a deprived childhood.
You can imagine my sense of wonder when, assigned to a church in Manhattan, Kansas I had my first real taste of agronomy.
Manhattan is, again, a small town but not the suburbs. Topeka is approximately 60 miles away and Kansas City is about double that. It is also the home of Kansas State University (KSU), which offers schools of agriculture, animal husbandry and veterinary science.
Several members of my parish were on the "Ag staff" so I was learned some great lessons about plants, animals and the soils around us. For me, it was more than earth science but an opening to new insights about Christ's teaching through the parables. So much of what He taught was based on lessons from the land.
In today's gospel passage - Mark 4:26-34 - our Lord gives us two parables involving seeds. In both cases he compares the Kingdom of God to normal organic growth. Just as God has built certain laws or norms into the way things work on earth, he also has built certain norms into the spiritual world as well.
As I started pondering this, I was taken back more than 40 years when I was first introduced to a protestant collegiate ministry called Campus Crusade, led by Dr. Bill Bright. His passion was to take the teachings and principles of Christ and put them in forms that were transferable - where the students he taught could pass them along to others.
Probably his most famous tract was called the "Four Spiritual Laws." Without debating the doctrinal merits of each of these laws, I was simply taken back to the basic concept he used in the introduction.
He starts, "Just as there are physical laws that govern the physical universe, so are there spiritual laws that govern your relationship with God."
This is exactly what Jesus was saying in these parables. There is an order to things both in the physical world and spiritual world. God has organized them both. When we recognize that the spiritual area of life operates according to a specific set of principles we are able to cooperate with God to experience greater growth.
Through this we are also reminded that spiritual growth cannot be attained by approaching it through worldly means alone. Maturity in the things of God is more than the accumulation of religious facts and information. It comes as a transformation of our inner being.
Lesson One: Growth Takes Patience
We live in a world of oriented toward instant gratification. We want things to come fast as well as easy. For example, it would seem to be so much easier to simply take a weight loss pill than work on diet and exercise. We want to see those pounds just drop off as it by magic.
Today we see all kinds of promises of quick performance to speed up our reading, learn a musical instrument, or get a college degree. We also try to apply this same perspective to spiritual growth.
Our Lord reminds us in the Parable of the Seeds that we need to give ourselves time to grow in God.
When I lived in Kansas, KSU had a number of experimental crops growing in and around the Manhattan area. After the seeds were planted, nothing could be seen for a long time. All the while beneath the soil miracles were taking place. Seeds were germinating, sending out roots and beginning to sprout upward.
Even after the plant grows above ground, much of the growth is imperceptible. Size could not really measured moment by moment or, in some cases, even day by day. Yet, over a period of time, momentous things had taken place. The plants had grown large and strong. This is the organic method of growth.
Such it is for our spiritual life. Often our growth in Christ cannot be measured by the hour, the day, the week or even the month. Yet, over time we can look back and see how we have, in fact, grown. God's graces and virtues are more evident in our lives and we are spending more time in prayer and Scripture.
Growth also cannot take place without remaining in the correct environment long-term. You can't be a come-and-go Catholic or bolt early because nothing seems to be taking place. You have to remain in the growth environment  - you have to learn live there.
After coming into full communion in the Catholic Church several years ago, obviously, I had to surrender my faculties as a bishop in my former Anglican denomination. In order to provide an income for my family, I began working as a freelance writer.
This required networking in a completely different world from my previous decades of Christian ministry. One of the things I did was join a chapter of Business Networking International (BNI). You learn two lessons very quickly in BNI. First, if you work the plan they give you exactly the way they do it, results will come. Second, you need to give it time to work - at least eighteen months before you really see regular returns on your investment of time and participation.
That latter lesson was hard to accept and difficult to follow. While I did have a few sporadic things happen in the early months, the BNI folks were right. I could look back at about eighteen months and see definite progress.
Was this a new concept from BNI? No, they simply followed the organic method of growth.
Lesson Two: Growth is Natural
Let's now go back to the first lesson of BNI. If you follow the plan, results will come.
When a seed is planted in the soil, it is supposed to grow. That is the way God created it and, when placed in the proper environment with the proper balance of nutrients and water, life happens.
A farmer does need to know how a seed grows; he just knows that it does when placed in the right conditions. If he does everything the correct way, all he has left to do is wait and continue to cooperate with the natural process.
For Catholics, we participate regularly in the Sacraments. This is our starting point but not the only points of participation.
 Having entered through the waters of Baptism, we go to Mass each Sunday (and hopefully some weekday Masses as well), regularly go through the Sacrament of Reconciliation and participate in all of the other sacraments that are afforded to us at the proper time.
We also spend time in the Holy Scriptures and pray daily. We can pray the Rosary, take time for adoration before the Blessed Sacrament as well as share in seasonal activities like the Stations of the Cross. All these things provide the proper soil for faith and growth.
Participation is key to natural growth. As I heard someone say many years ago, "You can't become a mature Christian merely by going to church anymore than you can become a car by sleeping in the garage." We can't just go through the motions.
There is really no such thing as "going to church." It is more a matter of "being the Church;" earnestly involving ourselves in the things of God. This is our daily mission.
I have lived for years out of the feast of spiritual insights of St. Josemaria Escriva. In his little book "The Furrow" he writes, "Grace, like nature, normally acts gradually. We cannot, properly speaking, move ahead of grace. But in all that does depend on us we have to prepare the way and cooperate when God grants grace to us."
Lesson Three: Growth is Conditional
Jesus uses the image of a mustard seed two times in His teachings. He uses it here as well as  in Matthew and Luke as a symbol of the Kingdom of Heaven and also applies it to faith in those same gospels.
While we often look at the comparison he is making with regard to size, we may fail to see one of the key elements about its dimensions. One of the reasons why a mustard seed is so small is it carries no food reserve. Unlike most seeds, which has a food sack attached, the mustard seed is dependent upon building a symbiotic relationship with elements in the soil in order to grow.
While the mustard seed can grow into a great shrub, it can't do it on its own; it needs help.
For the Kingdom of God to expand here on earth in the hearts of men, it must be planted in good soil, which our Lord covered at the beginning of the chapter. There, in the familiar parable, we are told about the hard soil of a path, the rocky ground and the area choked with thorns. It's all about the garden of the heart.
The parallels in life are obvious and, thanks be to God, there are solutions available to us. In the realm of our spiritual life, hardness, rocky ground and thorns of the heart can be removed through the sacrament of confession, the discipline of mortification and a life of devotion.
In his second letter, St. Peter tells us that "His divine power has granted to us all things that pertain to life and godliness, through the knowledge of him who called us to his own glory and excellence, by which he has granted to us his precious and very great promises, that through these you may escape from the corruption that is in the world because of passion, and become partakers of the divine nature." (2 Pt. 1:3-4)
In that last verse the word "partakers" can be more accurately rendered "participants." It is not simply that we only take something from God; we participate with Him. The divine power he is talking about is imparted as we cooperate with grace at work in us.
This is one of the reasons Paul gives us a suitable catalog of adult Christian thinking in his letter to the Philippians. Finally, brethren, whatever is true, whatever is honorable, whatever is just, whatever is pure, whatever is lovely, whatever is gracious, if there is any excellence, if there is anything worthy of praise, think about these things. What you have learned and received and heard and seen in me, do; and the God of peace will be with you. (Phil. 4:8,9)
We will soon be coming to the season of Lent; a good time to tend to soil cultivation when it comes to our hearts. Obviously, it is both a time of putting off and putting on - two of the key aspects of our Lenten disciplines.
We can get rid of our soil problems - the hard, rocky or choked soil by careful self-examination and confession. We can also firm up our disciplines through abstinence and self-sacrifice.
Let me also encourage you to add a "putting on" perspective to Lent this year if you have not done so in the past. There may be an activity or devotional practice to incorporate this year.
Do you read Scripture on a daily basis? If not, add it in. When do you pray? If in the morning, add the evening and vice versa. Pick up a Book of Christian Prayer or Shorter Christian prayer to aid your prayer life. How about assisting the poor? Find ways to do this in your community.
The great saints of the Church took care to cultivate the garden of the heart. They understood, as Dr. Bright had discovered that there were spiritual laws that govern our relationship with God. They knew that natural growth would occur if they allowed the right conditions to exist - through the sacraments, prayer, reading and active participation.
As we read in today's psalm, "Trust in the LORD and do good, that you may dwell in the land and be fed in security. Take delight in the LORD, and he will grant you your heart's requests."
-----
 
Father Randy Sly is the Associate Editor of Catholic Online and a priest with the Personal Ordinariate of the Chair of St. Peter (http://usordinariate.org) established by the Holy Father, Pope Benedict XVI, through the Apostolic Constitution "Anglicanorum Coetibus." He is currently the chaplain of the St. John Fisher Ordinariate Community, a priest in residence at Our Lady of Hope Catholic Church and Director of Pro-Life Activities for the Ordinariate.
---
Copyright 2018 - Distributed by THE CALIFORNIA NETWORK
Pope Francis Prayer Intentions for APRIL 2018
For those who have Responsibility in Economic Matters.
That economists may have the courage to reject any economy of exclusion and know how to open new paths.
---
---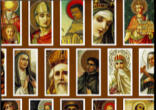 Calling the saints to mind inspires, or rather arouses in us, above all else, a longing to enjoy their company, so desirable in itself. We ... continue reading
---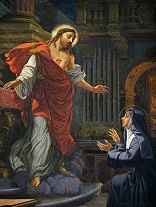 The heart is the center of a person, the place from which he/she makes the choices which will affect the world within them and around them. ... continue reading
---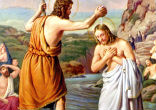 The consideration of Jesus' baptism, gives us an opportunity to remember our own baptism. If you do not know the date of your own ... continue reading
---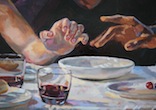 I gave my back to those who beat me, my cheeks to those who plucked my beard; My face I did not shield from buffets and spitting. HYTHE, ... continue reading
---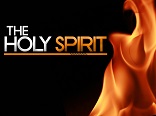 The Spirit makes one man a teacher of divine truth, inspires another to prophesy, gives another the power of casting out devils, enables ... continue reading
---