The Mystery of Sin
---
Part I - From the beginning...
Original Sin is nothing else than despising the authority of God and, consequently, all authority. Thus, males and females, each in their own way, enter fallen human existence as selfish and disobedient persons.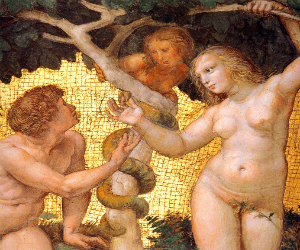 HOOKSET, NH (Catholic Online) - The Catholic Church proclaims the whole of salvation history: Creation, the Fall, and Redemption: "In love you created man, in justice you condemned him, and in mercy you redeemed him, through Jesus Christ, Our Lord" (Preface, Weekdays II).
Sin entered human history by way of Adam and Eve: "In their hearts they put God to the test" (Ps 78:18). The personal sins of Adam and Eve resulted from free-willed acts, not from Creation: "According to faith, the disorder [in the human heart] we notice so painfully does not stem from the nature of man and woman, nor from the nature of their relations, but from sin" (Catechism, no. 1607). The disobedience of Adam and Eve was "an abuse of the freedom that God gives to created persons so that they are capable of loving him and of loving one another" (Catechism, no. 387).
From the very moment of his or her conception in the womb, Original Sin and its horrific effects are transmitted to a human being. This transmission is by propagation, not by imitation: "For indeed, I was born in sin; guilt was with me already when my mother conceived me" (Ps 51:6).
Except for Jesus of Nazareth and, by an extraordinary act of redemption, his Immaculate Mother Mary, every person is born into sin and death. This is so because, as mentioned, Adam and Eve propagate Original Sin and its grim consequences in and through their progeny: "All have left the right path, depraved, every one: there is not a good man left, no not even one" (Ps 14:2-3). Once again, to every single person conceived in the womb of his or her mother, the Mystery of Iniquity is transmitted: "Why do you call me good? No one is good but God alone" (Lk 18:19).
In 1952, Pope Pius XII declared that the sin of the modern era is the mistaken idea that there is no such thing as sin. His successor, Pope Benedict XVI, commented on this lamentable state:  "It is precisely the existence of sin that modern man is unable to take seriously. Because of this rejection of sin, no one is directly touched today by the Gospel claim that the evidence of Jesus' divine nature is based on his power to forgive sins. Most people do not explicitly deny the existence of God, but they do not believe that he is of any importance in the realm of human life. Hardly anyone seriously thinks nowadays that men's wrong actions may concern God so much that he regards them as sinful and offensive to him, with the result that such sins must be forgiven by him alone."
Thus, the Catechism of the Catholic Church is quite explicit when it comes to the existence of sin:  Sin is present in human history; any attempt to ignore it or to give this dark reality other names would be futile.Only the light of Divine Revelation clarifies the reality of sin and particularly of the sin committed at mankind's origins. Without the knowledge Revelation gives of God, WE CANNOT RECOGNIZE SIN CLEARLY AND ARE TEMPTED TO EXPLAIN IT AS MERELY A DEVELOPMENTAL FLAW, A PSYCHOLOGICAL WEAKNESS, A MISTAKE, OR THE CONSEQUENCE OF AN INADEQUATE SOCIAL STRUCTURE, ETC. (Catechism, no. 386)
In a radical way, Original Sin changed the love-relationship between God and his human creatures, introducing a different kind of divine-human relationship. This new relationship was based on justice alone, not free-willed love: "If you, O Lord, laid bare our guilt, who could stand it?" (Ps 129:3).
Later on in salvation history, the Mosaic Covenant restored somewhat the fallen creature's relationship with God. Still, it remained a relationship based on justice, tempered by the forgiveness of God:  I made my sin known to you; I did not conceal my guilt. I said, "I shall confess my offense to the Lord." And you, for your part, took away my guilt, forgave my sin. That is why each of your faithful ones prays to you in time of distress (Ps 32:5-6).
Jesus of Nazareth pointed out the specific locale of sinful acts - the human heart: "He had knowledge of them all, and did not need assurances about any man, because he could read men's hearts" (Jn 2:25). The Lord knows only too well the hidden operations of one's inmost being: "Why do you think evil in your hearts?" (Mt 9:4).
Sacred scripture describes the hidden waywardness of the heart this way:  The heart is more devious than any other thing, and is depraved; who can pierce its secrets? I, the Lord, search the heart, test the motives, and give each person what his conduct and his actions deserve    (Jr 17:10).
The God-Man exposed the source of sinful activities when he said, "Can your speech be good when you are evil? For words flow out of what fills the heart" (Mt 12:34). Hence, he gave his followers this instruction: What comes from within people? From their hearts come evil thoughts, unchastity, murder, adultery, greed, malice, deceit, licentiousness, envy, blasphemy, arrogance, folly (Mk 7:21-23)    .
Ignoring or casting aside the teaching of Jesus of Nazareth  not only leads to a loss of the sense of sin but "empties the Cross of Christ of its meaning" (1 Co 1:17).
Original Sin weakened the disposition of every human being to be loved by God and, in turn, disoriented the free-willed power to love him above all else: "Sin speaks to the sinner in the depths of his heart" (Ps 36:3). As a result, the dire effects of Original Sin brought selfish desires, disorderly affections, and unstable emotions to human existence. A dysfunctional inner life, then, is one consequence of the Fall: "Pleasure is preceded by a certain appetite which is felt in the flesh, like a craving, such as hunger and thirst. That generative appetite is most commonly identified with the name, 'lust,' though this is the generic word for all desires" (Saint Augustine).
Since Adam and Eve, respectively, sinned as male and as female, the penalties for their personal sins have been passed on to every particular male and every particular female. Adam desired Eve instead of God and, thereby, lost control over his sexual nature. That loss subjects males to lust after the organs of generation. Eve desired herself instead of God and, thereby, lost control over herself. That loss subjects all females to lust after themselves: vanity.
Furthermore, rather than accuse themselves before God, Adam and Eve made excuses to God. Adam said, "The woman whom you put here with me - she gave me fruit from the tree so I ate" (Gn 3:12). Thus, males are prone to caving into females which is the origin of "wimpiness." Eve, on the other hand, said, "The serpent trucked me into it, so I ate it" (Gn 3:13) Hence, females are prone to mis-speak the truth.
Finally, fueled by self-exaltation, Original Sin is nothing else than despising the authority of God and, consequently, all authority. Thus, males and females, each in their own way, enter fallen human existence as selfish and disobedient persons.
Yet, sacred scripture makes no mention of an essential change in human nature. The vitality of human nature, not its integrity, was lost. Although the cohesion of human nature and, therefore, the unity within the human heart disappeared, the impulse to do good and be good did not: Which one of you would hand your son a stone when he asks for a loaf of bread, or a snake when he asks for a fish? If you, then, who are wicked, know how to give good gifts to your children how much more will your heavenly Father give good things to those who ask him (Mt 12:35).
Nevertheless, the bulk of human history has followed the path of Adam and Eve and their first offspring, Cain and Abel. Individually and communally, that historical path is a well-worn track of inner discord and social strife. Common experience, in fact, agrees with sacred scripture: "The flesh lusts against the spirit and the spirit against the flesh; the two are directly opposed" (Ga 5:17).
The Catechism explains the actual cause of this opposition:  Because man is composite, spirit and body, there already exists a certain tension in him; a certain struggle of tendencies between "spirit" and "flesh" develops. But, in fact, this struggle belongs to the inheritance of sin. It is a consequence of sin and, at the same time, a confirmation of it. It is part of the daily experience (Catechism, no. 2516).
----- 
John D. Meehan has been involved in the lay apostolate of the Catholic Church since the close of the Second Vatican Council.  He resides in New Hampshire with his lovely wife Elizabeth. 
---
Copyright 2018 - Distributed by THE CALIFORNIA NETWORK
Pope Francis Prayer Intentions for APRIL 2018
For those who have Responsibility in Economic Matters.
That economists may have the courage to reject any economy of exclusion and know how to open new paths.
---
---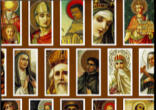 Calling the saints to mind inspires, or rather arouses in us, above all else, a longing to enjoy their company, so desirable in itself. We ... continue reading
---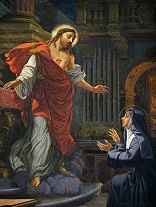 The heart is the center of a person, the place from which he/she makes the choices which will affect the world within them and around them. ... continue reading
---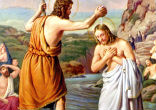 The consideration of Jesus' baptism, gives us an opportunity to remember our own baptism. If you do not know the date of your own ... continue reading
---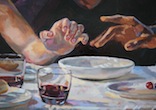 I gave my back to those who beat me, my cheeks to those who plucked my beard; My face I did not shield from buffets and spitting. HYTHE, ... continue reading
---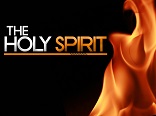 The Spirit makes one man a teacher of divine truth, inspires another to prophesy, gives another the power of casting out devils, enables ... continue reading
---