FRIDAY HOMILY: St. Elizabeth Ann Seton, An Anglican Gift
---
The seeds of faith planted by Anglicans grew full and rich in Catholic soil
Much can be made of the accomplishments of St. Elizabeth Ann Seton. Yet, when you focus on her heart and the key aspects of her devotion, you realize that these set this woman apart in so many ways.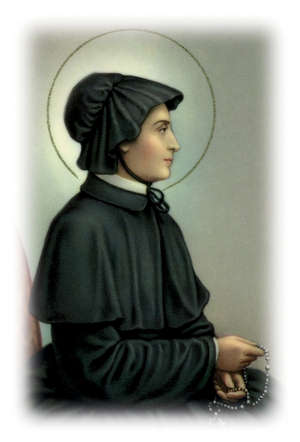 St. Elizabeth Ann Seton
WASHINGTON, DC (Catholic Online) - When we think of converts from Anglicanism who have made an impact in the Catholic Church, names like Evelyn Waugh, J.R.R. Tolkien, G.K. Chesterton, and Blessed John Henry Newman come to mind. Another name we can sometimes forget is St. Elizabeth Ann Seton, whose memorial falls on January 4. She was the first native-born citizen of the United States to be canonized a saint.
Born Elizabeth Ann Bayley in New York City on August 28, 1774, she was a child of the Revolutionary War. Her parents were Episcopalians and she was raised in that faith.
Married at the age of nineteen to William Magee Seton, a wealthy young merchant from the same city, the couple had five children. Elizabeth was deeply in love and, most likely, expected to live the life of a devoted wife and mother to her children.
Even as a young woman, she had a deep faith and a concern for the poor. Her sister-in-law, Rebecca Seton, shared this same devotion and two became close friends. They would undertake various missions for the poor in the region and took up the name, "Protestant Sisters of Charity."
Elizabeth's life became quite burdensome after only four years of marriage. William's father passed away in 1798, leaving the young couple responsible for his seven half-brothers and sisters.
Her own father, with whom she had a strong relationship, then passed away in 1801. (Her  mother had died when she was only three.)
Then, only two years later, her husband's business and health failed. Filing for bankruptcy, he and his wife took a sea voyage to Italy, to help his health as well revive his business through the assistance of some associates, the Filicchi brothers.
While in Italy, William's condition worsened. He was quarantined and subsequently died of tuberculosis. Elizabeth and her oldest daughter were stranded there with her other children in the care of Rebecca back in America.
She remained in Italy for several months after her husband died in December of 1803, as both she and her daughter also became ill at different points. It was during her stay in the country that Elizabeth was more fully exposed to the teachings of the Catholic faith. The Filicchi family, with whom they stayed, was very devout in their faith.
She returned to New York in June of 1804 only to have her sister-in-law and dear friend Rebecca Seton pass away the next month. By this time she had lost many who were close to her and, at 30 years of age, seemed to have the weight of the world on her shoulders. Through everything, however, she remained fervent in her faith.
The months ahead were life-changing for Elizabeth. Antonio Filicchi had traveled back to New York with her and continued to answer her questions about the Catholic faith, as she seemed very drawn to Holy Mother Church. All of this was much to the horror of friends and family who were firmly protestant in their convictions.
Elizabeth Ann Seton was received into the Church on March 4, 1805. Her conversion cost her a great deal in terms of friendships and opportunities to support her family.
Much can be made of her accomplishments. Relocating to the Baltimore area at the invitation of Father Dubourg, a Sulpician priest who was helping to build a seminary in America, she established a school for girls near St. Mary's Seminary in Emmitsburg, MD near Baltimore.
She also began a religious community with two other young women, taking vows before Archbishop Carroll as the Sisters of Charity of St. Joseph. From then on, known as Mother Seton, she left a legacy both in terms of care for the poor and education, establishing the first free Catholic school in the nation.
In so many ways, her journey into the Catholic Church helped her more profoundly appreciate and embrace her faith. Today, I want us to focus on her heart and the key issues that set this woman apart in so many ways.
First, she wanted to be Catholic. As a convert I can identify with this desire and conviction. Many cradle Catholics have told me, "you are so excited about things that I simply take for granted."
There is a cost to conversion. For Elizabeth Ann Seton, it meant being ostracized by those closest to her. Anti-Catholic sentiment was very strong in the eighteenth century, in a large part due to misunderstanding of the faith by Protestants.  However, she was willing to do anything and endure all things to follow Christ. She wrote in her journal, "If I am right Thy grace impart still in the right to stay. If I am wrong Oh, teach my heart to find the better way."
As a mother with a growing family, the decision took on a very practical aspect as well. With her husband's fortune gone, she could have been supported by other members of the family who had the means to provide. However, due to her decision to become a Catholic, those resources were cut off. She was on her own.
Many of us who have chosen the Catholic faith have experienced some setbacks in relationships, etc. For this brave woman, however, the cost was even greater. This should be a great inspiration to those who have become lukewarm in their faith, seeing that this woman - along with a host of others over the centuries - have freely made the decision to embrace the Catholic faith.
In the gospel reading for today, we see two disciples of John the Baptist, Andrew - the brother of Simon Peter, and an unnamed disciple (perhaps the Apostle John) hearing the prophet declare, "Behold the Lamb of God" as Jesus walked by. Recognizing that He was the Messiah, they began to follow Him.
Much like Andrew, Elizabeth Ann Seton chose to follow the Lord without knowing what would be the end result. When she made the decision to enter the Church, she had given her assent to His invitation to "come and see" what He could do through her.
Elizabeth also had a deep devotion to the Eucharist and the Holy Scriptures. This began during her years as an Episcopalian.
On Sunday, she would rush from one parish to another in order to partake of the Eucharist two times that day. Mary Donovan, in an article entitled, "At last, God is mine and I am His; Elizabeth Ann Seton and the Eucharist," from the Vincentian Heritage Journal, highlights the interest she had in the Blessed Sacrament. Here she is writing to her sister-in-law about the experience she had in a Catholic Church in Italy.
"My Sister dear, how happy would we be if we believed what these dear Souls believe, that they possess God in the Sacrament and that he remains in their churches and is carried to them when they are sick. The other day in a moment of excessive distress I fell on my knees without thinking when the Blessed Sacrament passed by and cried in an agony to God to bless me if he was there, that my whole soul desired only him."
This passion continued as she came into the Church. Mary Donovan also shares this quote from her writings after her first communion. She wrote, ""At last - GOD IS MINE and I AM HIS - Now let all go its round - I HAVE RECEIVED HIM."
The Bible was a part of her daily routine, reading it regularly and particularly spending time in the psalms. Donovan also quotes from a correspondence from one of Elizabeth's spiritual directors, Father Simon Bruté, to her daughter Catherine Josephine after the Saint's death. He wrote regarding the importance of Scripture to Mother Seton. "I only mean 10 remind you, Elizabeth's daughter, that in the psalms, in one verse or mother, you will find her soul still warm to her God in your own soul."
The legacy of Elizabeth Ann Seton began even before her journey to the heart of the Church. It started in a human heart kindled by the liturgies of Anglican worship and personal Biblical study. The fires, however, that began to burn there could not be fully fueled outside of Catholic teaching. It was here that she was able to allow the fires of her faith to totally come to flame.
It can certainly be said that all she did in her life and all that was accomplished were forged first in her soul which was consecrated to God from her earliest days. The decision to enter the Church, to respond to the needs of the poor, to educate the young and to establish an order all found their seeds in her "fiat," her yes to all that God wanted to do in her life.
I can remember a time, which still in Anglicanism, where in my heart I knew that I must enter the Church. I knew at that moment that this would be the only way to continue to say "yes" to the work the Lord was doing in my life. At that moment I didn't know how it would take place, when it would happen or what would be the ultimate destiny of my decision. I knew, however, it would come.
Like Elizabeth Ann Seton, the Eucharist and personal study of the Holy Scriptures continue to play a major role in my spiritual life. The passion for a personal relationship with Christ that burned brightly in my Protestant days ow are inflamed with greater light.
On this special day, St. Elizabeth Ann Seton, pray for all of us who have followed your pathway and entered into full communion. Pray that we, like you, would say yes to all that will come to us in the years ahead.
At the age of 46, she died of tuberculosis, on January 4, 1821. This was the same disease that took her husband's life. She was canonized on September 14, 1975.
 
-----
 
Father Randy Sly is the Associate Editor of Catholic Online and a priest with the Personal Ordinariate of the Chair of St. Peter (http://usordinariate.org) established by the Holy Father, Pope Benedict XVI, through the Apostolic Constitution "Anglicanorum Coetibus."
---
Copyright 2018 - Distributed by THE CALIFORNIA NETWORK
Pope Francis Prayer Intentions for APRIL 2018
For those who have Responsibility in Economic Matters.
That economists may have the courage to reject any economy of exclusion and know how to open new paths.
---
---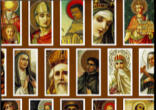 Calling the saints to mind inspires, or rather arouses in us, above all else, a longing to enjoy their company, so desirable in itself. We ... continue reading
---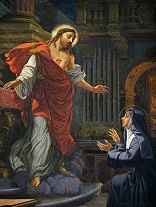 The heart is the center of a person, the place from which he/she makes the choices which will affect the world within them and around them. ... continue reading
---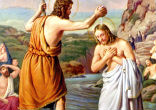 The consideration of Jesus' baptism, gives us an opportunity to remember our own baptism. If you do not know the date of your own ... continue reading
---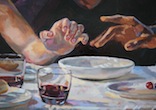 I gave my back to those who beat me, my cheeks to those who plucked my beard; My face I did not shield from buffets and spitting. HYTHE, ... continue reading
---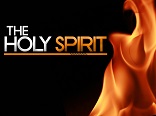 The Spirit makes one man a teacher of divine truth, inspires another to prophesy, gives another the power of casting out devils, enables ... continue reading
---