Converging and Convincing Proof of God: Introduction
The Church teaches that man is capax Dei, has a capacity for God
The existence of God is not self-evident to us.  Nevertheless, "man's faculties," in particular his reason, "make him capable of coming to knowledge of the existence of a personal God."  And that knowledge is sure.  We have moral certainty that God exists.  For that reason, those who deny his existence are, in the words of St. Paul, "without excuse."  (Rom. 1:20)  That is why the psalmist says that a " fool" says in his heart that there is no God.  (Ps. 14:1)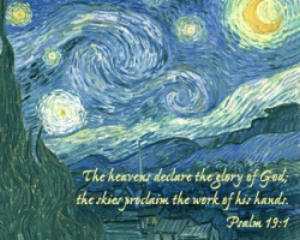 CORPUS CHRISTI, TX (Catholic Online) - The Church teaches that man is capax Dei, has a capacity for God.  One way in which man is capax Dei is that his reason is able to inform him that a personal God exists, even though a personal God is not visible, but rather invisible.
The existence of God is not self-evident to us, quoad nos.  (S.T. Ia, q.2, art.1, co.)  Nevertheless, "[m]an's faculties make him capable of coming to knowledge of the existence of a personal God."  [CCC 35]  And that knowledge is sure.  We have moral certainty that God exists.  For that reason, those who deny his existence are, in the words of St. Paul, "without excuse."  (Rom. 1:20)  That's why the psalmist says that a " fool" says in his heart that there is no God.  (Ps. 14:1) 
It was this understanding that legitimized the ubiquitous laws in this country that required belief in God as a prerequisite for holding public office.  It is reflected in our very Constitution, which, although it prohibits the requirement of a "religious test" for the holding of public office (which is a matter of faith), it assumes that a public official will swear an oath to God ("so help me God") to support and defend the Constitution, which necessarily implies belief in God.  (The Constitution also allowed for affirmations, not to accommodate atheists, but Quakers who would not swear to God although they certainly believed in him.)
It was considered right to require of public officials belief in God and belief that God was a rewarder of those who seek him and the ;judge of men at the end of their lives (since that was a matter of reason).  It was thought unreasonable not to believe in God, and it was believed that the unreasonable refusal to believe in God could only be explained as being the result of a moral deficit, a deficit which justified exclusion from office.  
In this country, the first time belief in God was equated with "religion" under law (and therefore a matter of faith alone, and not a matter of reason) was in the Warren Court's 1961 decision in Torcaso v. Watkins, a case also famous for having used for the first time the term "secular humanism" in a legal opinion.  In Torcaso, a Maryland notary public challenged that state's requirement that any holder of public office was required to make a "declaration of belief in the existence of God."  The Supreme Court, stacked at the time with liberal justices and headed by the unabashed liberal Chief Justice Earl Warren, unanimously found that requiring a public official to believe in God was unconstitutional (even though the Constitution itself requires oaths or affirmations to God to hold office, but, hey, who ever said liberal, result-driven justices are consistent?).
The faculty that makes man capable of coming to the knowledge of God is reason, and that reason is informed by the faculty of man's sense organs, but also includes what might be called his internal "senses," such as man's appreciation of beauty and his conscience. 
Traditionally, reason's witness to the existence of a personal God have been referred to as "proofs" of God or "ways" of coming to know God.  "Thus, in different ways, man can come to know that there exists a reality which is the first cause and final end of all things, a reality 'that everyone calls God.'"  [CCC 34]  All these "proofs" or "ways," however, start from observation either of the physical world about us, or the "world" within us. 
As the Church taught in the First Vatican Council of 1870 in its Dogmatic Constitution on the Catholic Faith, Dei Filius:
"The  same Holy Mother Church holds and teaches that God, the beginning and end of all things, may be certainly known by the natural light of human reason, by means of created things, 'for the invisible things of him from the creation of the world are clearly seen, being understood by the things that are made' (Romans 1:20)."
The reason that proves with moral certainty that God exists is not reason "in the sense of in the natural sciences"  as the Catechism makes clear.  God, after all, is not subject to experimental proof.  You cannot prove God exists (or doesn't exist) by climbing to a precipice and throwing yourself off in the experimental gamble that such an act will prove God exists since he has given angels charge over us, and their hands will bear us up lest we dash our foot against a stone.  (Matt. 4:6). 
Invisible realities do not admit of direct visible proof like the physical sciences.  And God is not proved by mathematical equations.  Neither the reason of mathematics nor the reason of the physical sciences is the kind of reason that can be employed to discover that God exists.  It is in fact foolish to try to use these kinds of reason because they are out of place in the premises.
Though he presumably believed in God, the Massachusetts physician Duncan MacDougall was still a fool when in 1907 he tried to weigh the soul by measuring the average weight loss of tuberculosis patients who died while on a scale.  (He claimed the soul weighed 21 grams.) 
Dr. MacDougall confused categories.  The human soul, like God, is immaterial and invisible, which is to say, it will never be sensed by our senses, whether of sight, sound, smell, taste, or touch.  That does not mean it doesn't exist.  It simply means that it is a reality that is discovered another way.
The exact opposite error of Dr. MacDougall is found in the modern scientist whose science he says compels him to be an atheist or agnostic.  The modern scientist who refuses to believe in God because God cannot be proved by empirical science, because God not subject to the experimental method, is, at least in this regard, a fool no less than Dr. MacDougall.  A fool in a different way is still a fool.
This is the error and the foolishness of a modern man.  He thinks univocally, and has abandoned analogical thought. He has put materialistic blinders on his reason.  So he's stuck in what various thinkers have called various names: the "iron cage" of modernity (Weber), the "immanent frame" (Taylor), "Newton's sleep" (Blake), "deafness to the divine" (Benedict XVI).  All of this comes from what Pope Benedict XVI in his Regensburg Lecture identified as the "reduction of the radius of reason."
Medieval man was more clever than modern man when it came to these sorts of things.  That is why, despite the common saying, no medievalist would ever have argued about how many angels could dance on the head of a pin.  The medieval scholastic was wise enough to know that mixing categories of the material world with categories of the spiritual world as if they were univocal things would be worse than mixing apples and oranges. 
Medieval man avoided the error of the foolish Dr. MacDougall (applying empirical thought which works with material reality to invisible, spiritual reality).  He also avoided the error of the foolish modern man or woman who justifies his or her  disbelief because God cannot be proved by science.  We have to recover that common sense that medieval man had plenty of.
The Catechism of the Catholic Church speaks of "'converging and convincing arguments (argumenta convergentia et persuadentia)' which allow us to attain certainty about the truth" that God exists, that he is a personal God, and that He is our First Cause and Final End.
The next series of articles introduced by this one and entitled "Converging and Convincing Proofs of God" will look at some of the "converging and convincing arguments" which allow us with certainty to know that God exists. 
Relying on the excellent work of Aidan Nichols, O.P., A Grammar of Consent, we will draw from the insights of the "illative sense" in the thought of Blessed John Henry Newman, the movement of eros in the works of St. Gregory of Nyssa, the spiritual restlessness of St. Augustine of Hippo, the ontological insights of St. Anselm, the classic "proofs" of St. Thomas Aquinas, the mystical sensitivity of St. John of the Cross, the reasons of the heart of Blaise Pascal, the practical musings of Immanuel Kant, the sense of anxiety of self-estrangement of Sřren Kierkegaard, the sense of hope Gabriel Marcel, and the refulgent joy of G. K. Chesterton.
All these insights will, when put all together, give rise to "converging and convincing arguments" that allow us with certainty to conclude by the light of reason alone that God exists and that he is a rewarder of those who seek him. (Heb. 11:6). 
-----
Andrew M. Greenwell is an attorney licensed to practice law in Texas, practicing in Corpus Christi, Texas.  He is married with three children.  He maintains a blog entirely devoted to the natural law called Lex Christianorum.  You can contact Andrew at agreenwell@harris-greenwell.com.
---
Copyright 2019 - Distributed by THE CALIFORNIA NETWORK
FREE Catholic Classes Pick a class, you can learn anything
Hi readers, it seems you use Catholic Online a lot; that's great! It's a little awkward to ask, but we need your help. If you have already donated, we sincerely thank you. We're not salespeople, but we depend on donations averaging $14.76 and fewer than 1% of readers give.
If you donate just $5.00, the price of your coffee, Catholic Online School could keep thriving.
Thank you.
Help Now >

Copyright 2020 Catholic Online. All materials contained on this site, whether written, audible or visual are the exclusive property of Catholic Online and are protected under U.S. and International copyright laws, © Copyright 2020 Catholic Online. Any unauthorized use, without prior written consent of Catholic Online is strictly forbidden and prohibited.
Catholic Online is a Project of Your Catholic Voice Foundation, a Not-for-Profit Corporation. Your Catholic Voice Foundation has been granted a recognition of tax exemption under Section 501(c)(3) of the Internal Revenue Code. Federal Tax Identification Number: 81-0596847. Your gift is tax-deductible as allowed by law.