WEDNESDAY HOMILY: Faith Straightens our Priorities
---
"My desire is to belong to God. Do not, then, hand me back to the world. Do not try to tempt me with material things. Let me attain pure light. Only on my arrival there can I be fully a human being. Give me the privilege of imitating the passion of my God. If you have him in your heart, you will understand what I wish. You will sympathise with me because you will know what urges me on." -St Ignatius of Antioch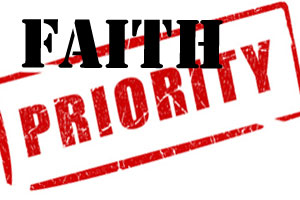 HYTHE, KENT, UK (Catholic Online) - "He was such an amazing orator.  He built roads, rails, and built up the economy.  He helped so many people.  He made you proud to be a fellow countrymen."  He just had one little problem.  He killed millions of people in concentration camps.  Adolph Hitler was elected legally.  He passed laws legally.  He did nothing illegal.
As a teenager in Europe, when I heard elderly people who had seen him speak, talk about how great a man he was, I was a bit shocked.  History has made it clear that his priorities were more skewed than any.  It doesn't matter if he got a lot of things right.  The most important thing he got terribly wrong.
Today in America, there is a similar blindness as there was in Nazi Germany.   We need to check our priorities.
There are many who would point out that we should not be so concerned about the fundamental right to life, because there are many other issues that are also important.  However, if we can't get the first and most important human right correct, what are we doing? 
Until abortion is once again made illegal and children in the womb are protected by law and by constitutional right to life that others now enjoy, we have got it all wrong.  Unless we are willing to put the right people in government offices that have their priorities straight, we are wasting our time.
In today's Gospel, the Lord Jesus tells us, "you pay your tithe of mint and rue and all sorts of garden herbs and neglect justice and the love of God! These you should have practiced, without neglecting the others." (Luke 11:42).  In other words, we are getting fixated on what is much less important to the detriment of what is most important. 
When Jesus speaks to the Pharisees we need to allow his words to land in our hearts undefended.  Let him tell us plainly without self-justification, "Woe to you!  You are like unseen graves upon which people walk."  Why?  Why is the Catholic Church like the trampled dead under the feet of the masses?  Because we are not living our faith!  We have mixed up our priorities.
If you question this assertion, just look around at our Catholic families.  That laundry list in the first reading is all too familiar: "sexual vice, impurity, and sensuality, the worship of false gods and sorcery; antagonisms and rivalry, jealousy, bad temper and quarrels, disagreements, factions and malice, drunkenness, orgies and all such things."
The Catechism of the Catholic Church tells us about mortal sin, "Unrepented, it brings eternal death."  This is a dogma, or most certain revealed truth of our faith, yet most Catholics live like the walking dead, moral zombies who are not aware that the soul in mortal sin lives a kind of spiritual death. 
A people caught in sin generates a kind of hell on earth, a civilization where there is a habitual rejection of God.  On the other hand, when we live in grace, life on earth becomes not a utopia, but a kind of heaven, where beauty, truth, and goodness flow into all sectors of public life, leavening culture, art, science, economic and political spheres.
So how do we straighten our priorities? 
The Catholic Church needs a year of faith.
In this way, Catholics might just begin making their decisions based on things that really matter. 
Right now, the average Joe Lunchbox in the pew makes most of his decisions as dead weight moves down a river, going with the current of the times.  He views God through the eyes of the world rather than viewing the world through the eyes of God.  He has become secularized. 
Time to get things straight.
If every Catholic based their daily life decisions centered on their faith and all the implications it has for the public sector, the United States would be a very different country, and therefore the world would be a very different place.
The Second Vatican Council said that the Church "is sent forth into the whole world as the light of the world and the salt of the earth." (Lumen Gentium 9) When will the Church be seen as the light of the world?  When it is rid itself of the spirit of this age and secularization.
St Ignatius of Antioch lived in a very hostile time, when a powerful Roman government did not see the value of faith in Jesus Christ.  In fact he was condemned and martyred because he committed crimes against the state for he did not worship the emperor or the Roman gods.  Is this much different of the absolute intolerance of the dictatorship of relativism? 
God is calling us to great sanctity in our times to witness to the truth.  He is calling us to a more difficult and subtle kind of martyrdom - simply having priorities based on the Gospel of Jesus Christ in a world that lives in a state of rejection of the reign of Christ.
Here are a few practical ways we can allow our faith to form our priorities:
1.     Place the Holy Sacrifice of the Mass where it needs to be, in number one position.  It is the source and summit of our faith.  Is it the center of your life?  Following the Mass our priorities should look like this: God, spouse, children, apostolate/work, myself - in that order.  Ordering the Mass first should order the rest in its place.
1.    Frequent the Sacrament of Reconciliation.  When faith has been wounded by sin, it needs to be healed by repentance.  Go to confession.  Frequently.
1.    Read the Mass Readings as the source of your prayer and communion with God.  Scripture engenders faith, and since faith comes through hearing, faith will increase when you hear the message of salvation and truth.
1.    Pray the Rosary.  The Rosary is the compendium of the Gospel.  The mysteries of the Rosary help us to appropriate our lives to the life of Jesus Christ.  Mary is the Mother of our Faith.  Her valuable and powerful intercession will help you grow in faith.
1.    Learn your faith.  Read the Catechism of the Catholic Church, and if you are really enthusiastic, read the Documents of Vatican II.  This year of faith is the 20th anniversary of the Catechism and the 50th anniversary of Vatican II.
1.    Get rid of all models of what it means to be a man and place the life of Jesus Christ and the saints as your goal to imitate and emulate.  For women, look to the Blessed Virgin Mary as a model of womanhood and femininity.
1.    Read a Catholic News source that can inform your worldview from a faith perspective.  Discern world events from a Christ-centered perspective
1.    Celebrate your faith!  To be Catholic means to be fully alive.  Gather with your family, especially on Sunday, the day of the Lord, the day of families, to celebrate the gift of your faith in a community setting.
May the prayers of Saint Ignatius of Antioch and of Blessed Mary, ever Virgin, the Mother of God and our Mother, help us to allow faith's demands to order our lives to the Gospel that all nations may know the love and justice of God.
-----
Father Samuel Medley, SOLT, is a young priest of the Society of Our Lady of the Most Holy Trinity, and is currently based in Hythe, Kent, United Kingdom.  He is a speaks to groups around the world on Blessed Pope John Paul II's Theology of the Body.  Visit his homily blog http://medleyminute.blogspot.com or his blog on sexual ethics http://loveandresponsibility.org.
---
Copyright 2018 - Distributed by THE CALIFORNIA NETWORK
Pope Francis Prayer Intentions for APRIL 2018
For those who have Responsibility in Economic Matters.
That economists may have the courage to reject any economy of exclusion and know how to open new paths.
---
---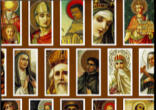 Calling the saints to mind inspires, or rather arouses in us, above all else, a longing to enjoy their company, so desirable in itself. We ... continue reading
---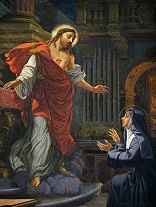 The heart is the center of a person, the place from which he/she makes the choices which will affect the world within them and around them. ... continue reading
---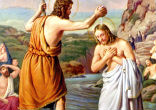 The consideration of Jesus' baptism, gives us an opportunity to remember our own baptism. If you do not know the date of your own ... continue reading
---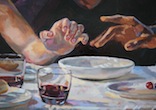 I gave my back to those who beat me, my cheeks to those who plucked my beard; My face I did not shield from buffets and spitting. HYTHE, ... continue reading
---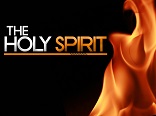 The Spirit makes one man a teacher of divine truth, inspires another to prophesy, gives another the power of casting out devils, enables ... continue reading
---