Deacon Bartels: Repent, For the Kingdom of Heaven is at Hand
---
Jesus precedes his announcement of the kingdom of heaven with a command: Repent.
The immediate response to the gaze of Jesus Christ by Peter, Andrew, James and John signals the fact that a radical change took place within their hearts. That moment, there on the shore of the sea, was no ordinary moment. The fishermen were not simply willing to let go of their way of life and the past, but actively desired to do so. More to the point, they hungered for a new life. They sensed, by God's grace working in their souls, that this new life is itself Jesus Christ.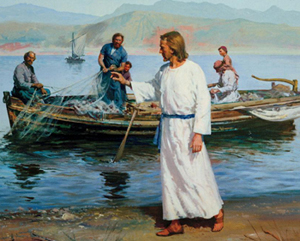 GLADE PARK, CO (Catholic Online) -- In this Sunday's gospel (Mt 4:12-23) we learn that, after John had been arrested, Jesus "withdrew to Galilee" and "went to live in Capernaum" (Mt 4:12-13), a land largely inhabited by Gentiles (people of non-Jewish descent). "From that time on, Jesus began to preach and say, 'Repent, for the kingdom of heaven is at hand'" (Mt 4:17).

Indeed, in encountering the Son of God made man, the Person of Jesus Christ, the "people who walked in darkness have seen a great light" (Is 9:1).

When we hear these words in the gospel they should have no less impact on our lives. "Repent, for the kingdom of heaven is at hand," says Jesus Christ to us today. These are joyful and refreshing words of promise, for we desire the kingdom of heaven as a deer that longs for flowing streams (Ps 42:1). We thirst for the kingdom because we are created in order to find fulfillment in eternal communion with God, who is himself our origin, our sustenance and our end. God alone quenches every thirst of the parched human heart. God alone satisfies every desire of the soul. God alone gives eternal life.

Repent, for the kingdom of heaven is at hand. These words, then, bring far more than simply joy and happiness, as wonderful as these things are. In these words, Jesus calls us to himself, to a new, everlasting life in the kingdom of heaven, a life in which we share in the divine life of God. The words of Jesus are truly words of life.

Further, notice who speaks these words: Jesus Christ. Therefore, the kingdom of heaven is not simply an idea; nor is the kingdom a state of mind, for we cannot force our way through its door by engaging in arrogant freethinking or meditative techniques. Not even all the knowledge of the world gains entrance through its long sought gates. The kingdom cannot be conquered, won over by skill or shrewdness or outmaneuvering one's opponents. The kingdom is received only in humility, openness and faith; it becomes a reality upon entering into a dynamic, intimate relationship with a Person: The kingdom of heaven is Jesus Christ.

Entrance Into the Kingdom Presupposes Repentance

Notice also that Jesus Christ precedes his announcement with a command: "Repent." Entrance into the kingdom of heaven presupposes interior conversion and requires of us to go and meet Christ, embrace him and his life, giving of ourselves and turning from our old, sinful ways, that we may return to the Father. In order to do that, we must sincerely acknowledge who we are, what we have done and failed to do, how we have offended God and hurt our neighbor by our sin. It entails a new way of looking at ourselves and our personhood.

Blessed John Paul II wrote in his apostolic exhortation Reconciliation and Penance: "To acknowledge one's sin, indeed--penetrating still more deeply into the consideration of one's own personhood--to recognize oneself as being a sinner, capable of sin and inclined to commit sin, is the essential first step in returning to God" (RAP, 13).

Repentance, for the sinner, is integral to entrance into the kingdom of heaven. One cannot belong to Christ and, at the same time, belong to a life dominated by sin. Repentance, then, is necessary and serious. Further, one cannot belong entirely to others or even to oneself and, at the same time, belong to Christ. To live for Christ is to die to self, to former disordered attachments and to the world. The authentic disciple loses himself in the life and love of his Master. It is necessary to embark on a new way of life and a new way of living, as did Peter and his brother Andrew, James and his brother John when they encountered the gaze of Christ and left their nets by the sea (see Mt 4:18-22).

To repent is to change radically. The Catechism of the Catholic Church (No. 1431) reminds us repentance begins with interior conversion that is itself "a radical reorientation of our whole life, a return, a conversion to God with all our heart, an end of sin, a turning away from evil, with repugnance toward the evil actions we have committed. At the same time it entails the desire and resolution to change one's life, with hope in God's mercy and trust in the help of his grace. This conversion of heart is accompanied by a salutary pain and sadness which the Fathers called animi cruciatus (affliction of spirit) and compunctio cordis (repentance of heart)."

The fruits of repentance follow interior conversion. One of these, is making a rigorous and honest assessment of our sins. We examine our conscience carefully, extensively and frequently in prayer, and by using the teaching of the Church, Sacred Tradition and Scripture as guides.

In speaking of examining the conscience, it is important to seek the wise guidance of leaders in the Church, such as is found in the example of the saints and the hierarchy. Pope Francis has a wonderful way of throwing light on various elements of our lives with the aim of providing spiritual guidance. In our Holy Father we have, among other things, perhaps the best spiritual director we could ever hope to find. He is truly a spiritually wise leader whose words illuminate our conscience with plain, easily understandable language that gets right to the heart of the matter.

For example, Pope Francis recently reminded everyone that gossip is a "slap" to Jesus "in the person of his children, his brothers," and "it ruins your soul!"

"When we prefer to gossip," continued Pope Francis, "gossip about others, criticize others--these are everyday things that happen to everyone, including me--these are the temptations of the evil one who does not want the Spirit to come to us and bring about peace and meekness in the Christian community."

Interior conversion manifests itself in outward signs

Interior conversion will become manifest outwardly in visible sings, gestures and works of penance. People will notice that you have changed. Things are different. One of these visible signs is the frequent reception of the sacrament of Penance and Reconciliation.

Although many Catholics and other Christians today ignore or reject this wonderful sacrament of healing and forgiveness, incorrectly thinking it is unimportant or unnecessary, it is the sacrament Christ himself instituted in order for us to obtain forgiveness. In a word, the sacrament of Reconciliation is God's plan for repentant sinners.

John Paul II had this to say about the sacrament of Reconciliation: "The first conviction is that for a Christian the sacrament of penance is the primary way of obtaining forgiveness and the remission of serious sin committed after baptism.. [I]n the school of faith we learn" that the Savior desired the sacrament of Reconciliation to be the ordinary and "effective means through which his redemptive power passes and operates. It would therefore be foolish, as well as presumptuous, to wish arbitrarily to disregard" this means of grace "which the Lord has provided" and to "claim to receive forgiveness while doing without the sacrament which was instituted by Christ precisely for forgiveness" (RAP, 31).

During his weekly general audience in St. Peter's square, Pope Francis noted that he goes to confession every two weeks.

The Holy Father observed that the world is often dominated by "individualism and subjectivism." Consequently, many Catholics and other Christians think that they have no need of the sacrament of Reconciliation offered through the Church and the ministry of a priest.

"Certainly, God forgives every repentant sinner," said Pope Francis, "but the Christian is bound to Christ and Christ is united to his Church. God, in his sovereign mercy, forgives everyone, but he wanted those who belong to Christ and his Church to receive forgiveness through the community's ministers."

Repentance Is Made Possible Only By God's Grace

The Catechism of the Catholic Church reminds us that it is Christ himself calls us to conversion and penance. (CCC 1430). In the first place, it is only by God's grace that we can desire authentic interior conversion and the new life that follows. Here we recognize it is Christ who first gives himself to us-we do not initiate the process of repentance and interior conversion of ourselves nor on our own. Christ offers us his grace (supernatural aid) and even his loving Spirit, whose guidance not only calls us to a new way of living but strengthens, heals and perfects us in order to enable our attainment of such a sublime goal; for our part we respond to these sublime gifts of love through the proper use of human free will.

Think for a moment about the response to the gaze of Jesus by Peter, Andrew, James and John: these four fishermen immediately leave their former lives behind. They would not have left their nets and their livelihood for merely exciting news, for an interesting idea or concept or stimulating promise. Nor would they have left their nets for someone other than Jesus. It is Christ who first called them, changed them, spoke in the depths of their hearts. They responded as they did because of who Christ is.

Their response signals the fact that a radical change took place. That moment, there on the shore of the sea, was no ordinary moment. The fishermen were not simply willing to let go of their way of life and the past, but actively desired to do so. More to the point, they hungered for a new life. They sensed, by God's grace working in their souls, that this new life is itself Jesus Christ.

In their encounter with the Person of Jesus Christ they came face-to-face with the kingdom heaven. Next, they stepped forward.

-----

Deacon Fred Bartels serves the Diocese of Pueblo, Colorado, as a member of the Catholic Clergy. He is a Catholic writer who knows his Catholic Faith is one of the greatest gifts a man could ever receive. He is a contributing writer for Catholic Online. Visit him also at joyintruth.com
---
Copyright 2018 - Distributed by THE CALIFORNIA NETWORK
Pope Francis Prayer Intentions for APRIL 2018
For those who have Responsibility in Economic Matters.
That economists may have the courage to reject any economy of exclusion and know how to open new paths.
---
---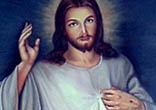 "My daughter, . . . I desire that the Feast of Mercy be a refuge and shelter for all souls, and especially for poor sinners. On that day ... continue reading
---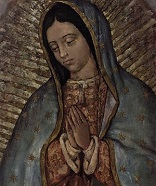 Listen, put it into your heart, my youngest and dearest son, that the thing that frightens you, the thing that afflicts you, is nothing: ... continue reading
---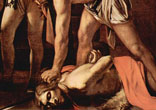 John the Baptist spoke what was true, and died for having spoken it. Some might think his decision was extreme, radical even. Racial? Yes, ... continue reading
---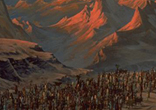 It is important to understand that sin and God's holiness are incompatible. There is a radical conflict between the total and infinite ... continue reading
---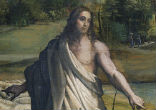 Fr. Joachim on how we have so many opportunities to heroically follow the Vicar of Christ, the pope in these difficult times. continue reading
---