Environmental Science Grad Loves Conservation
---
Environmental Science Grad Loves Conservation
Well before her graduation date in May 2013, environmental science major Kelly Schmitz knew she would transform her passion for animal conservation and recycling into a career. Her professors at University of St. Thomas further fueled her enthusiasm by expanding her understanding of environmental issues and gave her practical experience through remarkable internships with the Houston Zoo. Schmitz is among the 350 undergraduates and 793 graduate students who will participate in the University's 63rd Commencement Ceremony on May 18.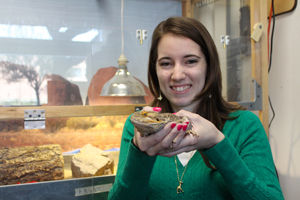 HOUSTON, TX (Catholic Online) - During her first internship, she learned about a different conservation area each week for eight weeks and fell in love with the field.
"Being from Houston, I'm especially concerned about the Greater Houston-Galveston area," Schmitz said. "Two of those weeks covered the coastal prairie grasses, the Galveston Bay coastal grass marshes and the fantastic efforts to keep them healthy."
The second internship focused on saving the Houston toad and gave the young environmentalist valuable hands-on experience with caring for amphibians in a zoo.
"Houston has changed so much that it's a hostile environment for the Houston toad-it can't survive here," Schmitz said. "The Houston Zoo's breeding program has produced about 2,000 toads, and they are working with Texas Parks and Wildlife to release them elsewhere in Texas so they don't become extinct."
From her classes at St. Thomas, she developed a strong grasp of the ecological and economic factors influencing environmental issues around the world, but she also understands the issues from a broader perspective in light of the Catholic intellectual tradition.
"What's important to know is God created humans and the natural world, and we're all interconnected," Schmitz said. "What happens to humans happens to nature and vice versa."
This perspective demands that humans recognize their special place in creation and the particular responsibility they have to care for the created world. 
Sister Damien Marie Savino, FSE, chair of Environmental Science and Studies, said Schmitz is their outstanding graduate in environmental science this year.
"In addition to her major in environmental science, she earned a minor in theology, Sister Damien Marie said. " I am sure Kelly's enthusiasm and dedication, along with the skills and well-rounded background she received at UST, will enable her to make real contributions to the environmental field and in whatever she chooses to do in the future."
Global issues she finds especially compelling include the "Great Pacific Garbage Patch," an area in the ocean where so much discarded plastic trash, chemical sludge and other debris has accumulated that it has formed two eerie masses which threaten the wildlife that try to feed there.
"I'm so riled up by what's happening all over the world that I just have to take action," Schmitz said. "I understand that the magnitude of the problem overwhelms some people, and they feel defeated. I'm not like those people. I need to be part of the solution."
She encourages everyone to do what they can to help the environment. Some of her suggestions are to recycle and volunteer in conservation efforts, especially animal species protection. A dream job for Schmitz would be to work in animal conservation, and she is applying for positions to help her do that. Until she lands her dream job, you can find her where she loves to be-volunteering her experience and enthusiasm in the conservation field.
Environmental Science and Studies Program
The Environmental Science and Studies program at University of St. Thomas is unique among environmental programs in the United States.  While many universities offer programs that study the environment from the perspective of ecology or economics, UST is able to go a step further to explore environmental issues from a moral perspective in light of the Catholic intellectual tradition.
The program educates students as to the moral imperative to care for the earth, especially as advanced by Pope John Paul II and Pope Benedict XVI. At the same time, it equips students with the technical skills needed to pursue graduate studies or become entry-level environmental professionals. The program also focuses on urban issues, with opportunities for hands-on field experiences and community service. The university's location in Houston near Buffalo Bayou, the Houston Arboretum, the ship channel, and the Gulf of Mexico presents unique opportunities for environmental training and field work.ion
---
The University of St. Thomas, dedicated to educating leaders of faith and character, is a private institution committed to the liberal arts and to the religious, ethical and intellectual tradition of Catholic higher education. St. Thomas is Houstonís only Catholic University and was founded by the Basilian Fathers.
---
---
---
More College
Finding the right College
There's no magic formula for choosing a college, but there are steps you can take to find a good fit. Use this tool to start your journey.
Latest College News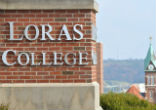 Already known for its legacy of successful, community-driven leaders, Loras College, Iowa's first college and the second oldest Catholic ... continue reading
---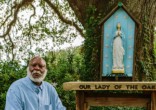 One hundred and seventy-nine years ago, two Jesuit priests sold 272 persons at a slave auction. Their families were torn apart: many of ... continue reading
---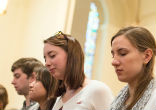 (Vatican Radio) Pope Francis on Friday visited one of Rome's major institutions of higher education today: the Università degli ... continue reading
---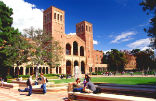 The UCLA campus has been put on lockdown after reports of a shooter in the university's Boelter Hall were released via social media. ... continue reading
---

In a move reminiscent of the early 1900s, North Carolina State University segregated a student Christian group from the rest of the student ... continue reading
---