Vocations Thrive at UST
---
Vocations thrive at UST!
The measure of any great Catholic university is the quality of vocations being produced at the institution. Here at the University of St. Thomas, we have had a number of strong vocations, to both married and religious life, cultivated on campus. The Basilian Fathers, founders of the University, are continuing a 200-year legacy of providing a strong Catholic education and leading individuals to Christ.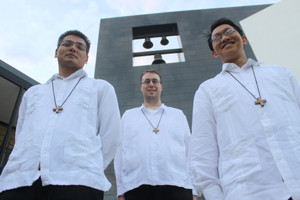 Pictured left to right: Hoc Minh Nguyen, Steven Huber, Kittisak Chooklin
Highlights
By Darnell Miller, University of St. Thomas
University of St. Thomas (stthom.edu)
1/10/2013 (5 years ago)

Published in College & University
Keywords: University of St. Thomas, UST, Basilians, Seminarian, Vocations, Basilian Novices, St. Mary's Seminary, Houston, Fr. Chris Valka, St. Anne's Catholic Community, Discernment, Center for Faith and Culture, Rev. Donald Nesti, Basilian Order, the congregatio
---
This, however, would not be possible without the young men and women who are willing to dedicate their lives to the service of others and to the three pillars of the Basilian way of life: goodness, discipline, and knowledge.
"Every faithful Catholic, man or woman, should strongly consider, at least once in their life, a religious vocation. Whether it is to the priesthood or the convent," said Rev. Micheal Buentello, CSB. "We are in need of individuals who respond to that calling. That is why I pray for vocations to come out of UST at every Mass."
According to a recent United States Conference of Catholic Bishops statistic, the number of priests, both diocesan and orders, has dropped slightly, from 40,271 in 2011 to 40,203 in 2012. The number of seminarians has also decreased, with most of the decline occurring among religious-orders, falling from 5,247 in 2011 to 5,015 in 2012.
While vocations to the Basilian order are not as robust as they once were, the University is blessed to have three Basilian Novices enrolled in classes on campus. These young men come from different walks of life: Hoc Minh Nguyen was a data analyst; Kittisak Chooklin was a math teacher, and Steven Huber was a choir teacher.
The novices are in their second year of discernment, a seven-year process where they learn about the order and their calling. Discernment begins with a year as an Associate, at which time they live in community with the Basilians to better understand the order. The following year, they enter the Novitiate, where they focus on meditation and prayers. If they still feel called, they apply to Scholastic, a four-year period where the candidate studies philosophy, theology and learns how to properly administer the sacraments. Next, they are ordained as deacons and participate in a year of pastoral work as a deacon before taking their final vows at priestly ordination.
The novices are currently studying in the Center for Faith and Culture under the tutelage of the Rev. Donald Nesti, CSSp.
Although their stories are different, they share a common goal: to serve and bring others to Christ.
Hoc Minh Nguyen
Nguyen, originally from Saigon, Vietnam, began to feel his call to the priesthood at the age of 18. He first heard about the Basilian order while attending the Basilian-run parish of St. Anne Catholic Community on Westheimer Road in Houston. There, he began to learn about the order and found that the charisms of the order- education and evangelization- aligned with his aspirations.
For Nguyen, the discernment of his vocation has meant a journey to know self, to understand his strengths and weaknesses, as well as his desires and his relationship with God.
Kittisak Chooklin
Chooklin was born into a Buddhist family in Bangkok, Thailand, and converted to Catholicism when he was 16. His conversion came while studying the Christianity section of World Religions. While reading, Chooklin felt a strong call to become a Christian, and as a result, stayed up until 5 a.m. the following day praying to the "Christian God" he did not yet know.
His prayers led him to Catholicism, and after seeking advice from a Catholic classmate, he began attending Holy Redeemer, a Catholic church nearby the U.S. Embassy.
"After a series of questions, I was informed that I should take Catechism classes, so I would spend my Saturdays meeting with a priest who catechized me," Chooklin said.
While going through catechism, Chooklin was asked to meet with the Redemptorist community and consider becoming a priest. At the time, he told them he was not interested. It wasn't until years later, having moved to Houston and teaching math at a middle school, that he began to discern a calling to the priesthood. After becoming a parishioner at St. Anne's, and learning more about the Basilian order, Chooklin applied to the order. 
Steven Huber
Huber, an Albuquerque, N.M., native, began to consider the priesthood as a young boy when parishioners noticed his devotion as an altar boy. While on a retreat in college, he began to experience a call to the religious life, but didn't pursue the call for several years.
"The hardest part of was taking the first step to sign up for the Vocation Discernment Retreat," Huber said. "Once I realized that discernment is less about becoming a priest and more about whether or not God is calling you to the next step, the discernment process has become easier."
Huber was first introduced to the Basilian order through his father, who had attended a Basilian high school in Merrillville, Ind. His first formal connection was not developed until he was attending New Mexico State University, where the Basilian Fathers ran the Newman Center. The Rev. Chris Valka, one of the Basilian priests, recognized Huber's potential after reading several papers and articles he had written and suggested to Huber that he would make a good priest.
"Fr. Chris encouraged me to visit with the Basilian vocation director, and once I saw the sense of brotherhood and community that the Basilians have, I felt at home," said Huber.
The Congregation of St. Basil is an active, apostolic community of priests and students seeking the glory of God in the works of education and evangelization. Founded in France in the early 19th century, the order has since spread, first to Canada and then the United States. Now in five countries, the order's schools, colleges and parishes express commitment to Christ the Teacher and the desire to serve in imitation of Him.
For more information on the Basilian Order or to discuss vocations, contact the Rev. Mike Buentello, CSB at 713-525-3589.
---
Pictured left to right: Hoc Minh Nguyen, Steven Huber, Kittisak Chooklin
---
The University of St. Thomas, dedicated to educating leaders of faith and character, is a private institution committed to the liberal arts and to the religious, ethical and intellectual tradition of Catholic higher education. St. Thomas is Houstonís only Catholic University and was founded by the Basilian Fathers.
---
---
---
More College
Finding the right College
There's no magic formula for choosing a college, but there are steps you can take to find a good fit. Use this tool to start your journey.
Latest College News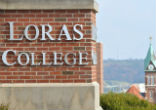 Already known for its legacy of successful, community-driven leaders, Loras College, Iowa's first college and the second oldest Catholic ... continue reading
---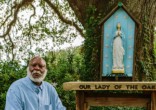 One hundred and seventy-nine years ago, two Jesuit priests sold 272 persons at a slave auction. Their families were torn apart: many of ... continue reading
---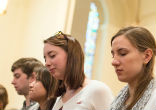 (Vatican Radio) Pope Francis on Friday visited one of Rome's major institutions of higher education today: the Università degli ... continue reading
---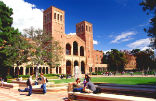 The UCLA campus has been put on lockdown after reports of a shooter in the university's Boelter Hall were released via social media. ... continue reading
---

In a move reminiscent of the early 1900s, North Carolina State University segregated a student Christian group from the rest of the student ... continue reading
---