Pope Benedict Speaks to U.S. Catholic Universities
---
Are we ready to commit our entire self - intellect and will, mind and heart - to God? Do we accept the truth Christ reveals? Is the faith tangible in our universities and schools?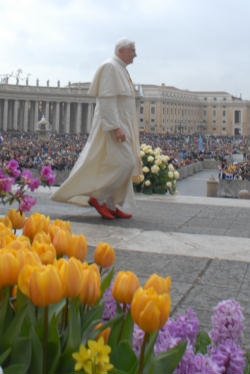 One can recognize that the contemporary crisis of truth is rooted in a crisis of faith. Only through faith can we freely give our assent to God's testimony and acknowledge him as the transcendent guarantor of the truth he reveals.
WASHINGTON, D.C. (Catholic Online) - In the wake of the Notre Dame decision and the incident at Georgetown, Catholics throughout the US are reflecting on the nature and purpose of Catholic education. We present excerpts from the address of our Holy Father Pope Benedict XVI during his apostolic visit to the United States one year ago:
MEETING WITH CATHOLIC EDUCATORS, ADDRESS OF HIS HOLINESS BENEDICT XVI,
"... Education is integral to the mission of the Church to proclaim the Good News. First and foremost every Catholic educational institution is a place to encounter the living God who in Jesus Christ reveals his transforming love and truth. This relationship elicits a desire to grow in the knowledge and understanding of Christ and his teaching. In this way those who meet him are drawn by the very power of the Gospel to lead a new life characterized by all that is beautiful, good, and true; a life of Christian witness nurtured and strengthened within the community of our Lord's disciples, the Church.
"... Some today question the Church's involvement in education, wondering whether her resources might be better placed elsewhere. Certainly in a nation such as this, the State provides ample opportunities for education and attracts committed and generous men and women to this honorable profession. It is timely, then, to reflect on what is particular to our Catholic institutions. How do they contribute to the good of society through the Church's primary mission of evangelization? All the Church's activities stem from her awareness that she is the bearer of a message which has its origin in God himself: in his goodness and wisdom, God chose to reveal himself and to make known the hidden purpose of his will (cf. Eph 1:9; Dei Verbum, 2). God's desire to make himself known, and the innate desire of all human beings to know the truth, provide the context for human inquiry into the meaning of life. This unique encounter is sustained within our Christian community: the one who seeks the truth becomes the one who lives by faith (cf. Fides et Ratio, 31). It can be described as a move from "I" to "we", leading the individual to be numbered among God's people.
"...This same dynamic of communal identity - to whom do I belong? - vivifies the ethos of our Catholic institutions. A university or school's Catholic identity is not simply a question of the number of Catholic students. It is a question of conviction - do we really believe that only in the mystery of the Word made flesh does the mystery of man truly become clear (cf. Gaudium et Spes, 22)? Are we ready to commit our entire self - intellect and will, mind and heart - to God? Do we accept the truth Christ reveals? Is the faith tangible in our universities and schools? Is it given fervent expression liturgically, sacramentally, through prayer, acts of charity, a concern for justice, and respect for God's creation? Only in this way do we really bear witness to the meaning of who we are and what we uphold. From this perspective one can recognize that the contemporary "crisis of truth" is rooted in a "crisis of faith". Only through faith can we freely give our assent to God's testimony and acknowledge him as the transcendent guarantor of the truth he reveals. Again, we see why fostering personal intimacy with Jesus Christ and communal witness to his loving truth is indispensable in Catholic institutions of learning....
"... we observe, with distress, the notion of freedom being distorted. Freedom is not an opting out. It is an opting in - a participation in Being itself. Hence authentic freedom can never be attained by turning away from God. Such a choice would ultimately disregard the very truth we need in order to understand ourselves. A particular responsibility therefore for each of you, and your colleagues, is to evoke among the young the desire for the act of faith, encouraging them to commit themselves to the ecclesial life that follows from this belief. It is here that freedom reaches the certainty of truth. In choosing to live by that truth, we embrace the fullness of the life of faith which is given to us in the Church.
"...Clearly, then, Catholic identity is not dependent upon statistics. Neither can it be equated simply with orthodoxy of course content. It demands and inspires much more: namely that each and every aspect of your learning communities reverberates within the ecclesial life of faith. Only in faith can truth become incarnate and reason truly human, capable of directing the will along the path of freedom. In this way our institutions make a vital contribution to the mission of the Church and truly serve society. They become places in which God's active presence in human affairs is recognized and in which every young person discovers the joy of entering into Christ's "being for others"....
"...The Church's primary mission of evangelization, in which educational institutions play a crucial role, is consonant with a nation's fundamental aspiration to develop a society truly worthy of the human person's dignity. At times, however, the value of the Church's contribution to the public forum is questioned. It is important therefore to recall that the truths of faith and of reason never contradict one another.... We observe today a timidity in the face of the category of the good and an aimless pursuit of novelty parading as the realization of freedom. We witness an assumption that every experience is of equal worth and a reluctance to admit imperfection and mistakes. And particularly disturbing, is the reduction of the precious and delicate area of education in sexuality to management of 'risk', bereft of any reference to the beauty of conjugal love. ... Teachers and administrators, whether in universities or schools, have the duty and privilege to ensure that students receive instruction in Catholic doctrine and practice. This requires that public witness to the way of Christ, as found in the Gospel and upheld by the Church's Magisterium, shapes all aspects of an institution's life, both inside and outside the classroom. Divergence from this vision weakens Catholic identity and, far from advancing freedom, inevitably leads to confusion, whether moral, intellectual or spiritual. ..."
Click here for full text version of this wonderful address by Pope Benedict XVI

---
Copyright 2018 - Distributed by THE CALIFORNIA NETWORK
Pope Francis Prayer Intentions for APRIL 2018
For those who have Responsibility in Economic Matters.
That economists may have the courage to reject any economy of exclusion and know how to open new paths.
---
---
---
More College
Finding the right College
There's no magic formula for choosing a college, but there are steps you can take to find a good fit. Use this tool to start your journey.
Latest College News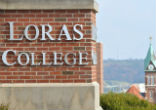 Already known for its legacy of successful, community-driven leaders, Loras College, Iowa's first college and the second oldest Catholic ... continue reading
---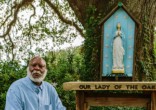 One hundred and seventy-nine years ago, two Jesuit priests sold 272 persons at a slave auction. Their families were torn apart: many of ... continue reading
---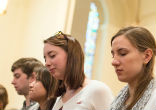 (Vatican Radio) Pope Francis on Friday visited one of Rome's major institutions of higher education today: the Università degli ... continue reading
---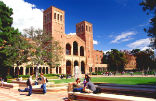 The UCLA campus has been put on lockdown after reports of a shooter in the university's Boelter Hall were released via social media. ... continue reading
---

In a move reminiscent of the early 1900s, North Carolina State University segregated a student Christian group from the rest of the student ... continue reading
---