How to find the Right Catholic College or University
---
In an interview, the Editor of Newman Guide discusses what went into selecting the 21 colleges and universities that were put into the guide.
MANASSAS, Virginia (Zenit) - Twenty-one Catholic universities have been singled out for their faith-filled environment and solid education in the latest guide published by the Cardinal Newman Society.
Joseph Esposito is the editor of "The Newman Guide to Choosing a Catholic College" and the director of the Center for the Study of Catholic Higher Education, which is a division of the society.
In this interview with us, Esposito discusses what went into selecting the 21 universities and colleges that were put into the guide and how this tool has been useful for parents and students alike.
Q: You have published a guide to selecting a Catholic college for students and parents. What criteria did you use for the 21 schools included in the book?
Esposito: We researched the over 200 Catholic colleges and universities in the United States that offer undergraduate programs, and each institution was evaluated the same way.
Overall, we assessed the importance that each placed on their commitment to Catholic Church teachings and the Catholic intellectual tradition. We looked at such issues as governance, curriculum, spiritual life, selection of outside speakers and on-campus performances, residential life and extracurricular offerings.
These 20 U.S. institutions represent, in our opinion, the strongest and most faithful adherence to Catholic identity in all aspects of the campus experience. We added one Canadian institution, Our Lady Seat of Wisdom Academy, because we believe it to be an exemplary institution deserving of consideration for U.S. Catholic students.
Q: There are 20 U.S. universities and colleges, and one Canadian college listed. Do you anticipate other colleges and universities from the United States and Canada will join the list in the future?
Esposito: Yes, most certainly. The second edition of "The Newman Guide" will be published in mid-2009, and we are confident that as the renewal of Catholic higher education gains momentum that a number of additional colleges will be recommended. Although it is difficult to predict at this point how many additional institutions might be added in 2009, we are already beginning to visit a number of campuses and are closely looking at several possibilities.
Our mission is to work toward the renewal and strengthening of Catholic identity at Catholic colleges and universities, and nothing would please us more than to be able to recommend more Catholic colleges to parents and students.
Q: Aside from fidelity to Catholic teaching, what else do these colleges and universities offer prospective students?
Esposito: Each recommended college offers a solid education that will help prepare graduates for success as practicing Catholics, parents, citizens and professionals. Most of these colleges also have specific and valuable niches, which vary from a Great Books program at Thomas Aquinas College, to an emphasis on new media at John Paul the Great Catholic University, to a concentration in motor sports management at Belmont Abbey College.
Although the curriculum varies from college to college, there is a basic commitment to a liberal arts education steeped in the Catholic intellectual tradition.
In addition, we believe these institutions provide a sense of community that reinforces students in their faith and also helps them to mature as individuals. These colleges represent a solid, well-rounded approach to education in the traditional way.
Q: The reputation of one's university carries a lot of weight for employment and getting into graduate school, and most of these schools are not very well known outside of the Catholic world. What are these institutions doing to raise their profile? Or isn't this as important as one might think?
Esposito: Although a college's reputation might have an impact when hiring students in some specific industries, we believe that the emphasis should be on acquiring a high-quality Catholic education. In the long run, certainly, that is what is important for a student's life.
In addition, an argument can be made that a spiritual, well-educated graduate of a Newman-guide college will be equipped to deal with any life situation, vocational or otherwise.
We also have found that several colleges are vigorously promoting their inclusion in the Newman guide, and see it as a vehicle for expanding their visibility and reputation. Further, simply because of the yearning among Catholic families for authentic Catholic education, many of the colleges in the Newman guide are becoming well known as model institutions.
Q: What would you say to a student who thinks they would have a better faith experience in an environment that challenges their values, as opposed to an environment where everybody thinks the same?
Esposito: Being part of a faith community is a supportive, reinforcing experience. The opportunity to grow in faith and intellect with peers during the ages of 18 and 22 is something to be savored.
Although students at Newman-guide colleges are predominantly committed Catholics, they represent many diverse perspectives. They also are consistently challenged in class, sometimes through such vehicles as the Socratic method.
Graduates of Newman-guide colleges are well prepared to eventually confront the broader culture and to do so faithfully and successfully.

---
---
---
More College
Finding the right College
There's no magic formula for choosing a college, but there are steps you can take to find a good fit. Use this tool to start your journey.
Latest College News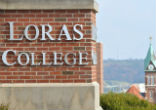 Already known for its legacy of successful, community-driven leaders, Loras College, Iowa's first college and the second oldest Catholic ... continue reading
---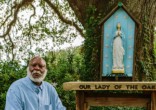 One hundred and seventy-nine years ago, two Jesuit priests sold 272 persons at a slave auction. Their families were torn apart: many of ... continue reading
---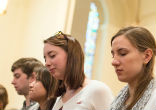 (Vatican Radio) Pope Francis on Friday visited one of Rome's major institutions of higher education today: the Università degli ... continue reading
---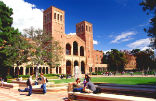 The UCLA campus has been put on lockdown after reports of a shooter in the university's Boelter Hall were released via social media. ... continue reading
---

In a move reminiscent of the early 1900s, North Carolina State University segregated a student Christian group from the rest of the student ... continue reading
---