Irish priest: Christians should stop saying 'Christmas' and 'Easter'
---
Labels have become secularized and commercialized.
An Irish Catholic priest has asked Christians to give up the words 'Christmas' and 'Easter,' because they have been hijacked by secular culture. Fr. Desmond O'Donnell says they should be replaced with new words that are distinctly Christian.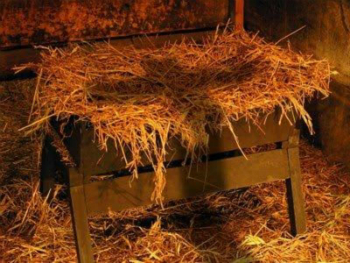 What are Christmas and Easter without Christ?
LOS ANGELES, CA (California Network) -- A well-known Irish priest has called for the adandonment of 'Christmas' and 'Easter' by Christians because the names have been hijacked by secularists and commercialized beyond meaning. Fr. Desmond O'Donnell, who has written several influential books, says the words should be replaced. 
Fr. O'Donnell says he isn't targeting or criticizing non-believers, but that the holiday labels are 'lost.' 'We need to let it go, it's already been hijacked, and we just need to recognize and accept that,' he said. 
He added: "My religious experience of true Christmas, like so many others, is very deep and real, like the air I breathe. But non-believers deserve and need their celebration too, it's an essential human dynamic and we all need that in the toughness of life.
"I'm just trying to rescue the reality of Christmas for believers by giving up 'Christmas' and replacing it with another word.
"I'm all for Christians choosing to celebrate Christmas by going out for meals and enjoying a glass of wine, but the commercialization of anything is never good."
Fr. O'Donnell ended by warning that secularism would 'continue to launder the Church' unless Catholics address the change in the meaning of the word Christmas, from a holy day to a secularized phenomenon. 
In recent years, a growing backlash to the commercialization of the holidays has developed, especially Christmas. Black Friday shopping is especially detested as an orgy of commercialism hypocritically scheduled for mere hours following a day on which Americans at least give thanks for what they have (Thanksgiving). 
Fr. O'Donnell did not propose any new terms to replace Christmas and Easter, and it is unlikely his call to action will gain any traction. However, he is making a noteworthy point, which is that the Christian celebrations of Easter and Christmas have virtually nothing to do with the faith from which they originated. We, the Christians of the world, are responsible for this fact. 
---
Copyright 2018 - Distributed by THE CALIFORNIA NETWORK
Pope Francis Prayer Intentions for July 2018
Priests and their Pastoral Ministry.
That priests, who experience fatigue and loneliness in their pastoral work, may find help and comfort in their intimacy with the Lord and in their friendship with their brother priests.
---
---
---
More Advent & Christmas
The word Advent derives from the Latin word meaning coming. The Lord is coming. We may reflect that every year at this time we celebrate his coming , so that in a sense we can lose the feeling of expectancy and joyful anticipation, because at the end of the season, everything seems to return to pretty much the same routine. If that is the case, then our preparation may have been lacking ... continue reading

To become the mother of the Savior, Mary "was enriched by God with gifts appropriate to such a role."132 The angel Gabriel at the moment of the annunciation salutes her as "full of grace". In fact, in order for Mary to be able to give the free assent of her faith to the announcement of her vocation, it was necessary that she be wholly borne by God's grace... continue reading
---

The weeks of Advent remind us to set aside some of the hectic business of the holiday season, and to quietly reflect on the promise of the baby born in Bethlehem 2000 years ago. The Bible readings listed below relate to the Advent themes of waiting, preparation, light in the darkness, and the coming of the promised Messiah. continue reading
---
More Advent & Christmas News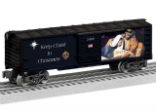 THE 2018 KEEP CHRIST IN CHRISTMAS BOXCAR Exclusively manufactured by Lionel in the USA for the Knights of Columbus.This limited edition is ... continue reading
---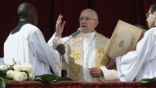 Pope Francis on Christmas Day said the commemoration of Christ's birth is an occasion to remember and pray for every child who suffers due ... continue reading
---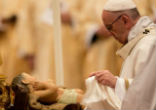 Pope Francis said the birth of Jesus is an invitation for all Christians to imitate him in reaching out to embrace the vulnerable and all ... continue reading
---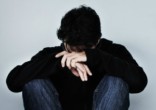 Since you came to Jesus, you've prayed, you've had faith in the Lord and you've done the best you could to meet God halfway - but now, near ... continue reading
---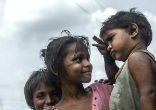 Imagine hearing a knock at your front door. As you open the door, to your great surprise you see a baby lying in front of you. Without ... continue reading
---