Sisters of Bon Secours at World Youth Day
---
Sisters Invite Women to Learn More about Vocations
The Sisters of Bon Secours spent last week in Madrid, Spain for World Youth Day 2011.  World Youth Day is held every three years in a different country and is a special time of pilgrimage, prayer and a worldwide encounter with the Pope.  The Sisters of Bon Secours had the privilege of hosting a vocation booth during this monumental event and visiting with thousands of young adult Catholics.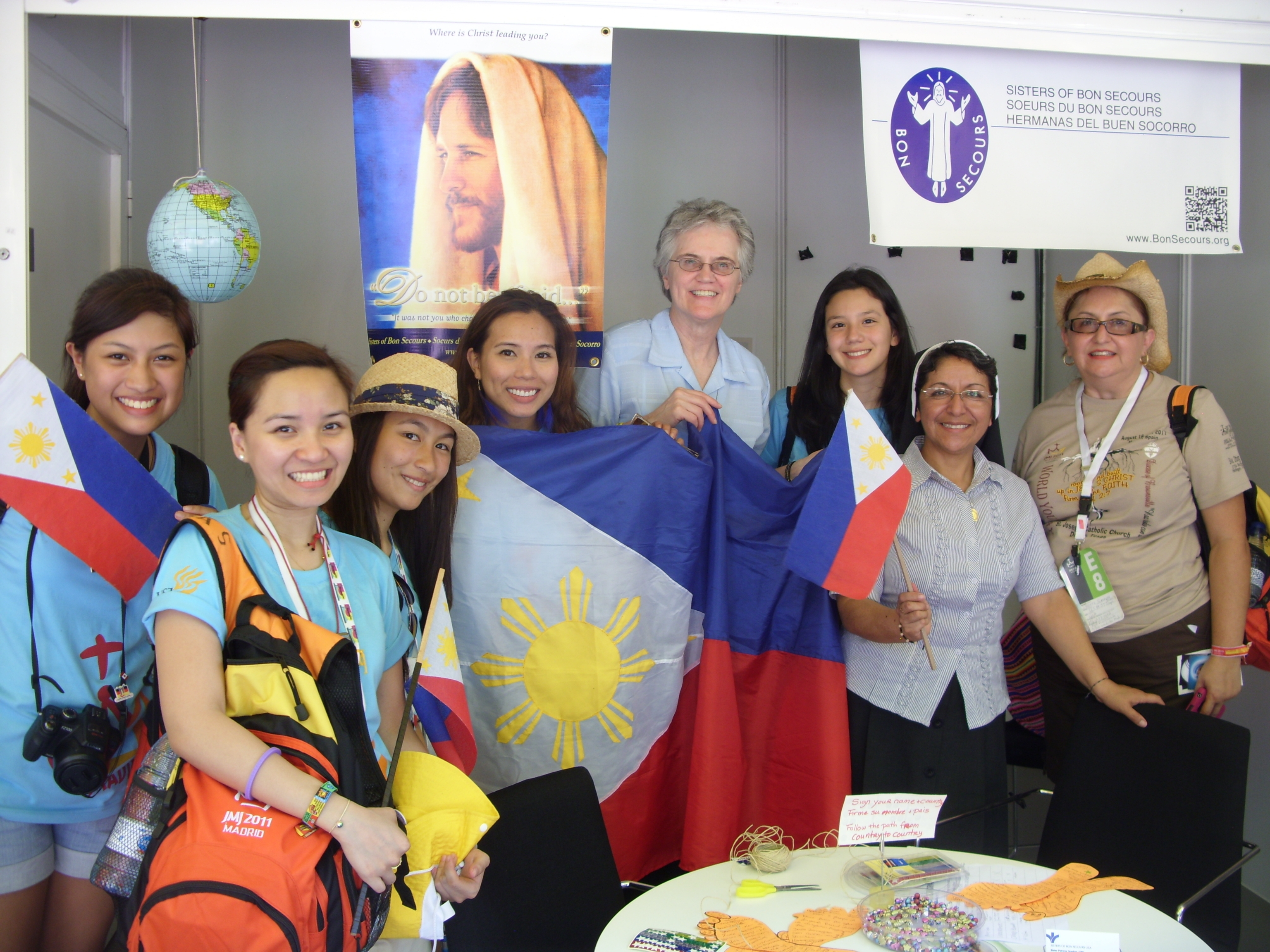 Sisters Pat Dowling and Elena Serrano met with young women from the Phillippines at the Vocation Fair in Madrid, Spain during World Youth Day 2011.
style="margin: 0in 0in 0pt;">August 29, 2011-World Youth Day in Madrid, held August 15-21, was not only special this year because of the 1 million young adults that attended, but it also hosted a Vocation Fair.  Sisters Pat Dowling, CBS, Vocation Director (USA), Elena Serrano, CBS (Peru) and Rosa Sanchez, CBS (South Africa) hosted a vocation booth there for the Sisters of Bon Secours.  The Vocation Expo took place in the Parque del Retiro, a park comparable to Central Park in New York City.  Despite the extreme heat wave in Madrid that week, the sisters were energized by the young adults who came to their booth. 

"The energy and spirit of these young adults who have made their way to Madrid is awesome to see," said Sr. Pat.  While visiting with the Sisters of Bon Secours, these young pilgrims signed the Path of Solidarity paper feet.  Young adults wrote their names and country on the cut-out feet on the path of solidarity as a sign of faith and the possibility of peace. It was a way of uniting young adults in faith who came from 190 countries of the world to learn more about their faith and to share it with each other.  The young men and women also made tiny solidarity bead bracelets and picked up pocket-size pamphlets with comments from Pope John Paul II at the first WYD, which he started. 
Recent surveys of the newly ordained and those making their final religious profession indicate that at least 20 percent of them participated in a World Youth Day at one time or another (www.foryourvocation.org).  Sisters Pat, Elena and Rosa were thrilled to have young women from England, France, Ireland, Peru and the United States sign up to receive additional information about the Sisters of Bon Secours and their lives of active ministry in healthcare, human services, pastoral care, education and social justice.
There was a lot of excitement around the highlight of WYD, the arrival of Pope Benedict XIV.  The massive crowd of young people responded with loud enthusiasm as the Pope greeted them in many languages and gave his message.  Sr. Pat reported that people were everywhere waving flags, singing and clapping.  The spirit of the crowd was amazing and Sr. Pat commented, "There's nothing like being in a young crowd like this to give you hope for the church."
About the Sisters of Bon Secours: As an international congregation of Catholic sisters they have long had a heart for providing healthcare, social services and spiritual comfort to people in need since their inception in 1824 when they nursed the sick in their homes.  Today, their holistic approach to caring for all of creation equips the Sisters of Bon Secours to spread wellness and God's love throughout the four corners of the world.  For more information on discerning your vocation or becoming a nun, please visit http://www.bonsecoursvocations.org/, email: CBSVocations@bshsi.org or call 410-442-0267.
---
Vocation resources for young women considering religious life. Come and See Weekend information. Ministries include healthcare, social services and spiritual comfort.
---
---
---
More Vocations
Latest Vocation News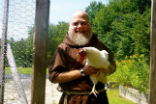 The word 'hermit' might conjure up some strange images, a la John the Baptist living reclusively in the desert, wearing a hair shirt and ... continue reading
---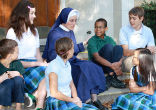 In Lincoln, Nebraska, you can tell the seasons by the habits of the School Sisters of Christ the King. Denver, Colo. (CNA/EWTN News) - It's ... continue reading
---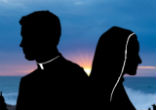 On Saturday, Pope Francis told Colombia's priests and religious that vocations come from a variety of different backgrounds and flourish ... continue reading
---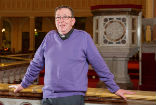 Irish priest, Fr. Ray Kelly has an adaptation of Leonard Cohen's 'Hallelujah' that will move you to tears. The video, which has gone viral, ... continue reading
---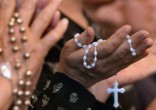 There were 216 Catholic women and men religious who took perpetual vows in the U.S. in 2016, and an annual survey has aimed to take their ... continue reading
---