MONDAY HOMILY: The Widow's Mite
---
How do we cultivate a right intention in our religious practice?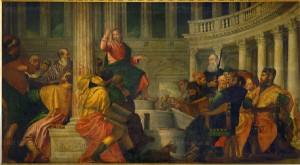 style="margin: 0.0px 0.0px 0.0px 0.0px; font: 14.0px Times New Roman">
SUGARLAND, TEXAS (Catholic Online) - King Solomon constructed the first Jewish temple nearly 1,000 years before the birth of Christ.  The Babylonians destroyed it 400 years later, when the Israelites were sent into exile.  Upon their return, the remnant of Israel rebuilt the temple and dedicated it in 515 B.C.  Enlarged and adorned by King Herod, this was the temple were Jesus spent so much of his time while in Jerusalem.
Only the Jewish priests entered the temple itself.  However, the building was surrounded by a series of courtyards and porticos, where people went to pray.  Jesus frequently prayed there and taught the crowds who had gathered.  In the episode described by St. Luke (Luke 21:1-4), the Lord was sitting in one of the outer courtyards of the temple when he taught the lesson that appears in today's Gospel.
Jesus' teaching was occasioned by the contrast among those making financial offerings at the temple, one of whom was a poor widow.  On her visit to the temple, this lady made what appeared to be a routine gift.  She went to the place where tithes were collected and deposited her contribution. 
According to Biblical scholars, the outer wall of the temple treasury was fitted with large trumpet-shaped receptacles into which people could place their offerings.  The coins would rattle around in the horn at the top, and fall through an opening into a secure strongbox.  It was not unlike a night deposit box at a modern bank, although noisier. 
Those making large offerings of coins - remember, there was no paper money at the time - could draw attention to themselves, if they wanted to, by the noisy echo of their coins clacking down the treasury trumpet.  By contrast, the small offering of the widow wouldn't have been noticed by anyone.  It is this contrast to which the Lord draws our attention.
On the one hand, there are those who use their religious practice as a means of drawing attention to themselves.  In itself, this does not negate the value of the act itself, but it diminishes the merit that one derives from it.  On the other hand, there are those, like this poor widow, for whom public acts of piety are a sincere expression of their deep faith and trust in God.
Every year on Ash Wednesday, we are exhorted to have the right intention in the public practice of our faith.  "Beware of practicing your piety before men in order to be seen by them; for then you will have no reward from your Father who is in heaven" (Matthew 6:1).  Like the widow of the Gospel, God calls us not only to acts of piety, but also to the right intention when performing them.
How do we cultivate a right intention in our religious practice?
First, we must practice our faith.  Without this, there will be no intention to purify!  We should never allow ourselves the excuse of a lax observance of religion because we are not yet saints.  It is precisely the struggle against laxity that will set us on the road to holiness.
Second, we should strive to be generous in the things of God, turning attention to him and away from ourselves.  Spiritual writers refer to this as a spirit of detachment.  The widow of the Gospel - despite her poverty - lives a beautiful and generous spirit of detachment in the matter of her religious tithe.  In absolute terms, her offering didn't amount to much, but for her it was a sacrificial gift, and we should not underestimate its spiritual value.  "The precept of detachment from riches is obligatory for entrance into the Kingdom of heaven" (Catechism of the Catholic Church, no. 2544).
Finally, we acquire a right intention by rejecting discouragement.  Many times our intentions may not be as crystalline as we would like.  They may be mixed and confused.  We should not worry too much about this.  God will accept what our hearts can offer, and use that offering as a foundation for our continuing conversion.
With God's help, let us strive to set the stage for Advent by cultivating a generous spirit of detachment from the things around us. 
Fr. Stephen B. Reynolds is pastor of St. Theresa Catholic Church in Sugar Land, TX, a suburb of Houston.  You may visit the parish website at: www.SugarLandCatholic.com.
---
Copyright 2018 - Distributed by THE CALIFORNIA NETWORK
Pope Francis Prayer Intentions for APRIL 2018
For those who have Responsibility in Economic Matters.
That economists may have the courage to reject any economy of exclusion and know how to open new paths.
---
---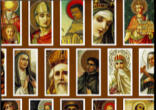 Calling the saints to mind inspires, or rather arouses in us, above all else, a longing to enjoy their company, so desirable in itself. We ... continue reading
---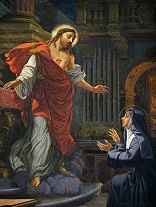 The heart is the center of a person, the place from which he/she makes the choices which will affect the world within them and around them. ... continue reading
---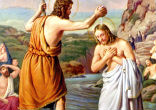 The consideration of Jesus' baptism, gives us an opportunity to remember our own baptism. If you do not know the date of your own ... continue reading
---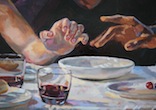 I gave my back to those who beat me, my cheeks to those who plucked my beard; My face I did not shield from buffets and spitting. HYTHE, ... continue reading
---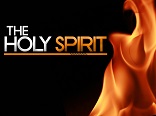 The Spirit makes one man a teacher of divine truth, inspires another to prophesy, gives another the power of casting out devils, enables ... continue reading
---